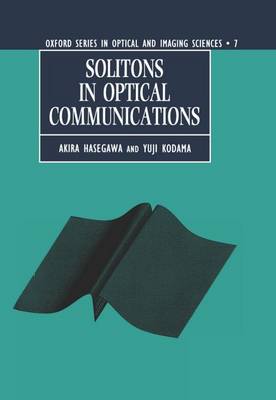 Hardback
Published: 27/04/1995
Can be ordered from our supplier
Solitons are a fascinating topic for study and a major source of interest for potential application in optical communication. Possibly the first observation of a soliton occurred in 1838 and was made by a clerical gentleman riding a horse along a canal towpath. When a barge under tow came to a stop alongside him the bow wave did not stop, but continued to travel on its own for several miles with no change in shape. At the time this unusual phenomenon was not understood and remained unexplained. Interest was revived with the development of optical fibres and the realisation that at the high intensities possible in their very small cores the onset of non-linear effects could modify the propagation characteristics in a significant way. In a seminal paper in 1973 Hasegawa and Tappert solved a non-linear Schrodinger equation for fibre propagation and found solutions for solitary waves, i.e. solitons. Since then advances have been very rapid resulting in a much better understanding of a wide variety of soliton effects, and, crucially, the realisation that soliton propagation can be used to potentially great advantage in practical long-distance systems. There is, as a result, a wealth of theoretical and experimental research in progress all over the world. At NTT (Japan) a pule-code-modulated soliton train has been transmitted at 10Gbit/s over one million kilometres with zero error! Perhaps all long-distance, large bandwidth communication problems have been solved for ever. This book gives a clear account of the theory and mathematics of solitons travelling in optical fibres. It is written by the authority on the subject.
Publisher: Oxford University Press
ISBN: 9780198565079
You may also be interested in...
We would love to hear what you think of Waterstones. Why not review Waterstones on Trustpilot?