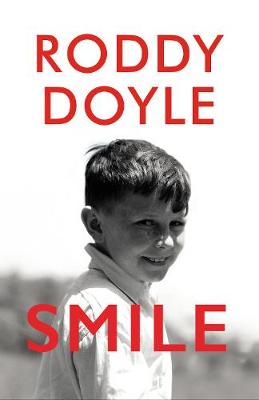 Hardback
224

Pages / Published: 07/09/2017
Smile
has all the features for which Roddy Doyle has become famous: the razor-sharp dialogue, the humour, the superb evocation of childhood - but this is a novel unlike any he has written before.
When you finish the last page you will have been challenged to re-evaluate everything you think you remember so clearly.


Just moved in to a new apartment, alone for the first time in years, Victor Forde goes every evening to Donnelly's pub for a pint, a slow one. One evening his drink is interrupted.


A man in shorts and pink shirt brings over his pint and sits down. He seems to know Victor's name and to remember him from school. Says his name is Fitzpatrick.


Victor dislikes him on sight, dislikes too the memories that Fitzpatrick stirs up of five years being taught by the Christian Brothers. He prompts other memories too - of Rachel, his beautiful wife who became a celebrity, and of Victor's own small claim to fame, as the man who says the unsayable on the radio. But it's the memories of school, and of one particular Brother, that he cannot control and which eventually threaten to destroy his sanity.


'...brave and complex… will leave readers astonished… Like all good literature, it will inspire debate but also admiration for the courage of a hugely successful writer who refuses to be predictable.' - The Guardian 


'An absorbing and expertly told story' - The Financial Times

Publisher: Vintage Publishing
ISBN: 9781911214755
Number of pages: 224
Weight: 362 g
Dimensions: 222 x 144 x 24 mm
---
MEDIA REVIEWS
Roddy Doyle excelled himself... A typically bittersweet novella about a middle-aged man's memories of his schooldays which pulls the rug shockingly from under the reader's feet. -- Justine Jordan * Guardian, Books of the Year *
A book that made me feel I really was in the presence of a master. -- Sebastian Barry * Observer *
Reading Smile, one is swept along - as in all Doyle's novels - by the vibrancy of the language, the vivid sense of character and place, but nothing prepares you for the final few pages where, in a twist of imaginative brilliance, everything you have read is turned completely on its head... Smile is beautifully written, and beautifully observed -- Mick Brown * Daily Telegraph *
Terribly moving and even, at times, distressing, while saving its greatest surprise until the end... There is a brave and complex ending to the novel... It will inspire debate but also admiration for the courage of a hugely successful writer who refuses to be predictable and uses the novel to challenge both the reader's sense of ease and the nature of the form itself. -- John Boyne * Guardian *
Smile turns out to be a novel of literary deception and self-deception, of suppression, guilt, fantasy and the deep damage that leaves a mind profoundly disordered... I suspect Smile will become a bestseller -- Linda Grant * Daily Telegraph *
Dramatically pulls the rug from under the reader with a final image not just of one damaged man, but of an impotent country poisoned to the core by a history that it cannot shake off. It left me with goosebumps and, a week on, a sour, sad taste still in my mouth. -- Claire Allfree * Daily Mail *
The cocktail of dark subject matter and colloquial, humorous dialogue is quintessential Doyle, and this engrossing tale, shot through with pathos, sees him back to his best. -- Max Davidson * Mail on Sunday *
His command of voice is absolutely sure, his dialogue authentic and the Ireland his characters inhabit - still a patchwork of fifties pietism and noughties cosmopolitanism - completely available to his and the reader's understanding... An absorbing and expertly told story. -- Sam Leith * Financial Times *
Doyle is one of the best writers of dialogue we have, using it with humour and drama. -- Luke Brown * New Statesman *
His novels fizz with demotic zing, comic phrasing and the back-and-forth of Irish chat. -- Robbie Millen * The Times *
Classic Roddy Doyle, but with a shocking twist... The novel rewinds leisurely through the previous 40 years of Victor's life. Schooldays are vicious, terrifying and strangely thrilling... Doyle's recreation of 1970s and 1980s Dublin is engaging in itself, even as you're wondering what went wrong in Victor's life... But then comes the devastating and comfortless finale, in which Doyle conjures up a mind-bending narrative swerve to jolt the novel out of everyday realism... By the end, the book's title takes on the air of a taunt as we're left with an unutterably bleak picture of institutional abuse, entirely without hope. -- Anthony Cummins * Observer *
So the great part of the novel is a finely observed and recorded slice of unsatisfactory life... Then, in an astonishing last chapter, when Victor and Fitzpatrick seem to come drunkenly and violently together, Doyle turns the novel on its head, clarifying Victor's memories of school and calling everything we thought we had learned about him into question. The ending is a daring tour-de-force. -- Allan Massie * Scotsman *
Anyone who has been to a boy's Catholic school - even years after the decline of corporal punishment and institutionalised sexual abuse that the book makes its focal point - will be vividly reminded. Few writers are as consistently good as Doyle at conjuring this specific childhood mental geography... Dialogue, narrative pacing, humour and marvelous set pieces are immaculately marshalled throughout Smile. -- Jonathan McAloon * Spectator *
Smile is brisk-paced and funny with the chatty storytelling that is a hallmark of Doyle's writing. But here the familiar heads into dark and unexpected territory as the secrets of Victor's troubled psyche are revealed. -- Eithne Farry * Daily Express *
All of this is told in Doyle's easy, pared down prose and demotic dialogue that just sings. He remains the best kind of populist author; accessible and ambitious. -- Teddy Jamieson * Herald Scotland *
Roddy Doyle has a kind of genius for the literary selfie, for projecting himself and his generation onto the page. His novels, including his latest, Smile, are a brilliant depiction of the condition of men such as he - liberal, self-made Dubliners of is generation and his self-deprecating character - he's approaching 60. His male conversations in pubs... are masterly in that they sound like transcripts of real men talking... There's genius in his banality. -- Melanie McDonagh * Evening Standard *
Smile's grimy, unsentimental truth-telling is overturned at the end by a devastating narrative twist... It actually serves to magnify, not obscure, this hugely moving tale of a ravaged life. -- Paul Connolly * Metro *
No one is better than Doyle at capturing the casual rudeness, hidden affection and dark wit of pub banter... What Roddy Doyle is attempting here is something much more ambitious, a book which, when you come to the final page, makes you gasp and turn straight back to the beginning... What is certain is that this is a novel which isn't afraid to examine the consequences of abuse; what a long and permanent stain it may cast over a man's entire life. Nor does it shy away from how a mind unhinged can secure itself to celebrity in search of self-esteem and meaning. -- Cressida Connolly * Oldie *
Roddy Doyle's ostensibly simplistic, effortless style mines the depths of human emotion without recourse to any pretension, literary or otherwise. He is the Beatles of Irish literature. His dialogue is tuneful to a fault - capturing not only the wit, but also the woeful banality of daily chat. I read The Van at an early age and took it from there; his familiar and instantly engaging style is music to my ears. His latest novel, Smile, is a great pleasure to read. Here again his genius is apparent, this time on the obscure functioning of male friendships. -- Sean Farrell * Dublin Inquirer *
Smile shapes up as a bittersweet story, typically well-observed and smartly-voiced, of a middle-aged, moderately screwed-up guy whose separation and solitude sends him on a journey through memory towards the sufferings of his childhood. Then, for all the assurance that nothing "supernatural" has happened, the floorboards of social realism suddenly give way beneath our feet. Shockingly, we're in an uncanny place that might have been furnished by Henry James at his spookiest. -- Boyd Tonkin * Arts Desk *
This book is a brutal confrontation with reality... The plot twist in the book's final pages is genuinely shocking... But with it the book is elevated to a brilliant and deeply moving level. Finally, this is a compelling exploration of the utter devastation of institutional abuse. -- Maryam Madani * Totally Dublin *
Smile is an undoubtedly fine novel, displaying Doyle's famed mastery of dialogue and ventriloquist-like ability to assume the identities of his characters... The novel's strength lies in Doyle's precise yet impressionistic evocation of the workings of memory and trauma. Childhood trauma is rendered in a manner that is at once harshly exact and vexingly evasive... Doyle's prose is both impeccable and confounding, leading the reader into folly as much as clarification... A timely and stunningly poignant novel wrought with great wit and pathos. * Tn2 Magazine *
This is an unsettling and ultimately bleak examination of institutionalised abuse in Ireland, a subject which offers very little to smile about. -- Mernie Gilmore * Daily Express *
Achingly sad and ruefully perceptive, exquisitely balancing anger with sympathy. -- Lucy Hughes-Hallett * Observer, Books of the Year *
With a queasily gripping, insidiously sad narrative, and an ending that completely rewires everything you thought you knew, Doyle delivers through the paralysed character of Victor a devastating verdict on present-day Ireland, still imprisoned by an ugly past. * Metro *
There's a moment right at the start of Roddy Doyle's new book, Smile, that will make you shiver - dark undercurrents under a banal exterior... More experimental in form, and with less humour than you might expect from Doyle, Smile is the 59-year-old author's attempt to shake us out of complacency... For my part, the book's triumph rests on Doyle's ability to reflect how Victor's experience of abuse has unmoored him from the people around him. -- Laura Kelly * Big Issue *
In a sharply observed novel, Doyle explores memory, relationships and sanity. * Stylist *
Smile has all the features for which Roddy Doyle has become famous: the razor-sharp dialogue, the humour and the superb evocation of childhood - but this is a novel unlike any he has written before. -- Olaf Tyaransen * Hotpress.com *
The final pages of the novel are shocking, and they turn everything preceding it on its head. It's testament to the power of Doyle's writing that the ending is deeply moving, and so very sad. -- Alice O'Keeffe * Bookseller *
One that stuck with me for a long, long time after I had finished it... This is one of my favourite books of the year so far. How the story ultimately plays out left me satisfied, cold and off-balance. A rare thing. -- Rick O'Shea * RTE Online *
A surprise. It's unsettling and evocative, but not what you'd expect from the beloved author... The wit and sharp dialogue are classic Doyle, but the dark, unexpected ending will linger long in the mind. A brilliant read. -- Jennifer McShane * Image *
Who writes the lives, hopes, dreams, sorrows and failures of ordinary people with greater insight, empathy and humanity than Roddy Doyle?... It's as profound, funny, sad and shocking as anything Roddy has ever written. -- Tina Jackson * Writing Magazine *
So cleverly written we are caught up in the narrative and the final reveal is deeply disturbing. Doyle has again proved himself an author who can create the sense of time and place that takes the reader into the backstreet bars of Dublin and shows the dangerous undertow of life in Ireland. * Mature Times *
This is a performance few writers could carry off: a novel constructed entirely from bar stool chatter and scraps of memory. But you can't turn away. It's like watching a building collapse in slow motion... Doyle has perfected a narrative technique that's elliptical without feeling coy. -- Ron Charles * Washington Post *
[Doyle] experiments with time, adding an edgy dream-like quality to the writing... There is no shortage of the author's trademark dialogue where the men chat about their favourite topics, basically pilfering of Doyle's own Two Pints Facebook wheeze... Smile is a precise perceptive study of male vulnerability and quietly portrays the stunted life of a lonely, damaged man. * Phoenix *
It's a captivating story that has all the features his readers love him for: razor-sharp dialogue, humour and warm evocations. * Velvet Magazine *
In contrast to the manic colloquial energy of Doyle's early work, this novel, his eleventh, feels moody and spare - a meditation on how wisdom wounds. * New Yorker *
An unforgettable journey into Ireland's darkest past. -- Claire Alfree * Daily Mail *
A welcome return to form by the master of bittersweet black comedy, dialogue and drama... A profoundly moving, occasionally disturbing and important read. * Reading Matters *
A profound examination of the stories we tell other people - and ourselves. -- Daniel Webb * Guardian *
You may also be interested in...
×
Download the Waterstones App
Would you like to proceed to the App store to download the Waterstones App?
Reserve online, pay on collection.
Or,
add to basket
, pay online, collect in as little as 2 hours, subject to availability.
Thank you for your reservation
Your order is now being processed and we have sent a confirmation email to you at
When will my order be ready to collect?
Following the initial email, you will be contacted by the shop to confirm that your item is available for collection.
Call us on or send us an email at
Unfortunately there has been a problem with your order
Please try again or alternatively you can contact your chosen shop on or send us an email at