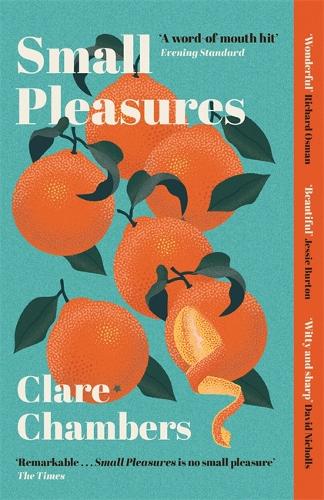 Paperback
368

Pages
Published: 29/04/2021
A frustrated reporter and a potential Virgin birth inform the subtly absorbing narrative of Small Pleasures; a delicate, tender story about belief, credulity and tilting at happiness.
Winner of The British Book Awards 2022 Pageturner Book of the Year
Longlisted for the Women's Prize for Fiction 2021
1957, the suburbs of South East London. Jean Swinney is a journalist on a local paper, trapped in a life of duty and disappointment from which there is no likelihood of escape.
When a young woman, Gretchen Tilbury, contacts the paper to claim that her daughter is the result of a virgin birth, it is down to Jean to discover whether she is a miracle or a fraud.
As the investigation turns her quiet life inside out, Jean is suddenly given an unexpected chance at friendship, love and - possibly - happiness.
But there will, inevitably, be a price to pay.
Publisher: Orion Publishing Co
ISBN: 9781474613903
Number of pages: 368
Weight: 260 g
Dimensions: 196 x 128 x 26 mm
---
MEDIA REVIEWS
'A very fine book... It's witty and sharp and reads like something by Barbara Pym or Anita Brookner, without ever feeling like a pastiche.' - David Nicholls, author of One Day
'Perfect.' - India Knight
'Small lives, love and loneliness, wit and despair all wrapped in an unexpected mystery and placed in a perfectly-realised 50s setting. Effortless to read, but every sentence lingers in the mind.' - Lissa Evans, author of Old Baggage
'This is one of the most tender, beautiful books I have ever read. Please, please order it now for July. I honestly don't want you to be without it. It is exquisite.' - Lucy Mangan
'I've had about five people recommend this to me, which is quite rare... It's a novel about the last throw of the dice, the last chance perhaps of finding a life of happiness when you've had a struggle. The writing is beautiful. This is also the first novel Chambers has written for 10 years, which I find really inspiring. I think there's this discourse in our culture that you've got to have everything done in your first book ... But Chambers has been away for 10 years and she's come back with this absolute humdinger. It's just so nice to read a book by someone who's so confident with their talent. I'm glad she's having this renaissance.' - Jessie Burton
'Quietly remarkable... Small Pleasures is no small pleasure.' - Andrew Billen, The Times
'Small Pleasures is an almost flawlessly written tale of genuine, grown-up romantic anguish. Written in prose that is clipped as closely as suburban hedges, this is a book about seemingly mild people concealing turbulent feelings... one of the great strengths of the book is its tender, atmospheric descriptions of England: wet leaves, misted windows, the "melancholy sense of approaching dusk". Small Pleasures succeeds in creating one of those enclosed fictional worlds that, however desolate, has its own rules, its own flavour and its own charm.' - Johanna Thomas-Corr, The Sunday Times
'There's compassion and quiet humour to be found in this tale of a putative virgin birth in postwar suburban London... Chambers's eye for drab, undemonstrative details achieves a Larkin-esque lucidity.' - Alfred Hickling, The Guardian
'An irresistible novel - wry, perceptive and quietly devastating.' - Hephzibah Anderson, Mail on Sunday
'Small Pleasures is no twee romance, but a quietly compelling novel of duty and desire.' - Francesca Carington, The Sunday Telegraph
'Wonderful.' - Richard Osman
'A wonderful novel. I loved it.' - Nina Stibbe
'Miraculous.' - Tracy Chevalier
'A beautiful and moving read set in 1950s suburbia that'll be on books, Stylist
'This is a dazzling, exquisitely written story of how happiness and even love can find us when we least expect it.' - Sarra Manning, Red
'There are small pleasures aplenty in Clare Chambers' quietly observed, 1950s-set story... Chambers' novel combines a startling storyline with an engagingly nuanced portrait of post-war suburban femininity.' - Claire Allfree, Metro
'A stunning novel to steal your heart.' - Woman & Home
'A wonderfully compassionate imagining of the post-war years, darned with the fine skeins of love.' - Kerry Fowler, Sainsbury's Magazine
'I loved this novel, which simmers with repressed emotions, and the gut punch of an ending really stayed with me.' - Jo Finney, Good Housekeeping, Book of the Month *
'The glorious literary equivalent of pulling the duvet over your head... Both an absorbing mystery and a tender love story - and the ending is devastating. Chambers is a writer who finds the truth in things. If you admire Tessa Hadley or Anne Tyler (and there are shades of Barbara Pym too), then this is one for you.' - Alice O'Keefe, The Bookseller, Book of the Month
'It is a glorious piece of storytelling where powerful emotions and awful revelations are treated with a dignity that makes them all the more devastating.' - Eithne Farry, Daily Mirror
'A gentle, heart-aching mystery that's infused with empathy and a keen understanding of stifling 1950s mores.' - Stephanie Cross, Daily Mail
'The author's first novel in almost 10 years is so good it made me want to read her entire backlist!.. An enticing read.' - Nina Pottell, Prima
'I am perverse about those books that acquire a sudden, unexpected popularity; perhaps a combination of natural contrariness and fear of being out of step with the cultural zeitgeist. I'm glad I overcame that irrational prejudice for Small Pleasures by Clare Chambers, another story of lives that appear to have hit the buffers... A little gem of a book that transplants the listener quite elsewhere, while exploring the abiding issue of how much we are prepared to suspend our disbelief if we glimpse a chance of happiness.' - Financial Times (Best Audiobooks)
'Clare Chambers's novel is a delight to read: completely and utterly haunting... Quietly confident with moments of vibrant humour, this is an exquisitely drawn study of human fragility.' - Helena Gumley-Mason, The Lady
'Part mystery, part love story, part reflection on changing attitudes to sexuality in post-war Britain, Small Pleasures is a disarmingly gentle read that quietly builds to a devastating conclusion.' - Scarlett Sangster, Press Association - syndicated across regional newspapers and websites
'A devourable mystery with a side order of love story set in 1950s suburbia.' - Rosamund Dean, Grazia
'Hauntingly tender, and written with powerful grace, Clare Chambers's Small Pleasures is an absolute joy from start to finish... Laying bare a quivering three-way tug between obligation, propriety and passion, and the inexplicable way thunderbolt-bonds are formed between similar-souled individuals, Jean's conflicts and chance to love truly get under your skin. What a remarkable book, with a dagger-sharp climax that will pierce your heart.' - LOVEREADING, July Picks of the Month and a Star Book
'Beautiful... Small Pleasures is a sort of meditation on finding moments of joy (a solo cigarette, a melting ice-cream) in a context of wider sadness.' - Emma Beddington, Observer Magazine
'Small Pleasures is a tender and heart-rending tale that will draw you in from the first page and keep you gripped until the very end. Exquisitely compelling!' - Ruth Hogan, author of The Keeper of Lost Things
'Clare Chambers is that rare thing, a novelist of discreet hilarity, deep compassion and stiletto wit whose perspicacious account of suburban lives with their quiet desperation and unexpected passion makes her the 21st century heir to Jane Austen, Barbara Pym and Elizabeth Taylor. Small Pleasures is both gripping and a huge delight. I loved what she did with the trope of the claim of a virgin birth, and how the hope of a miracle opens the door to love, kindness and hope in an arid existence. This is better than Eleanor Oliphant Is Completely Fine and deserves just as much acclaim.' - Amanda Craig, author of The Lie of the Land
'Clare Chambers is such a witty, astute and subtle writer. There is a delightful whiff of Pym or Whipple about Small Pleasures - it's an absolute delight!' - Lucy Atkins, author of Magpie Lane
'Elegant, compelling, funny, sad. I loved every word of this tone perfect novel. I was so absorbed I stopped only to wonder if the author had squirrelled away a lost classic by Barbara Pym and presented it as her own.' - Polly Samson, author of A Theatre for Dreamers
'Small Pleasures is a gorgeous treat of a novel: the premise is fascinating, the characters beautifully drawn and utterly compelling, the period setting masterfully and delicately evoked, and the plot is full of unexpected twists and turns. And oh, the finale broke my heart. I just couldn't put this novel down.' - Laura Barnett, #1 bestselling author of The Versions of Us
'I adored Small Pleasures. It's engrossing and gripping: you want to race on and relish every sentence at the same time. I love the way Clare writes - her wry, subtle turns of phrase, the humour in the smallest of observations, the finely drawn characters. A wonderful book.' - Sabine Durrant, author of Lie With Me
'A delicious mystery and a touching exploration of loneliness and desire in cloying 1950s suburbia - a great read.' - Sally Magnusson, author of The Sealwoman's Gift
'Small Pleasures is the best sort of book: full of longing, regret and difficult emotions but leavened with so much warmth and humour it was a joy from start to finish.' - Francesca Jakobi, author of Bitter
'You know one of those rare books that just immerses you with its richly constructed world and compelling narrative. Well, Small Pleasures is that book.' - BOOK RIOT, Best Books of Summer 2020
'Blissful. -- Cressida Connelly, The Spectator, Books of the Year
'This novel brings a sensibility not unlike those of Barbara Pym and Philip Larkin to a story (inspired by a real-life episode in the 1950s) of a woman who claims to have had a child by virgin birth... In a milieu of reticence and chin-up stoicism, startling revelations surface and emotions hopefully stir.' - Peter Kemp, The Times, Best Novels of 2020
'One of the year's most quietly affecting books... achingly tender.' - The Daily Telegraph, Books of the Year *
'Clare Chambers is a diamond in the dust.' - Independent on Sunday
'Clare Chambers' characters are so vivid that, by the end of the book, they feel like old friends.' - Daily Mail
'A book I very much enjoyed and will be gifting is SMALL PLEASURES by Clare Chambers. It's a love story tangled up with a very satisfying mystery. The portrayal of post-war suburbia, its boredom and frustration, is so vivid and you long for the characters to find happiness. It's Brief Encounter with an ingenious twist.' - David Nicholls * GOOD HOUSEKEEPING, Books of the Year *
'Set in 1957, Chambers' atmospheric tale of lonely journalist Jean and her last chance at love is compelling, beautifully written and will shatter your heart into smithereens. Unmissable.' - Charlotte Heathcote * DAILY EXPRESS, Books of the Year *
'Clare Chambers' novels have a unique quality of elegiac charm, and Small Pleasures, her breakthrough success, is set in
recognisable 1950s' Kent. The setting alone is a wonderful escape from our own big bad reality and the plot - based on a true story of a woman who claimed to have undergone a virgin birth - is both striking and atmospheric. Hers is a lost suburban world of quiet anguish and inhibited ecstasies. Chambers is compared to Barbara Pym but is more joyful and
addictive. I was hooked from her first novel. Treat yourself to all her work.' - Jane Thynne * THE TABLET, Best Books of the Year *
'Some of the year's most purely enjoyable reading could be found in this perfectly formed, 1950s-set tale... A droll, charming and wholly absorbing blend of period mystery and romance.' - Anthony Cummins * METRO, Books of the Year *
You may also be interested in...
×
Download the Waterstones App
Would you like to proceed to the App store to download the Waterstones App?
Reserve online, pay on collection


Thank you for your reservation
Your order is now being processed and we have sent a confirmation email to you at
When will my order be ready to collect?
Following the initial email, you will be contacted by the shop to confirm that your item is available for collection.
Call us on or send us an email at
Unfortunately there has been a problem with your order
Please try again or alternatively you can contact your chosen shop on or send us an email at