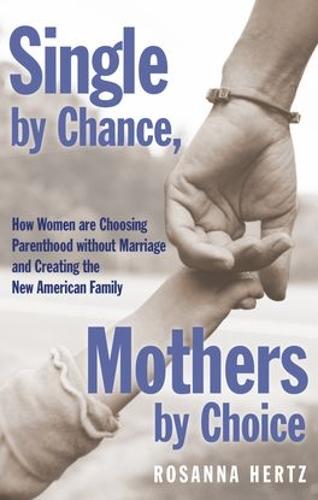 Single by Chance Mothers by Choice: How Women are Choosing Parenthood without Marriage and Creating the New American Family (Paperback)
Rosanna Hertz
(author)
Paperback
304

Pages / Published: 31/07/2008
A remarkable number of women today are taking the daunting step of having children outside of marriage. In Single By Chance, Mothers By Choice , Rosanna Hertz offers the first full-scale account of this fast-growing phenomenon, revealing why these middle class women took this unorthodox path and how they have managed to make single parenthood work for them. Hertz interviewed 65 women-ranging from physicians and financial analysts to social workers, teachers, and secretaries-women who speak candidly about how they manage their lives and families as single mothers. What Hertz discovers are not ideologues but reluctant revolutionaries, women who-whether straight or gay-struggle to conform to the conventional definitions of mother, child, and family. Having tossed out the rulebook in order to become mothers, they nonetheless adhere to time-honored rules about child-rearing. As they tell their stories, they shed light on their paths to motherhood, describing how they summoned up the courage to pursue their dream, how they broke the news to parents, siblings, friends, and co-workers, how they went about buying sperm from fertility banks or adopting children of different races. They recount how their personal and social histories intersected to enable them to pursue their dream of motherhood, and how they navigate daily life. What does it mean to be 'single' in terms of romance and parenting? How do women juggle earning a paycheck with parenting? What creative ways have women devised to shore up these families? How do they incorporate men into their child-centered families? This book provides concrete, informative answers to all these questions. A unique window on the future of the family, this book offers a gold mine of insight and reassurance for any woman contemplating this rewarding if unconventional step.
Publisher: Oxford University Press Inc
ISBN: 9780195341409
Number of pages: 304
Weight: 411 g
Dimensions: 227 x 144 x 20 mm
---
MEDIA REVIEWS

"It's impossible to do justice here to the complexity of the portraits Hertz paints in this well-crafted book, including the different ways that women handle the often unexpected results of their decisions."--Washington Post Book World
"Single by Chance, Mothers by Choice takes us on a thought-provoking journey with several single women facing the challenge of how to become a mother without a spouse. This is required reading for any single woman in her thirties who is concerned about the ticking of her biological clock."--Jane Mattes, L.C.S.W., Founder and Director, Single Mothers by Choice
"Sensitively explores how traditional bonds of kinship and family forms are challenged and then renegotiated among middle-class women who have elected to become single mothers... This book is the first high-quality and comprehensive chronicle of middle-class women who decide to become mothers without partners."--Contexts
"In this important book, Rosanna Hertz examines the lives of adult women who have chosen to become single mothers. Too often studies of this kind offer a snapshot of a moment in time, but here Dr. Hertz gives us a movie--a sifting, changing and evolving portrait that takes us from the difficult moment of decision to the present, from anxious new mothers wondering whether they could do it, to women and their children who have written a different kind of family narrative."--Lillian B. Rubin, Ph.D, author of The Man With the Beautiful Voice and Worlds of Pain
"Read this book for nuanced insight into how the concept of family is changing across our country. Read it if you are a single mom or considering single motherhood. Read it for the stories of the courageous women who took their desire for children into their own hands. They are creating new forms of kinship and support networks that will have echoes beyond the realm of single-mom families. Single by Chance, Mothers by Choice is well researched and well written, and surely to be much discussed."--Mombian.com
"In this page-turner of a book Rosanna Hertz follows the lives of middle-class single women who choose to become mothers without husbands or partners. Through vivid portraits and interviews, the romantic ideals and day-to-day complexities of single parenting come alive--all carefully portrayed within an historical and sociological context. This is a notable contribution to our understanding of how changing norms, changing technology, and changing laws are creating new family dynamics in modern America."--Cynthia Fuchs Epstein, past President, American Sociological Association
"In this grounded, accessible study, Hertz also poses some challenging questions about the future role of fathers." --Publishers Weekly
"There is a lot to admire about this book. In her well-written and interesting account, Hertz offers a vivid illustration of a new form of family taking its place in the United States. In taking the journey with her, we get a close-up view of the struggles and joys these women face when choosing to be single mothers. Anyone interested in studying the dynamics of families should read this valuable book and consider Hertz's assertion: ''The bottom line of this book is clear: we can no longer deny that the core of family life is the mother and her children.'"--Journal of Marriage and Family
"Are unmarried women with careers and babies conventional or do they challenge society to seek to dispense with men? My own answer is better informed after reading Single by Chance, .... It will likely be useful to give to friends contemplating parenthood as well as to place in family courts and clinician offices."-- ournal of Family and Economic Issues
"Single mothers have been in the cross-hairs ever since Dan Quayle attacked TV's 'Murphy Brown' for 'mocking fatherhood' by having a child without being married. But Rosanna Hertz's fascinating in-depth study shows that the former Vice President was wrong. Today's Murphy Browns--middle-class, self-supporting single mothers by choice--are not trying to score ideological points. Rather, their commitment to motherhood survives the fading of their hopes for marriage. This is an important book that debunks the myths and stereotypes of a family type that is here to stay."--Arlene Skolnick, Ph.D., co-author of Family in Transition
"Single by Chance, Mothers by Choice contributes to growing scholarship on family diversity as an engaging, insightful expoloration of one of the unanticipated and paradoxical family byproducts of the decline of the feminine mystique."--Contemporary Sociology
"This book is a great addition to the existing literature, providing deep insights into the complexities of single-mother families and much needed information about middle-class single mothers and the role of fathers in those families. The study also informs the debate about the importance of blood ties versus social ties. Very well written and a pleasure to read, the book is a page-turner."--Choice
"Her portraits are richly textured... Hertz is clearly gifted in drawing out her subjects... she writes eloquently and persuasively."--The Times Literary Supplement
"Offers unique insight into how these family arrangements play out over time."--Qualitative Sociology

You may also be interested in...
Simply reserve online and pay at the counter when you collect. Available in shop from just two hours, subject to availability.
Thank you for your reservation
Your order is now being processed and we have sent a confirmation email to you at
When will my order be ready to collect?
Following the initial email, you will be contacted by the shop to confirm that your item is available for collection.
Call us on or send us an email at
Unfortunately there has been a problem with your order
Please try again or alternatively you can contact your chosen shop on or send us an email at