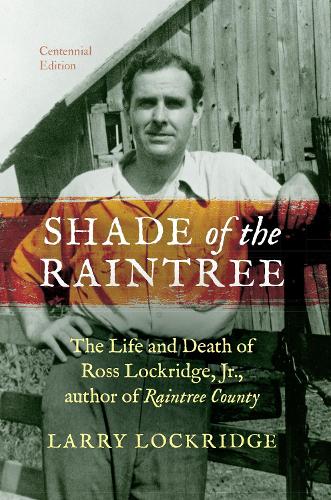 Shade of the Raintree, Centennial Edition: The Life and Death of Ross Lockridge, Jr., author of Raintree County (Paperback)
Larry Lockridge
(author)
Paperback
544

Pages / Published: 17/04/2014
Raintree County, the first novel by Ross Lockridge, Jr., was the publishing event of 1948. Excerpted in Life magazine, it was a Book-of-the-Month Club Main Selection, won MGM's Novel Award and a movie deal, and stood at the top of the nation's bestseller lists. Unfortunately, Lockridge's first novel was also his last. Two months after its publication the 33-year-old author from Bloomington, Indiana, took his own life. His son Larry was five years old at the time. Shade of the Raintree is Larry's search for an understanding of his father's baffling act. In this powerfully narrated biography, Larry Lockridge uncovers a man of great vitality, humor, love, and visionary ambition, but also of deep vulnerability. The author manages to combine a son's emotional investments with a sleuth's dispassionate inquiry. The result is an exhilarating, revelatory narrative of an American writer's life. With a new preface by the author, this 2014 paperback edition marks 100 years since the birth of Ross Lockridge, Jr.
Publisher: Indiana University Press
ISBN: 9780253012814
Number of pages: 544
Weight: 63 g
Dimensions: 229 x 152 x 34 mm
Edition: Centennial Edition
---
MEDIA REVIEWS
[Larry Lockridge] has written a wonderful biography . . . [He has] an unsparing yet loving hand, a steady grace and humor that are nothing less than remarkable . . . Shade of the Raintree is an act of love and of forgiveness . . . In telling the difficult story of Ross Lockridge's death, he provides a deeply moving portrayal of a good and gifted young man in the grip of something terrible . . . [It is] this son's brave and unflinching attempt to understand his father's pain, while restoring his father's dream. In a very real sense, Shade of the Raintree delineates 'the legend of a life upon the earth . . . the signature of a father and preserver, of some young hero and endlessly courageous dreamer.' (Reviewing a previous edition.) * Los Angeles Times *
In a writerly achievement of great magnitude, Larry Lockridge lights up every dark corner in his father's soul and convinces the reader that an even greater tragedy has taken place than the self-destruction of a writer. Raintree County, a work that should rank with Thomas Wolfe's Look Homeward, Angel as a landmark in American fiction, lies a victim, along with its dead author and his reputation. Shade of the Raintree . . . is a book whose stirring power and complexity would daunt any reviewer. These are depths you simply must swim down into rather than be told about . . . This is as well a major work on clinical depression that gathers you into the illness's grip link by link until death seems the only release. If it were up to me, I'd give this book all the awards and literary rosettes that Raintree County should have received but which went to far less inventive works back in the dim old days of 1948. (Reviewing a previous edition.) * Philadelphia Inquirer *
In telling this tragic story, son Larry, with a magical touch of his own, emulates his father in brilliance and intensity: result, a reading experience at once moving, candid, and hypnotic. Shade of the Raintree is worthy of sharing the shelf with Raintree County. . . (Reviewing a previous edition.) * Arts in Review, WFLN, Philadelphia *
It might be expected that such a biography, dealing as it does with depression and death, would be depressing to read. But Lockridge's book has many uplifting moments and many flashes of wit and humor. (Reviewing a previous edition.) * Indianapolis News *
[Ross Lockridge's suicide] has remained a mystery for more than four decades, but [Shade of the Raintree] goes a long way toward clearing it up. The biography . . . is useful in several respects: as an examination of the process of writing, editing and producing a novel, as a study of mental illness, and as an account of a family's reaction to suicide . . . The subject of the new biography emerges as a brilliant and likable young man. (Reviewing a previous edition.) * Dallas Morning News *
Lockridge's second son, Larry, shows a vibrant, loving, passionate, and brilliant man-as flawed as the rest of us . . . Larry Lockridge is uniquely qualified to write this book, both as a family member and as a literary critic . . . The recovery of the survivors is portrayed with candor and dignity, even occasionally lit with humor. By the close of the book, most readers feel that they have survived the sad loss of a friend worth keeping. This book is balanced and it is heartbreaking. (Reviewing a previous edition.) * Harvard Graduate School Alumni Newsletter *
[Larry Lockridge] is a lively, witty writer, who manages to find irreverent humor even in the aftermath of his father's suicide. (Reviewing a previous edition.) * Chicago Tribune *
It's an interesting, readable quest by a boy-now a man-who, in his words, grew up with a novel instead of a father. (Reviewing a previous edition.) * New York Daily News *
Shade of the Raintree is a powerfully accurate accounting of the life of an under-appreciated American writer, warts and all, written by his son Larry. Although Larry Lockridge, only five years old at the time of his father's suicide, has an obvious emotional investment in the story, his presence as narrator is informed rather than intrusive . . . Indeed, Lockridge, himself a scholar, breathes life into the tragic figure that was his father. He delivers a panoramic view of the Midwest during the two world wars. He shows us a kinder-yes, gentler-America and an idealistic, romantic brilliant young man who inhabited that world. (Reviewing a previous edition.) * The State *
Shade of the Raintree is a riveting book, shattering and shot through with the powerful poignancy of a life undone. I have read my copy twice through already, and will turn to it again and again, as I read and re-read Raintree County . . . Larry Lockridge is no apologist for his father, nor for his father's final act. Rather, Shade of the Raintree tenderly explores the complicated psyche of the gifted young author of an epic novel. (Reviewing a previous edition.) * Detroit News *
Out of this tragedy, Larry Lockridge has fashioned a touching, insightful and affectionate biography. It reveals much about his gifted father, his father's extraordinary family, and a vanished, almost idyllic world-that of the Indiana heartland in the years between World War I and World War II . . . Larry Lockridge contributes a detailed and dazzling analysis of his father's complex, erudite novel . . . He also analyzes, with equal brilliance, the mental illness that led to his father's death . . . This finely wrought, finely researched, moving and loving biography succeeds on all counts. (Reviewing a previous edition.) * Cleveland Plain Dealer *
Shade of the Raintree is compassionate, yet objective, not the myopic reading one might expect from a family member . . . Larry Lockridge has written a clear, powerful narrative. Sources are thoroughly but unobtrusively documented. Don't overlook Shade of the Raintree . . . (Reviewing a previous edition.) * Columbus Dispatch *
One senses that the novelist would be proud of his son: he has created a full portrait of life in the Midwest between the wars and of the collision of depression and the creative mind. (Reviewing a previous edition.) * Publishers Weekly *
The reader is always aware that the book was written by its subject's son, but it does not seem like special pleading: the author has achieved the subtle blend of affection and detachment that all good biographers strive for . . . Larry Lockridge reads Raintree County with warm appreciation for its encyclopedic ambitions and stylistic daring . . . [Shade of the Raintree] fits comfortably in the venerable canon of biographies that illuminate the tumultuous progress of American literary history even as they trace its cost in an individual life, but it is something more: a son's moving attempt to come to grips with his father's legacy as a man and an artist. (Reviewing a previous edition.) * Chicago Sun Times *
Perhaps most moving in the book is the son's wish for his father's greatness that the book for which his father died be truly great . . . It is with a youthful exuberance that Larry Lockridge tries to recapture his father's young mania to put everything in . . . He would not have wanted his father to have written a less ambitious book, nor to have given up the great egoism, which was also a great generosity, to have striven less high. (Reviewing a previous edition.) * The New York Times *
It is clear that Shade of the Raintree is [like Raintree County] destined to become an American classic on its own. It is a biography of a compelling figure written with compelling urgency and depth of feeling by a son seeking the father he never got the chance to know. In seeking to understand his father, Lockridge sometimes comes down very hard on his grandparents, but he does have a real sense of how families work, and he has genuine compassion for how people try to do their best in impossible situations. Once again a Lockridge has permanently fixed through art and imagination a time and place-the Indiana world of his own parents and grandparents . . . The best thing about Shade of the Raintree is that it sees nothing in idealism to ridicule; Lockridge can make us feel it the way his father did. (Reviewing a previous edition.) * Boston Globe *
Overall, Shade of the Raintree is compelling, supplying details, knowledge and understanding that had been missing. It gives a fresh look at a book that many people-myself included-believed was the closest any work had ever approached the mythical goal of the Great American Novel. (Reviewing a previous edition.) * Fort Worth Star-Telegram *
Beyond any other standard, I tend to judge the quality of the biographies I read by the sense of loss I feel at the death of the subject. In this vein, I have seldom been moved more deeply than I was by Shade of the Raintree. (Reviewing a previous edition.) * Traces *
The son of Ross Lockridge, Jr. cuts his father a new suit and redresses an injured great American writer. Larry Lockridge here faces the double tasking of writing a biography of his father and of finding out what drove him to a ruthless act of self-destruction. An immensely moving book, deserving of the Pulitzer Prize. (Reviewing a previous edition.) * Kirkus Reviews *
It is clear that Shade of the Raintree is [like Raintree County] destined to become an American classic on its own. (Reviewing a previous edition.) -- Richard Dyer * Boston Globe *
The biography is remarkable on many counts, not the least of which is that the son is loving of the father without blinking his fatal grandiosity. It is a book that could have been written only by a family member, but one that never bogs down in genealogy. It combines tireless documentation of the life with sound literary assessment of the novel . . . One finishes Shade of the Raintree with a renewed sense of the injustice of Ross Lockridge's inevitable label as a one-book writer in the face of the one great statement that cost him everything. (Reviewing a previous edition.) * Houston Chronicle *
Meticulously, unflinchingly, the younger Lockridge has created a biography (it can hardly be called a memoir) that is also a searching clinical study of depression; a remarkably objective essay in literary criticism; an important contribution to rural American history, and, finally, a magnificent and compassionate act of forgiveness. (Reviewing a previous edition.) * Newsday *
An astonishing work by Larry Lockridge, Shade of the Raintree explores the 1948 suicide of his father . . . It is about the risks of grand reach . . . Seeing what ambition did to Lockridge, yet needing our authors to strive as Lockridge strove, we bear witness to one of the great mysteries of our culture's artistic life. (Reviewing a previous edition.) * Portland Oregonian *
[Larry Lockridge] can be frank as well as filial . . . Did Ross Lockridge, in his final act, upstage the book he had poured his heart into? Perhaps he did. This may dismay Lockridge sympathizers-and it is impossible not to be one of them in the face of someone so openly tortured. Larry Lockridge believes that Raintree County stands on its own as a neglected minor classic, but he acknowledges the rich possibilities for allegory in his father's life and struggle, his dreams and death. They, and not Raintree County (which Trueheart calls 'the Great American Studies Novel') give us the story that survives with something still to say. (Reviewing a previous edition.) * Atlantic Monthly *
Larry Lockridge does a remarkable job of examining his father's life, death, and work. There is nothing family-serving about his biography, no attempt to hide the demons that Ross Lockridge, Jr. was fighting. Best of all, Larry Lockridge provides a literary analysis that will help readers find the magic in his father's book. (Reviewing a previous edition.) * Detroit Free Press *
In the annals of 20th-century American literature, there may be no act more puzzling than [the suicide of Ross Lockridge, Jr.] Shade of the Raintree is a book that is, in its own way, as remarkable and compelling as Raintree County. The answer Larry Lockridge comes up with is long and complex as American literature itself . . . A review cannot do justice to the richness and detail of Lockridge's analysis of his father's despair . . . He has produced a wonderful hybrid: a solid, dispassionate biography that is at the same time a tender and understanding homage. (Reviewing a previous edition.) * Milwaukee Journal *
The saying goes that you should beware of getting what you most desire. Superficially, at least, this sums up the dramatic account of his father's life that Larry Lockridge has written . . . Shade of the Raintree is the son's attempt to set his father's psychic record straight . . . We get a large portrait of a sophisticated artist who was the furthest possible thing from a Midwest bumpkin . . . Still, the reason one keeps reading it is to plumb the mystery of the father's self-destruction, and in the son's account the father's experience seems both harrowing and inevitable . . . What impresses you is the sense of reconciliation the son conveys. (Reviewing a previous edition.) * The New York Times *
The precarious balance between love and commitment, and between the torment and the truth has been beautifully maintained . . . Thus we find here a great life, a great novel, and a great tragedy memorialized in a classic vein . . . The son manages to catch 'the murmur of the spirit,' to use the Indian editor, R. Raghunatha Aiyer's eloquent words in relation to great prose. (Reviewing a previous edition.) * The Tribune *
You may also be interested in...
Simply reserve online and pay at the counter when you collect. Available in shop from just two hours, subject to availability.
Thank you for your reservation
Your order is now being processed and we have sent a confirmation email to you at
When will my order be ready to collect?
Following the initial email, you will be contacted by the shop to confirm that your item is available for collection.
Call us on or send us an email at
Unfortunately there has been a problem with your order
Please try again or alternatively you can contact your chosen shop on or send us an email at