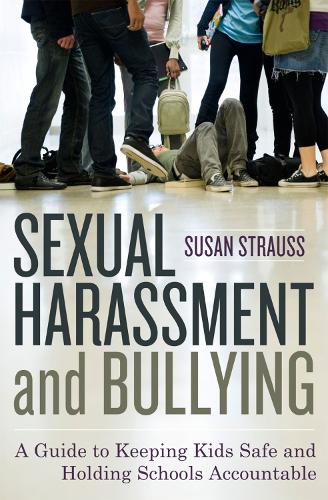 Sexual Harassment and Bullying: A Guide to Keeping Kids Safe and Holding Schools Accountable (Hardback)
Susan Strauss
(author)
Hardback
208

Pages / Published: 15/12/2011
Despite headlines that label all harassment among youth as bullying, there is in fact a difference between sexual harassment and bullying. This book discusses the similarities and important differences between the two, offering firsthand accounts from victims and others involved in combating the activities that victimize students. It provides parents, youth advocates, scout leaders, and other concerned adults with practical steps to partner with schools to prevent and intervene on the behaviors to help keep kids safe. The book clearly identifies the steps to take to hold schools accountable when a student has been harassed or bullied, even when the school is not stopping the behavior. Providing examples throughout the work, Strauss helps readers become better acquainted with the various activities that constitute sexual harassment and bullying and what they can do to combat the problem.
Publisher: Rowman & Littlefield
ISBN: 9781442201620
Number of pages: 208
Weight: 594 g
Dimensions: 239 x 163 x 27 mm
---
MEDIA REVIEWS
Being bullied or harassed is a common fear of schoolchildren, but recently, the use of social media and the suicides of children who have been severely harassed have heightened the concern of parents and educators. Strauss draws on her experiences as consultant, former high-school teacher, and parent of a child who was sexually harassed to advise parents, teachers, and other adults on how to protect children. She begins by clearly defining bullying and sexual harassment and advising how to avoid overreacting to innocent curiosity. Strauss offers a particular focus on the kind of harassment of gay, bisexual, and transgendered students that has led to suicide in several cases, highlighting warning signs for distress in children who are harassed. She devotes a separate chapter to examining how social media, including MySpace and Facebook, have ramped up bullying and harassment. Finally, she examines laws and school policies regarding harassment and provides sound advice on how parents can hold schools accountable for misbehavior and protect their children. Strauss includes a guide for online and other contact information for helpful resources. * Booklist *
Every day in schools across the country, students are subjected to sexual harassment, gender harassment, and bullying. You'd think teachers and administrators would do everything in their power to protect their charges from such abuses, but Strauss (consultant & trainer; Sexual Harassment and Teens: A Program for Positive Change) shows us otherwise. Part of the problem stems from educators' ignorance of the differences between bullying and sexual and gender harassment, often confusing these abuses or believing they are the same thing. Educators' perceptions of what is bullying or sexual/gender harassment can be faulty, and educators are often unaware of their legal obligations covered in Title IX of the Education Amendments of 1972. Verdict This can be a hard book to read-no student should have to endure the abuses Strauss reports here. Her purpose in writing this work is to inform readers of what constitutes not only sexual and gender harassment and bullying but also students' rights and the law. She has more than accomplished this. One hopes her work will spur readers to change the current school culture that allows abuse to occur and abusers to go unpunished. * Library Journal *
Susan Strauss is glad to see Minnesota educators and political leaders paying greater attention to the problem of bullying, but she warns that they might be shortchanging another significant problem: harassment. In a new book, the Eden Prairie author says that what often passes for bullying might actually be harassment, and she argues that parents shouldn't be so quick to use the bullying label if their children are being intimidated due to their gender, race or sexuality. Bullying offers little legal recourse for victims, but state and federal laws set criminal penalties for harassment and allow victims to sue school districts that fail to prevent it. [Strauss] described the book as a how-to guide for parents to keep schools accountable for their response to harassment and differentiating it from bullying. "If you're just wanting to get it to stop and the school responds and makes it stop, wonderful. The label probably doesn't matter," she said. "It's when it doesn't stop that the parent needs to know" when it's harassment or when it's bullying. * Star Tribune *
It's an indispensable guide for any parent or concerned adult in these times. * Liberty Press *
An expert on sexual harassment, Strauss (DeVry Univ. and University of Phoenix) presents a cautionary tale, urging school administrators to take bold action to prevent a culture of peer abuse. She proposes adopting a standardized nomenclature as a step toward clarifying distinctions between bullying and sexual harassment. A review of the current climate in schools reveals the propensity to label all aggressive misconduct as bullying--an overgeneralization that minimizes the significance of sexual harassment and can prove devastating for gay, lesbian, bisexual, and transgender individuals. The author warns that an inaccurate definition of behaviors that constitute sexual harassment can result in forfeiture of protection available in federal legislation to prosecute perpetrators. She also examines cyberharassment and cyberbullying, providing website resources to address cyberthreats. Strauss makes the case that all provocateurs of violence should be held accountable and that understanding the dynamics of bullying and sexual harassment can help identify those at risk and protect them. An effective tool to spark a dialogue on building community alliances to promote accountability in educational settings, this primer includes sections on anti-bullying and sexual harassment statutes, state-by-state resources, contact information for civil rights cffices, and a practical road map on "how to file a discrimination or harassment complaint." Summing Up: Recommended. * CHOICE *
A probing a deeply clarifying examination of the twin problems of sexual harassment and bullying, including a nuanced discussion of the differences between the two types of peer-based misconduct. Using practical examples and in-depth legal analysis, Susan Strauss offers a refreshingly clear-eyed look at these frequently misunderstood topics. Sexual Harassment and Bullying offers an invaluable roadmap for parents and community leaders committed to keeping children healthy and safe. -- Travis Hicks, editor, Educator's Guide to Controlling Sexual Harassment
A great starting point for many important topics for educators and families who face such issues with their children and students-easy reading on difficult subjects. -- Nan D. Stein, Ed.D, Wellesley College Center for Research on Women
The book is terrific! I found the book to be an exhaustive analysis of a complicated, evolving, and dangerous threat to our school environment. I find it a MUST READ by those who are charged with the responsibility of our children in schools because it is a road map to avoiding the many pitfalls of mislabeling sexual harassment as bullying. -- Dick Tieszen, trial lawyer
A must read for parents and educators, this should be the go-to book for school harassment. Not only does Strauss write professionally and logically, but her accessible style gives parents the tools to take charge of their child's safety. Her in-depth research makes this book both an excellent crash course for parents and a must in professional study for educators. A copy of Sexual Harassment and Bullying needs to be placed in every school official's office and every student's home. -- Laura Goetz, LGBT Advocate,mediator, parent
Susan Strauss provides a comprehensive understanding of what is required to keep students safe and how to hold schools accountable when they fail to do so. This book should be required reading for anyone concerned about the safety and well being of children in school. -- Jamie Nabozny, Safe School Advocate
"Gay kids have long been a target of bullying. Until recently, incidents could be laughed off as "pranks," and no one suffered any consequences, save for the gay kid. But in the last few years, that has begun to change" "This is a group of people that just overwhelmingly are the victims of bullying and harassment"- Sen. Al Franken, D-Minn "The world swooned earlier this month when President Barack Obama gave gay marriage his personal blessing, but his administration's efforts to combat bullying may actually be his more valuable contribution" "it's important for parents to know that if the school doesn't respond, they can file charges with the state's Department of Civil Rights" * LA Weekly *
You may also be interested in...
Simply reserve online and pay at the counter when you collect. Available in shop from just two hours, subject to availability.
Thank you for your reservation
Your order is now being processed and we have sent a confirmation email to you at
When will my order be ready to collect?
Following the initial email, you will be contacted by the shop to confirm that your item is available for collection.
Call us on or send us an email at
Unfortunately there has been a problem with your order
Please try again or alternatively you can contact your chosen shop on or send us an email at