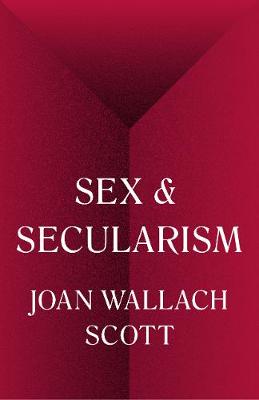 Hardback
240

Pages / Published: 10/11/2017
How secularism has been used to justify the subordination of women Joan Wallach Scott's acclaimed and controversial writings have been foundational for the field of gender history. With Sex and Secularism, Scott challenges one of the central claims of the "clash of civilizations" polemic--the false notion that secularism is a guarantee of gender equality. Drawing on a wealth of scholarship by second-wave feminists and historians of religion, race, and colonialism, Scott shows that the gender equality invoked today as a fundamental and enduring principle was not originally associated with the term "secularism" when it first entered the lexicon in the nineteenth century. In fact, the inequality of the sexes was fundamental to the articulation of the separation of church and state that inaugurated Western modernity. Scott points out that Western nation-states imposed a new order of women's subordination, assigning them to a feminized familial sphere meant to complement the rational masculine realms of politics and economics. It was not until the question of Islam arose in the late twentieth century that gender equality became a primary feature of the discourse of secularism. Challenging the assertion that secularism has always been synonymous with equality between the sexes, Sex and Secularism reveals how this idea has been used to justify claims of white, Western, and Christian racial and religious superiority and has served to distract our attention from a persistent set of difficulties related to gender difference--ones shared by Western and non-Western cultures alike.
Publisher: Princeton University Press
ISBN: 9780691160641
Number of pages: 240
Weight: 454 g
Dimensions: 216 x 140 mm
---
MEDIA REVIEWS
One of The Guardian's Best Books of 2017
Sex and Secularism offers a series of bracing and illuminating reflections on a whole culture of oppression that ought to have been exposed much earlier.---Pankaj Mishra, The Guardian
Sex and Secularism must be praised for drawing attention to the history of secularism and gender inequality. Scott's message is no doubt timely in light of the powerful effect of the #MeToo campaign, which should give anyone pause before boasting about the superior treatment of women in the secular west.---Daniel Steinmetz-Jenkins, The Guardian
In Sex and Secularism, Scott broadens her scope geographically and temporally. Here the subject is women's relationship to secularism in modern western nation-states. This is a big and complex subject for a compact volume, but Scott is especially well-positioned to tackle it. . . . A challenging, timely, and important book. . . . Readers of Sex and Secularism will be forced to rethink their assumptions about the role of women and their bodies in contemporary political debates.---Susan B. Whitney, Literary Review of Canada
Sex and Secularism is a challenging, timely, and important book. . . . Her aim, she continues, was to 'open--not to definitively close--a conversation about the place of gender equality in the discourse of secularism.' That she has definitively done, as few other scholars could.---Susan Whitney, Literary Review of Canada
In her new book, the eminent feminist historian Joan Wallach Scott['s] . . . aim is to sketch a speculative history of the relationship between sex and secularism: to uncover how ideas about the proper place of religion and the proper place of women have influenced each other and to show how both have been placed in the service of Western imperialism. . . . Scott does not contend that religious societies are more egalitarian than secular ones, but she wants to draw attention to the long history of conflict whitewashed by the assertion that feminism and secularism are naturally aligned.---Namara Smith, Bookforum
Scott's theoretical, historical narrative in Sex and Secularism takes its place in a wider conversation in which critical thinkers working in many genres-including film, music, and fiction-ponder gender, race, religion, and sexual difference in a way that refuses essentialism while taking seriously the political effects of these categories on people living in worlds of ongoing inequality and violence. Secularism is not the savior, nor is it the demon in this narrative; it is, like all political ideals, including feminism, a promise that variably incites and excludes.---Pamela E. Klassen, Public Books
Wide-ranging, sophisticated and up-to-date. . . . Anyone from a good senior school student to an expert can expect to learn a great deal from Scott's narrative and notes.---Chris Forbes, Ancient History Resources for Teachers
Scott's ardent and principled opposition to the prejudice and hostility expressed towards Islam - more specifically towards Islamic countries, societies and practices - by 'secularists' in Europe (principally France) and the United States is timely and necessary.---Rajeswari Sunder Rajan, Times Literary Supplement
"Scott poses a direct and clear challenge to those who equate secularism with progress, and who conclude that feminist progress relies on secular history. Her book is disorienting, provocative, and lively, challenging her readers to come to know the historical legacies of secularism that inform the common concepts of feminist debate and which are rarely exposed to the light of day. The story she tells is at once sweeping and incisive, offering a substantially new account of equality and emancipation."--Judith Butler, University of California, Berkeley
"Joan Wallach Scott is a scholar who forces us to think harder, and to think differently, about questions of class, identity, and faith. In Sex and Secularism, she turns her attention to our assumptions about what it means to be modern, showing how entangled they are with attitudes about gender and sexuality. Writing on a topic that lends itself to intellectual complacency, she is a tonic: erudite, lucid, and original. No one who studies the question of secularism can afford to ignore her."--Adam Shatz, contributing editor, London Review of Books
"This wonderful book addresses both academic and activist worlds concerned with feminism, secularism, sexuality, and politics. With her historian's sensibility and signature analytic clarity, Scott offers a novel account of the vicissitudes of gender in Western secular thought and practice."--Wendy Brown, author of Undoing the Demos: Neoliberalism's Stealth Revolution
"Sex and Secularism is a timely, rich, and highly informative book. Its concise and clear arguments are expertly woven around the differing discourses and myths of secularism in the West. Scott clearly demonstrates that not only has secularism not been feminist, it has been a main organizer of discriminatory practices against women."--Joseph A. Massad, author of Islam in Liberalism
You may also be interested in...
Simply reserve online and pay at the counter when you collect. Available in shop from just two hours, subject to availability.
Thank you for your reservation
Your order is now being processed and we have sent a confirmation email to you at
When will my order be ready to collect?
Following the initial email, you will be contacted by the shop to confirm that your item is available for collection.
Call us on or send us an email at
Unfortunately there has been a problem with your order
Please try again or alternatively you can contact your chosen shop on or send us an email at