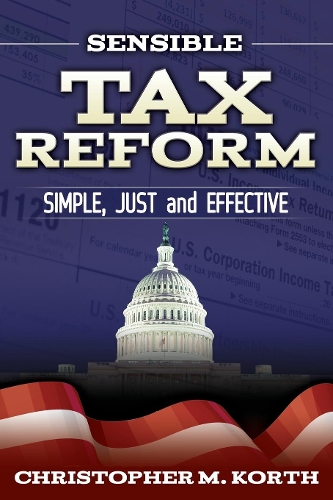 Paperback
246

Pages / Published: 20/03/2014
The Internal Revenue Code of the American government is badly broken. Its more than seventy-seven thousand pages have created a tax system that is not understood by the businesses and individuals that must abide by it. Perhaps even worse, it is also not understood by either the Congressmen who wrote it or the Internal Revenue Service that is supposed to enforce it. What originated as a system for financing the federal government has devolved into a confusing system for what Newt Gingrich described as both left-wing and right-wing "social engineering." Our Internal Revenue Code has been corrupted beyond repair. It needs to be completely revised.
Many economists believe that a new federal tax system based upon consumption would be far superior to the current one based upon income. Simpler, more just, and much healthier for the economy, this type of system would:
-sharply increase both personal income and business profits-encourage saving-discourage borrowing -be much easier to implement than an income-based tax system -save and create millions of jobs in this country
Sensible Tax Reform-Simple, Just and Effective is a comprehensive yet relatively simple tax-reform proposal based primarily upon a federal consumption tax. The STR plan will completely replace our existing income-based federal tax system with a revolutionary new one. Businesses will pay no federal income or payroll taxes. Individuals will pay no payroll taxes (i.e., Social Security and Medicare), and few will pay any income taxes either. STR will open excellent opportunities for Americans to improve their standards of living and for our companies to regain the competitive vigor lost to the weak economy of recent years.
Publisher: Morgan James Publishing llc
ISBN: 9781630470869
Number of pages: 246
Weight: 372 g
Dimensions: 229 x 152 x 14 mm
---
MEDIA REVIEWS
"In Sensible Tax Reform, Dr. Christopher Korth has done more than take Occam's Razor to the behemoth we call the United States tax code. He has completely re-engineered it to more efficiently and effectively do the job it was designed to do -- support the legitimate work of government in a fair, efficient, and effective way. Our current federal tax system requiring 77000 pages of documentation seems indefensible to me. So often when taxes are covered in the news media, we know in our guts we are being cheated. But the complexity of the system prevents us from knowing how. Dr. Korth has created a much simpler, and most exciting, much more transparent tax process that can be understood by everyone. The idea of transparency alone is enough to make lobbyists and tax attorneys quiver in their custom-made boots. Dr. Korth moves much of the burden of taxation from production to consumption, providing a broad tax base with few exemptions. Implementing his vision in the face of powerful interest groups that greatly benefit from the complexity and inequality of our current tax system will be an enormously challenging task. It seems quixotic in its scope and ambition. Sancho, would you be good enough to fetch my sword?" - Thomas Rienzo, PhDBusiness Information SystemsWestern Michigan University "This book lays out a tax program that is well thought out, timely and holds the promise for a major transformation in how the American economy functions. In my work with companies across the economic spectrum, I see the misaligned incentives of the current system - creating suboptimal decisions in compensation, health care and retirement programs. That misalignment also encourages business decisions favoring debt rather than equity investments and, often, foreign investment rather than investments in the US - even when non-tax factors favor the US. Tax issues should not drive multi-billion dollar business decisions about where to invest and grow. This book suggests reforms that would eliminate misalignments and benefit the US economy and the US workforce. The approach suggested here has numerous virtues: -The system is clearer, more easily understood and far more free of incentives to "game the system" than what we live with now -Businesses will have a more level playing field in the US and abroad - allowing decisions that reward the best product, the best service and the best ideas rather than rewarding tax management -Individuals have an incentive to save and invest. Short-term consumption is no longer more advantageous than long-term saving. If taxes take away future value, people make short-term decisions. Preserving and growing value is simply a more logical approach - this book lays out a path to meet that objective The US economy deserves a better tax system. We need a system that supports intelligent decisions by businesses and individuals. We need a system like this." -David A. OsterndorfChief Actuary - Towers Watson Member - Board of Actuaries, US Department of Defense Medicare Eligible Retiree Health Care Fund "At a time when most Americans are discontented with the current tax system, there is a need for fresh ideas for overhauling the Internal Revenue Code. Many feel the current tax system is a drag on the economy because of its extreme complexity resulting in excessive costs of compliance to individuals and corporations and the enforcement problems associated with the Internal Revenue Service. There are many ideas for reform but most focus on simplifying the current tax code. Past experience in reforming the tax code has generally resulted in creative revisions to the code to satisfy the needs of special interest groups. In Sensible Tax Reform, Professor Korth has developed a unique plan that will eliminate most of the complications of our current system. His plan completely eliminates the corporate income tax, Social Security and Medicare taxes on both businesses and individuals, personal income taxes on all except the very wealthy and estate taxes. They will be replaced by a federal consumption tax and a tax on the personal income of those earning more than $1 million annually. Korth's plan is revenue neutral and addresses the issue of transition to his proposed plan. Sensible Tax Reform offers a sophisticated proposal for tax reform and is consequently a must read for anyone interested in making our tax system simpler and more fair." -R. Austin Daily, Ph.D., CPAProfessor of Accounting (retired)Texas A&M Unioversity
You may also be interested in...
Simply reserve online and pay at the counter when you collect. Available in shop from just two hours, subject to availability.
Thank you for your reservation
Your order is now being processed and we have sent a confirmation email to you at
When will my order be ready to collect?
Following the initial email, you will be contacted by the shop to confirm that your item is available for collection.
Call us on or send us an email at
Unfortunately there has been a problem with your order
Please try again or alternatively you can contact your chosen shop on or send us an email at