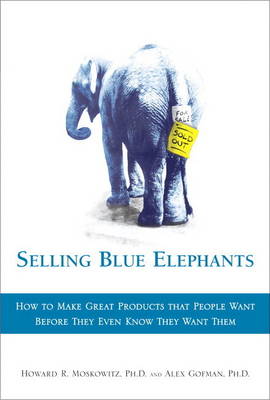 Selling Blue Elephants: How to make great products that people want BEFORE they even know they want them (Paperback)
Howard R. Moskowitz

(author)

,

Alex Gofman

(author)
Paperback
272

Pages / Published: 25/02/2013
Can you remember the world before the iPod? How about the world before chunky tomato sauce or brown mustard? Many of these products came about not through focus groups and polling, but rather through research and development labs and marketers developing the products they knew customers would want, before customers knew they wanted them. Today your customers can actually help you create your next product. Rule Developing Experimentation (RDE) is a solution-oriented learning experience. RDE is the systematized process of designing, testing and modifying alternative ideas, packages, products, or services in a disciplined way so that the developer and marketer discover what appeals to the customer, even if the customer can't articulate the need, much less the solution. The book begins by presenting best practices in the RDE from some of today's top companies: HP, Prego, Vlasic, and Mastercard. It then goes on to examine RDEs use in innovation and design, and goes on to examine its possible uses in the international, political, bioinformatics, and finance areas. Filled with real-life stories, this book will change the way people think about selling to their present and future customers.
"Everyone thinks they need to break rules, but Moskowitz and Gofman skillfully show us how to develop and use the rules to define new perspectives and make better business decisions in virtually any field. An absolute must-read for any businessperson facing fierce competition!"
-Sean Bauld, Executive Vice President, Global Head of Marketing, Sales & Trading, Reuters
"Over the last 15 years significant shareholder value has been destroyed by 'insightful and creative' marketers resulting in the shocking statistic that more than 90% of launches and re-launches do fail. Moskowitz and Gofman are serious geniuses who have dedicated their work to help all of us increase our chances of success significantly. RDE is a new tool that all marketers should acquire if they love their profession and are serious about creating shareholder value out of every launch."
-Tex Gunning, Group Vice President, Unilever Asia
"In a series of well-written and engaging examples, Moskowitz and Gofman vividly illustrate the value of a truly scientific approach to understanding what consumers really want. But more than that, they show how experimentation is not only the spice of life, but can spice up all of our lives.
This book is as much fun to read as it is informative, and it is as deeply rooted in psychology as it is in the science of marketing. They really deliver the goods!"
-Professor Stephen Kosslyn, Chair, Psychology Department, Harvard University
"We've been teaching business students how to understand the 'mind of their customers' for a long time. Finally, the ordinary reader, as well as business people, social scientists, and politicians, can share in these tools. Moskowitz and Gofman have flattened the playing field with their book Selling Blue Elephants. I applaud you both. Two thumbs up."
-Professor Subrata Sen, Professor of Marketing, Yale University
"We are in an age of the next killer application and it is elusive. Selling Blue Elephants is an absolute must read for any business moving from strategy to execution. Howard and Alex have built a process driven engine (RDE) that delivers actionable results that have a direct tie back to business directives. Bringing reality from concept is the key ingredient to a successful business idea-Selling Blue Elephants is the cookbook."
-Peter Tripp, Vice President, Strategic Programs Office Global Outsourcing and Infrastructure Services, UNISYS
"This book is a must read for anyone challenged with showing that systematic experimental design does not start and end in R&D but should be ingrained in the corporate mindset."
-Dulce Paredes, PhD., Director, Consumer Sciences, Avon Products, Inc.
Really great products and really huge successes don't come from focus groups! And if you simply rely on trial and error, or guesswork, you'll lose far more often than you'll win. Now, there's a solution: Rule Developing Experimentation (RDE), the first systematized, disciplined, solution-oriented business process of experimentation.
In Selling Blue Elephants, RDE's creators reveal how to systematically design, test, and modify alternative ideas, packages, products, and services, to discover offerings your customers will be passionate about...even if they can't articulate the need, much less the solution!
Discover the seven easy steps that take you from cluelessness to clarity in just days... sometimes even hours. Watch RDE succeeding in companies ranging from Hewlett-Packard to Campbell's, MasterCard to Maxwell House... and learn how to get the same outstanding results yourself, one step at a time, every time!
Discover "how the world works" in your market Reveal the hidden rules that define your next breakthrough product Create prototypes that answer the right questions, fast Get at the truths your customers don't know how to tell you Use automated tools to streamline the entire process Streamline your research, and get actionable answers in just days Extend RDE value throughout the enterprise From messaging to corporate communications to investor behavior
About the Authors
Howard Moskowitz is President and CEO of Moskowitz Jacobs Inc. He is a well-known experimental psychologist in the field of psychophysics and an inventor of world-class market research technology. Widely published in the scientific press, Dr. Moskowitz is known worldwide as the leading thinker and creator of advanced research technology in the area of new product and concept development.
His background includes a Ph.D. in Experimental Psychology from Harvard University and seven years as a Senior Scientist at the U.S. Army Natick Laboratories. In July 2004, he was elected as an IFT Fellow for his contributions in the field of food science and technology. He was also awarded the American Marketing Association's 2005 Charles Coolidge Parlin Marketing Research Award, regarded as the "Nobel Prize" of the market research industry.
Dr. Moskowitz has spoken widely at both scientific and market research conferences, and guest-lectured at leading business schools including Wharton, Harvard, Yale, and the University of Texas at Austin. He also appeared weekly from 2004-2006 on ABC News Now as The Food Doctor, highlighting the food industry's most exciting innovations.
Alex Gofman, VP and CTO of Moskowitz Jacobs Inc., is the architect of several globally-recognized market research technologies and holds multiple patents. Widely published in the scientific press on the topics of technology-oriented experimental psychology, he has led new methodologies and algorithms development as well as other aspects of MJI operations since joining the firm in 1992, and is lead developer and architect of its IdeaMap ® family of products. He holds a BS and a MS in Computer Science from Donetsk National Technical University, where he graduated Summa Cum Laude in 1981.
Contents
FOREWORD xi
ABOUT THE AUTHORS xiii
ACKNOWLEDGMENTS xv
INTRODUCTION 1
PART 1 MAKING MONEY 17
CHAPTER 1 HEWLETT-PACKARD SHIFTS GEARS 19
CHAPTER 2 MAXWELL HOUSE'S CALCULUS OF COFFEE 27
CHAPTER 3 DIALING UP DELICIOUS: MAJOR DISCOVERIES FROM VLASIC AND PREGO 47
CHAPTER 4 HOW TO MAKE PEOPLE FEEL GOOD EVEN WHEN THEY PAY MORE 65
CHAPTER 5 DISCOVER MORE ABOUT YOUR COMPETITORS THAN THEY THEMSELVES KNOW-LEGALLY! 87
PART 2 MAKING THE FUTURE 105
CHAPTER 6 RUBIK'S CUBE OF CONSUMER ELECTRONICS INNOVATION 107
CHAPTER 7 BRIDGING COOL DESIGN WITH HOT SCIENCE 125
PART 3 FLYING TO VENUS 153
CHAPTER 8 MIND GENOMICS: CONSUMER MIND "ON THE SHELF" 155
CHAPTER 9 MAKING THE PRESIDENT AND PUBLIC COMMUNICATIONS INTO "PRODUCTS" 183
CHAPTER 10 RDE DEFEATS MURPHY'S LAW AND "BARES" THE STOCK MARKETS 205
CHAPTER 11 ASIA CALLING, LTD.: THE CHINA ANGLE 225
CHAPTER 12 RDE'S "BRAVE NEW WORLD!" 235
EPILOGUE 239
INDEX 241
Publisher: Pearson Education (US)
ISBN: 9780133381641
Number of pages: 272
Weight: 371 g
Dimensions: 230 x 150 x 15 mm
You may also be interested in...
Simply reserve online and pay at the counter when you collect. Available in shop from just two hours, subject to availability.
Thank you for your reservation
Your order is now being processed and we have sent a confirmation email to you at
When will my order be ready to collect?
Following the initial email, you will be contacted by the shop to confirm that your item is available for collection.
Call us on or send us an email at
Unfortunately there has been a problem with your order
Please try again or alternatively you can contact your chosen shop on or send us an email at