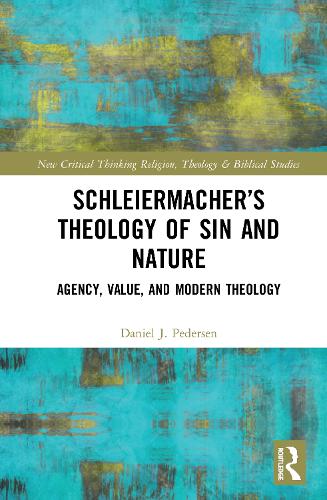 Schleiermacher's Theology of Sin and Nature: Agency, Value, and Modern Theology - Routledge New Critical Thinking in Religion, Theology and Biblical Studies (Hardback)
Daniel J. Pedersen
(author)
Hardback
202

Pages / Published: 30/04/2020
We can order this from the publisher
Friedrich Schleiermacher (1768-1834) is often considered the Father of Modern Theology, known for his attempt to reconcile traditional Christian doctrines with philosophical criticisms and scientific discoveries. Despite the influence of his work on significant figures like Karl Barth, he has been largely ignored by contemporary theologians. Focussing on Schleiermacher's doctrine of sin, this book demonstrates how Schleiermacher has not only been misinterpreted, but also underestimated, and deserves a critical re-examination.
The book approaches Schleiermacher on sin with respect to three themes: one, its power to transcend an intractable metaethical dilemma at the heart of modern debates over sin; two, its intended compatibility with natural science; and three, to re-evaluating its place, and so Schleiermacher's place, in the history of theology. It solves and dissolves problems arising simultaneously from natural science, confessional theology, ethics, and metaphysics in a single, integrated account using Schleiermacher's understudied thought from his dogmatics The Christian Faith. In contrast to the account sometimes given of modern theology as marked by a break with "Greek metaphysics," Schleiermacher's account is shown to stand in stark contrast by retrieving, not excising, ancient thought in service of an account of sin adequate to natural science.
This is a vital rediscovery of a foundational voice in theology. As such, it will greatly appeal to scholars of Modern Theology, theological ethics, and the history of Modern Christianity.
Publisher: Taylor & Francis Ltd
ISBN: 9780367188986
Number of pages: 202
Weight: 454 g
Dimensions: 234 x 156 mm
---
MEDIA REVIEWS
"I have long been convinced that Friedrich Schleiermacher's account of original sin - its origin and its transmission - is superior to all others, including those constructed subsequently. To demonstrate the truth of this conviction, however, requires a specialist's knowledge of Schleiermacher combined with close knowledge of the history of philosophy and natural science. Daniel Pedersen has the needed expertise in all three areas and has brought them together to write a stunning book. Not only is it the finest book on Schleiermacher's doctrine of sin available in the English-language; it is, for me, the most significant constructive contribution to the Christian doctrine of sin in years."
Bruce McCormack, Charles Hodge Professor of Systematic Theology, Princeton Theological Seminary
"An excellent and sorely needed contribution to discussion about the origins of sin. Pedersen (re-) confronts readers with Schleiermacher's claim that God is the author of sin and the cause of evil, in ways that open new questions of agency, normatively and tradition. That Pedersen is able to shed light on classical and modern accounts, examine Schleiermacher's position, and explicate implications across a range of doctrines, is testimony to the high calibre of his scholarship. In Pedersen's feisty reading, Schleiermacher continues to disrupt familiar conceptions of God and human experience."
Esther D. Reed, Professor of Theological Ethics, University of Exeter
"In this clearly written, accessible, and erudite book Daniel Pedersen provides a new interpretation of Schleiermacher's theology of sin and nature. The book shows how Schleiermacher was firmly committed to traditional theological notions, such as the priority of the good over bad, but that he relied on these notions to reach radical and unconventional conclusions. Notably, he denied that a historical Fall from paradise ever took place. Pedersen shows how Schleiermacher's account is ambitious both in its theological scope and in its engagement with the sciences of the time, including pre-Darwinian evolutionary theories."
Helen De Cruz, Danforth Chair in the Humanities, St Louis University
"One of the most strikingly modern features of Friedrich Schleiermacher's systematic theology (or Glaubenslehre), The Christian Faith, written almost two hundred years ago, is the treatment of the concept of sin, which lies close to the center of it. We are easily persuaded by Schleiermacher's scathing critique of traditional ideas of a "fall" of our first human ancestors, as I have found over the years in teaching. However Daniel Pedersen's new book on Schleiermacher on Sin and Nature identifies a much deeper and more positive line of thought motivating the critique. It is a conception of human history as completely governed by such laws of nature as we learn empirically, but with a salvific purpose of God behind the laws. In that conception there is no "fall" but there is progress, in different degrees in different individuals at different times, toward a religious consciousness of grace. And ultimately, as Pedersen reads Schleiermacher (rightly I think), there is salvation for all, after death - though that is a subject on which Schleiermacher is more reticent. In explaining Schleiermacher's thinking on these topics, Pedersen brings out how it was influenced by engagement with ancient and medieval as well as modern thinkers, notably including Plato, Aristotle, Augustine, Aquinas, Spinoza, and Leibniz. I strongly recommend Pedersen's book to anyone interested in engaging with Schleiermacher's thought on these topics. I consider it a major contribution to the history of theology, and also to systematic theology and philosophical theology."
Robert Merrihew Adams, Clark Professor of Philosophy, Emeritus, Yale University
"Schleiermacher's Theology of Sin and Nature presents an elegant, meticulous, and persuasive account of sin that is compatible with modern natural sciences on the one hand and with ancient notions of value, nature, and agency on the other. By these lights, this father of modern theology begins to look less Kantian, yet still distinctively modern and decidedly ancient. This project thus calls for a reconsideration of the prevailing historiography of modern theology. So too, it exemplifies the potential for fruitful conversations between theology and the natural sciences today. Like Pedersen's first book, The Eternal Covenant, this text will enlighten the novice and veteran reader of Schleiermacher and garner the interest of systematic, historical, and moral theologians broadly."
Emily Dumler-Winckler, Professor of Constructive Theology, St Louis University
"How should Christians think about the origin of sin and evil, in light of evolutionary history? Schleiermacher's Theology of Sin and Nature presents a compelling defence of Schleiermacher's theology, as both deeply engaged with ancient and medieval Christianity and as providing unique, constructive resources for today. Pedersen proves a trustworthy and helpful guide through complex theological debates, and his clear and fluid prose makes for an enjoyable read. I thoroughly recommend this volume to both students and researchers in historical and systematic theology."
Joanna Leidenhag, Lecturer in Science-Engaged Theology, University of St Andrews
"In this provocative work, Daniel Pedersen compels the reader to consider again the rather neglected doctrine of sin in the work of Friedrich Schleiermacher. With forensic care and rare insight, he exposits the contours, presuppositions, and implications of Schleiermacher's innovative treatment of hamartiology. But far more than this, Pedersen demonstrates Schleiermacher's account of human agency and failure to lie in unanticipated proximity to traditional Christian accounts and in remarkable sympathy with ancient philosophical ethics, yet to be radically removed from typical Kantian positions. The result is a work which requires the reader not only to reconsider their evaluation of Schleiermacher's work on sin, but also to rethink the very historiography of modern theology."
Paul T Nimmo, King's Chair of Systematic Theology, University of Aberdeen
You may also be interested in...
×
Download the Waterstones App
Would you like to proceed to the App store to download the Waterstones App?
Reserve online, pay on collection.
Or,
add to basket
, pay online, collect in as little as 2 hours, subject to availability.
Thank you for your reservation
Your order is now being processed and we have sent a confirmation email to you at
When will my order be ready to collect?
Following the initial email, you will be contacted by the shop to confirm that your item is available for collection.
Call us on or send us an email at
Unfortunately there has been a problem with your order
Please try again or alternatively you can contact your chosen shop on or send us an email at