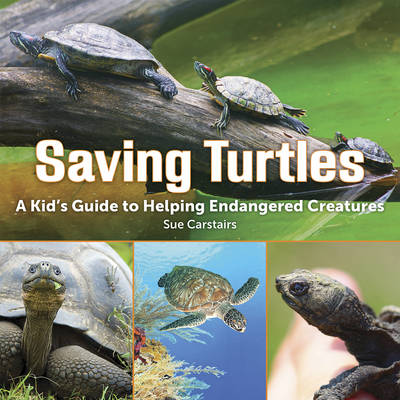 Saving Turtles: A Kids' Guide to Helping Endangered Species (Hardback)
Sue Carstairs
(author)
Hardback
64

Pages / Published: 06/11/2014
A behind-the-scenes look at a hospital for severely injured turtles. Turtles have been around for 220 million years - longer than dinosaurs. But now their time might be running out. Of the roughly 300 species worldwide, more than half are threatened with extinction. Freshwater, marine and land turtles are all affected. And their biggest threat is us! As the human race grows and expands on the planet, turtles are losing their homes, suffering the effects of pollution, the pet and food trade, killed by cars as they try to cross roads, and snared in fishing nets or by fish hooks meant to catch other species. Fortunately, a community of scientists, environmentalists and volunteers around the world are helping to protect and save turtles. The author, Sue Carstairs, is a veterinarian at a turtle rescue and rehabilitation centre. She reveals how she repairs shattered shells, broken jaws, and injured skulls, and nurses severely injured turtles back to health for release into the wild. She also explains how turtle eggs are harvested from injured mothers, incubated, raised in tanks and released into the wild. Organizations around the world performing similar work with land and sea turtles are also profiled. What can readers do to help the worldwide effort to save and protect turtles? Two examples from the many offered in the book: participate in World Turtle Day, on May 23rd every year, sponsored by American Tortoise Rescue, and lobby for 'turtle crossing' signs in nesting areas.
Publisher: Firefly Books Ltd
ISBN: 9781770854345
Number of pages: 64
Weight: 476 g
Dimensions: 229 x 229 x 13 mm
---
MEDIA REVIEWS
Saving Turtles is billed as "A Kid's Guide to Helping Endangered Creatures," but this short paperback is really an expose on turtle rescue, rehabilitation and research. Veterinarian and turtle rehab specialist Sue Carstairs gives readers a verbal and visual window on how turtles get put back together after sustaining serious injuries. Each two-page spread briefly covers specific topics related to basic turtle biology and extremes (oldest, rarest, etc.), turtles in crisis (in the past decade 80 percent of Asian freshwater turtles have been lost for example), "headstarting" (including incubating, hatching and releasing baby turtles), research being done in the field (protection), how to educate students and get involved in conservation. One two-pager near the back of the book is dedicated to ways in which kids can get involved, but that is only a small part of the much larger picture the book presents. Excellent photography, maps and other visuals contribute to what is about a 50/50 text/image split. Middle school students and their teachers can use this book as a brief introduction to all things turtles. Apart from the gory details and photographs of turtle rehab that may especially appeal to the budding vets in your class, this book will also provide them with a global perspective on how to save turtles.--Alan Crook"Green Teacher" (12/01/2015)
Carstairs, the chief medical officer at the Ontario Turtle Conservation Centre and professor of veterinary science, explains to readers clearly and concisely the many threats facing freshwater, marine and land turtles globally.... The most interesting chapter offers a behind-the-scenes look at a hospital for severely injured turtles, explaining how injured turtles are rescued, treated, rehabilitated and released back into the wild.... The attractively designed, abundantly illustrated book concludes with tips: some simple things young people can do to help turtles. An accessible, informative introduction to fascinating, threatened reptiles and what can be done to help them.-- (08/15/2014)
Saving Turtles uses excellent quality photos and captions to help readers understand the critical nature of the issues affecting turtles. The details of treating injuries, with graphic illustrations, are thorough, highlighting the source and extent of the problems. They are presented in clear, straightforward language... This valuable resource will fascinate young nature lovers and will add to their knowledge about a common reptile many will encounter. But its forte is the message for youngsters (for everyone) about the need to work now to save this species. Highly Recommended.-- (09/19/2014)
Aimed at children aged 9-10 and upwards, this is a behind-the-scenes look at a hospital in Ontario, Canada, for severely injured turtles. It is written by. a veterinarian whose mission has been to protect the 300 turtle species around the world, all of which are under threat and, particularly the seven out of eight species in Ontario which are "at risk." The book is very well presented and will be eagerly read by children who want to know what happens to turtles when they are brought in with injuries from dogs, cars and speedboats. There are many procedures shown from the operating table on how surgery is performed and photographs to show how their shells repair so well after treatment. The book comes with a glossary and index and is highly recommended.-- (05/01/2015)
Endangered turtle species around the world and the dangers they face is addressed in this wonderful expose. Fascinating and invaluable information is accompanied by excellent photography... 5 out of 5.-- (11/20/2014)
Saving the planet's endangered and threatened species evokes equal parts urgency and wonder in (this new non-fiction book) that will have young animal lovers starting petitions. First-time author Sue Carstairs -- a veterinarian and executive and medical director at the Ontario Turtle Conservation Centre -- writes with passion and clarity about wildlife conservation.... She sets a friendly tone in her introductory note but quickly gets down to business, stating: turtles are in trouble all over the world.-- (09/01/2014)
Written by a veterinarian working directly in the field of turtle rescue, this title focuses on the efforts made to save and, eventually, release wild turtles that have been injured, primarily as a result of human interactions. A basic introduction to turtles and tortoises, including anatomy, habitat, and diet, provide enough background for readers to understand how fragile and susceptible these creatures are to changes in their environment. Carstairs takes children through the process of treating turtles, describing the most common types of injuries and the various medical techniques used. A lengthy explanation of the importance of releasing turtles back into their original habitat makes it clear that some turtles can never be returned to the wild if their original location is unknown. The straightforward, accessible text is accompanied by many photographs, some depicting fairly graphic injuries that are not for the faint of heart, with the occasional sidebar highlighting specific turtle-rescue practices. The book ends with information about field research being done on turtles, their living conditions, and worldwide efforts to save them, especially the protection of nesting areas, and how readers can help. A helpful glossary and a fairly extensive list of online resources is appended at the end. A solid choice for libraries looking to supplement their science and sustainability collections.-- (12/01/2014)
You may also be interested in...
Simply reserve online and pay at the counter when you collect. Available in shop from just two hours, subject to availability.
Thank you for your reservation
Your order is now being processed and we have sent a confirmation email to you at
When will my order be ready to collect?
Following the initial email, you will be contacted by the shop to confirm that your item is available for collection.
Call us on or send us an email at
Unfortunately there has been a problem with your order
Please try again or alternatively you can contact your chosen shop on or send us an email at