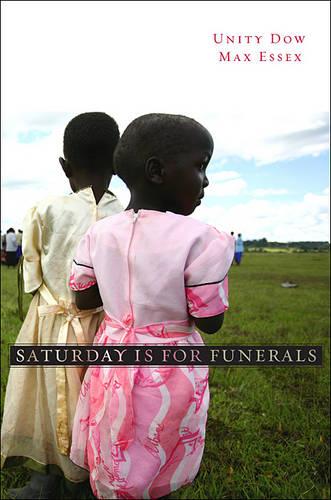 In the year 2000 the World Health Organization estimated that 85 percent of fifteen-year-olds in Botswana would eventually die of AIDS. In Saturday Is for Funerals we learn why that won't happen.

Unity Dow and Max Essex tell the true story of lives ravaged by AIDS-of orphans, bereaved parents, and widows; of families who devote most Saturdays to the burial of relatives and friends. We witness the actions of community leaders, medical professionals, research scientists, and educators of all types to see how an unprecedented epidemic of death and destruction is being stopped in its tracks.

This book describes how a country responded in a time of crisis. In the true-life stories of loss and quiet heroism, activism and scientific initiatives, we learn of new techniques that dramatically reduce rates of transmission from mother to child, new therapies that can save lives of many infected with AIDS, and intricate knowledge about the spread of HIV, as well as issues of confidentiality, distributive justice, and human rights. The experiences of Botswana offer practical lessons along with the critical element of hope.
Publisher: Harvard University Press
ISBN: 9780674061835
Number of pages: 240
Weight: 227 g
Dimensions: 210 x 140 x 18 mm
---
MEDIA REVIEWS
This is a remarkable account of the human effect of a pandemic, written by two people with an intimate knowledge of Botswana and its struggle to deal with AIDS. I recommend this book most warmly for its humanity and insight. -- Alexander McCall Smith
This extraordinary book brings to life the utterly unique stories of people in Botswana; yet the fact is that struggle, suffering and redemption are also universal stories with which we can all identify. The partnership of Dow and Essex, storyteller and scientist, results in a precious alchemy: a book that is engrossing, transforming and an important addition to the canon of the literature of HIV. -- Abraham Verghese, author of Cutting for Stone and My Own Country
This is the AIDS book to read-first, because of its novel approach of describing true and very moving stories of the Botswana experience, coupled with lucid and relevant scientific explanations fitting for each of the stories, and second, because of the experience and caliber of its authors. Saturday Is For Funerals is at once highly moving, while providing unforgettable lessons from the greatest pandemic in medical history. Unity Dow knows her people and their tragic stories, and as we would expect from a highly regarded novelist, displays these stories with grace and beauty. Coauthor Professor Max Essex has as much or more public health scientific experience and more insights into HIV/AIDS than anyone I know in the world. This book would be valuable not only for people impacted by HIV, but also for politicians, educators, students, and anyone who wants an education on mankind's greatest 'plague.' -- Robert C. Gallo, M.D., Director, Institute of Human Virology, University of Maryland School of Medicine
This wonderful book is an inspiration to anyone who wants to learn more about the HIV/AIDS epidemic and its impact on Africa. The authors have collaborated on a well-written tome that is highly informative yet easy to read and digest. This book will have to be considered for a Pulitzer Prize and other suitable recognition. -- Mark A. Wainberg, President Emeritus, International AIDS Society
Unity Dow and Max Essex have crafted an extraordinarily effective synergy of science and societal journalism. Saturday Is For Funerals explores the fragility and resilience of human spirit through poignant personal narratives around courtships, young love, and family tradition, centered in the Botswana 'hot zone' of the most devastating epidemic in recorded history. In conversational and gripping prose Saturday Is For Funerals engages as it informs, standing alongside Randy Shilts (And the Band Played On) and Abraham Verghese (My Own Country) as a heartfelt chronicle of the turbulent times that AIDS has engendered for global society, for science, and for amazing African peoples. -- Stephen J. O'Brien, AIDS researcher, author of Tears of the Cheetah: And Other Tales from the Genetic Frontier
The HIV/AIDS epidemic in Botswana is explored with sensitivity and scientific rigor in this heartening book...This richly informative book dispels much of the mystery still surrounding HIV/AIDS, revealing how life goes on for those infected. Readers overwhelmed by (and even numbed to) the images of desolation that accompany coverage of the epidemic will find a realistic but optimistic assessment of a society successfully tackling the problem and a model for other afflicted nations. * Publishers Weekly *
The narratives provide a human touch and convincingly illustrate the tremendous impact of AIDS on women, children, infants, friends, family, and culture. While Botswana was hard-hit by the AIDS epidemic, it has provided a successful model for other countries by taking a proactive approach to dealing with the disease. -- Tina Neville * Library Journal *
A decade ago, the AIDS epidemic in the southern African country had gotten so bad that leaders feared its people were in danger of extinction; the World Health Organization estimated that 85 percent of 15 year olds would eventually die of the disease. Today, Botswana is the pride of Africa. The country's remarkable journey is detailed in Saturday Is for Funerals, a new book by renowned AIDS activist Unity Dow and researcher Max Essex. Weaving together personal anecdotes and medical history, the authors reveal how a combination of proactive government intervention, education, research, and foreign aid have achieved the near impossible...Bringing Saturday Is for Funerals to life--and distinguishing it from other books about AIDS in Africa--are its first-hand, often heart-wrenching stories of the epidemic's victims...[Dow] shares evocative stories of marriages torn apart by the disease, and saved through drug therapy, of tribal leaders encouraging circumcision to reduce infection, and of AIDS orphans. -- Danielle Friedman * Daily Beast *
Unity Dow, a judge of the Interim Independent Constitutional Dispute Resolution Court of Kenya, and Max Essex, a Harvard professor of health sciences, have worked at the Botswana-Harvard Partnership to control, contain, and curtail the HIV/AIDS epidemic that has devastated Botswana. In this informative book, they present the many difficulties they face--medical, cultural, psychological, and financial. -- Barbara Fisher * Boston Globe *
The epidemic of HIV and AIDS marching across Africa is threatening to crush entire countries under its weight. Saturday Is for Funerals tells the story of how one country, Botswana, is stemming the epidemic with bold political leadership, a strategic and scientific approach, and more than a little grit. -- Priya Shetty * New Scientist *
The book is compelling because it tells us the real stories of people living with HIV/Aids and the devastating effects it has on families. There are stories of deadly sexual betrayal and bitterness, but also resilience, caring and kindness...This hook is then used to engage the reader and explain the science behind the disease in a generally accessible way. It is a work of both literature and science and works brilliantly. -- Padraig Carmody * Irish Times *
A compelling look at the toll of AIDS in Africa and some hopeful developments. -- Vanessa Bush * Booklist *
Tragic and heartwrenching stories of victims, coupled with scientific explanations, are effectively woven into chapters on mother-to-child transmission, fear of diagnosis, AIDS in children, highly active antiretroviral therapy, drug resistance and toxicities, stigma, and orphans. The book comes at a critical time as news of HIV/AIDS "donor fatigue" makes headlines, and funding to battle AIDS in Africa is shrinking. This is very important reading for politicians, educators, students, and those seeking an education on humankind's greatest plague. -- P. Wermager * Choice *
Dow and Essex bring their distinct and complementary knowledge of HIV infection in southern Africa into a book that effectively depicts both the personal and the scientific facets of the Botswana AIDS epidemic...The science is competently explained in terms that a lay person could understand, and the combination works well, making this book a good introduction to the key facts about HIV/AIDS as well as a moving depiction of the individual tragedies this disease can inflict...This book would be worthwhile reading for people who want to learn more about the HIV epidemic but would never pick up a textbook or scientific article...In my view, this book should be compulsory reading for policy makers and leaders throughout Africa, who often appear to be unaccountably remote from the suffering of ordinary people in their countries. -- Sarah Rowland-Jones * Nature Medicine *
Unity Dow and Max Essex illuminate the AIDS epidemic in sub-Saharan Africa by reporting on its consequences for the lives of those living in a single country, Botswana. Dow is a human rights lawyer and judge. Essex is an AIDS scientist at Harvard University. They have deployed their complementary experiences to examine multiple aspects of AIDS, dividing each chapter in half. Dow describes the personal stories of those affected by AIDS. She creates play scripts of conversation to situate the issue at hand--AIDS among children, access to medicines, fear and stigma, diagnosis--in a context that illustrates the intimacy and tragedy of the epidemic. Essex follows up with a scientific explanation of the preceding drama, together with his own reflections abpout what is being done to prevent such an episode from happening again. It is an effective strategy, drawing the reader into the particular culture of AIDS in Botswana, while showing what the global medical research enterprise into HIV can deliver for people who live in often excruciating poverty. -- Richard Horton * Times Literary Supplement *
You may also be interested in...
×
Download the Waterstones App
Would you like to proceed to the App store to download the Waterstones App?
Reserve online, pay on collection
Alternatively, for multiple items you may find it easier to
add to basket
, then pay online and collect in as little as 2 hours, subject to availability.
Thank you for your reservation
Your order is now being processed and we have sent a confirmation email to you at
When will my order be ready to collect?
Following the initial email, you will be contacted by the shop to confirm that your item is available for collection.
Call us on or send us an email at
Unfortunately there has been a problem with your order
Please try again or alternatively you can contact your chosen shop on or send us an email at