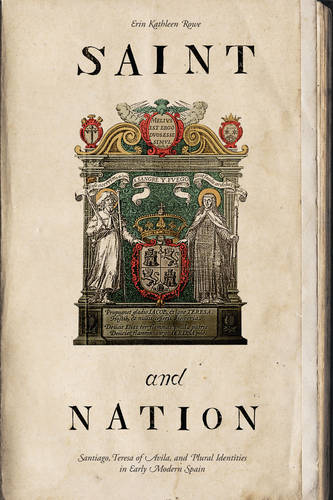 Saint and Nation: Santiago, Teresa of Avila, and Plural Identities in Early Modern Spain (Paperback)
Erin Kathleen Rowe
(author)
Paperback
280

Pages / Published: 28/02/2011
In early seventeenth-century Spain, the Castilian parliament voted to elevate the newly beatified Teresa of Avila to co-patron saint of Spain alongside the traditional patron, Santiago. Saint and Nation examines Spanish devotion to the cult of saints and the controversy over national patron sainthood to provide an original account of the diverse ways in which the early modern nation was expressed and experienced by monarch and town, center and periphery. By analyzing the dynamic interplay of local and extra-local, royal authority and nation, tradition and modernity, church and state, and masculine and feminine within the co-patronage debate, Erin Rowe reconstructs the sophisticated balance of plural identities that emerged in Castile during a central period of crisis and change in the Spanish world.
Publisher: Pennsylvania State University Press
ISBN: 9780271037745
Number of pages: 280
Weight: 431 g
Dimensions: 229 x 152 x 20 mm
---
MEDIA REVIEWS
"This is a significant book that will change the way historians think about the intersection of politics, religion, and national identity in early modern Spain."
--Elizabeth A. Lehfeldt, Cleveland State University
"Saint and Nation is a learned and lively investigation of the seventeenth-century battle to make Saint Teresa a co-patron of the Spanish nation. Erin Rowe has uncovered the larger intellectual and political concerns that bolstered loyalties to specific saints--and in the process has revealed unexpected nuances in the imaginations of Spanish religious elites. It is a compelling piece of scholarship."
--Lu Ann Homza, College of William and Mary
"Should Spaniards elevate the recently canonized Teresa of Avila to the status of patron saint, along with their traditional protector, Santiago? This seemingly simple question riveted Spanish society in the early seventeenth century. Erin Rowe's sensitive examination of the dozens of pamphlets and sermons produced by advocates and opponents of each saint, as well as legal and diplomatic sources and visual imagery, sheds light on court politics, religious institutions, gender norms, and the persistence of local and regional imperatives in the face of centralizing monarchical power. Rowe's compelling study challenges us to think in new ways about national identity, church-state relations, the uses of the holy, and the construction of memory in a conflictive age."
--Jodi Bilinkoff, University of North Carolina at Greensboro
"In the early seventeenth century, Spain was riven by a bitter polemic over whether the recently canonized Teresa of Avila should become its co-patron saint, sharing this honor with Santiago, 'the Moor Slayer.' Despite the support of the royal family, the co-patronage proposal provoked a fierce backlash. Opponents argued that a female saint would impugn Spain's collective masculinity, give credence to the reformist agenda of the king's unpopular minister, and lend support to a less belligerent foreign policy. Erin Rowe's absorbing study illuminates how the search for a symbol of national identity ironically exacerbated economic, political, and ideological divisions in a nation that was unified only by the awareness of its own decline."
--Alison Weber, University of Virginia
"The book in its entirety, meticulously researched and highly readable, sheds new light on the inseparability of religion, politics, and nation building in Early Modern Spain."
--Darcy Donohue, Renaissance Quarterly
"Rowe handles very well the complexity of her subject and her sources, and in doing so sheds valuable insight on the evolution of the Spanish national identity during the early-modern period."
--Sara T. Nalle, Catholic Historical Review
"In this nicely written volume, the author offers a lively, multifaceted account of the campaign in early-seventeenth-century Spain to make St. Teresa of Avila national copatron with Santiago (St. James) and the debate that it produced."
--Ida Altman, The Historian
"Erin Rowe's study, Saint and Nation, provides an important new context to understand the tensions inherent in the development of Spain as a national entity during the early modern period.
Overall, Saint and Nation is a good, sturdy study of intersection between religion and politics at the beginning of the seventeenth century and makes an important contribution to our understanding of the role of ecclesiastical politics in the evolution of the nation state."
--Allyson M. Poska, Sixteenth Century Journal
"Most impressive is Rowe's ability to weave together into a coherent, engaging story the distinct strands of the political, religious, social and intellectual concerns voiced by parties invested in the debate. Not since Lucrecia's Dreams and The Avila of Saint Teresa have I felt so compelled to attempt to introduce students to the complex intersection of early modern religion, politics and identity. Rowe's well-written, engaging, and thoroughly researched work offers a new angle from which to approach the matter and will be of significant interest to scholars and students alike."
--Michele Clouse, Journal of the Association for Spanish and Portuguese Historical Studies
"Rowe successfully illustrates how the co-patronage debate reflected the diversity of cultural, religious, and political identities in early modern Spain. . . . This is a work of sound scholarship and far-reaching insights that deserves wide dissemination among students of religion and politics."
--Helen Rawlings, American Historical Review
"Saint and Nation breaks new ground in the religious and political history of Spain by shifting from the recent focus on local holy figures and institutions to the importance of patron saints on the national level. The early seventeenth-century effort to promote Teresa of Avila as co-patron saint of Spain alongside Santiago (Saint James) gave rise to a wide-ranging debate in pamphlets and pulpits over the character of the Spanish naci n. Erin Rowe's work reveals how advocates for co-patronage portrayed Teresa as a native daughter who would protect the Spanish people from Protestant heretics, whereas defenders of the sole patronage of Saint James argued that the 'lived experience' of the patron saint of the reconquest continued into modern times through devotion, miracles, and victories, and insisted that the election of Teresa would lead to ruin on a national scale. Resisting the temptation to characterize the failure of the co-patronage campaign as a simple victory of reactionaries over the forces of progress, Rowe's work uses this controversy as a means to examine how patron saints encompassed competing understandings of Spain's origins, sacred geography, and political aspirations. Saint and Nation makes a strong case for the key role of religion in nation-building at a time of crisis and transition from medieval kingdom to modern politicized nation. This work promises to be of great interest to scholars of early modern Europe, history of religion, and political science."
--Benjamin Ehlers, University of Georgia
You may also be interested in...
Simply reserve online and pay at the counter when you collect. Available in shop from just two hours, subject to availability.
Thank you for your reservation
Your order is now being processed and we have sent a confirmation email to you at
When will my order be ready to collect?
Following the initial email, you will be contacted by the shop to confirm that your item is available for collection.
Call us on or send us an email at
Unfortunately there has been a problem with your order
Please try again or alternatively you can contact your chosen shop on or send us an email at