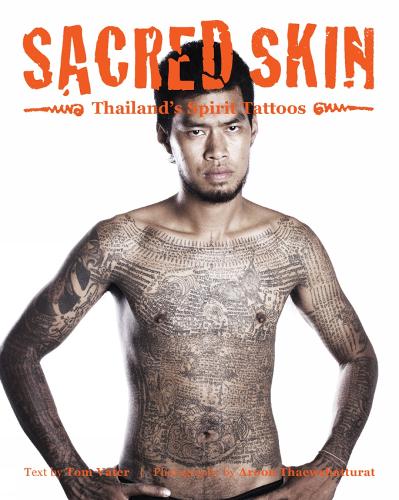 Paperback
210

Pages / Published: 01/07/2011
Spiritualism and Thai tattoos are so entwined that they are practically inseparable. Although Buddhism permeates Thailand's society, there is an even deeper belief in Animism that is woven into the very fabric of the culture. Spiritualism and Thai tattoos are so entwined that they are practically inseparable. Although Buddhism permeates Thailand's society, there is an even deeper belief in Animism that is woven into the very fabric of the culture. Animism is all about the union of spirit and matter - there is no separation of the body from the soul, and all
Publisher: Visionary World Ltd
ISBN: 9789628563791
Number of pages: 210
Weight: 842 g
Dimensions: 248 x 202 x 20 mm
---
MEDIA REVIEWS
Aroon Thaewchatturat's extraordinary pictures do more than capture the tattoos, they capture their wearers' personalities, and perhaps even theenergy invested in them by the designs.Bangkok Post, Sunday July 31.Brunch Magazine.http: //www.bangkokpost.com/arts-and-culture/book/249574/skin-deep
By Andrew Marshall Monday, May 23, 2011 - TIME Magazine (Asia Edition)
Read more: http: //www.time.com/time/magazine/article/0,9171,2071020,00.html#ixzz1MpMZ1QpH
The introduction to "Sacred Skin," Tom Vater and Aroon Thaewchatturat's new tribute to Thailand's "sak yant," or sacred tattoos, begins with an agonized exclamation: "Uaaahh!" So it should. While modern tattoos are efficiently (though not exactly painlessly) applied with an electric machine, "sak yant" are hand-hammered into your wincing body with a long needle.
But no pain, no gain -- and, if you believe the enthusiasts, the rewards are out of this world. Devotees credit "sak yant" with warding off sickness, attracting lovers and helping them emerge unscathed from car crashes. A housewife caught in last year's crackdown on antigovernment protesters in Bangkok tells the authors, "People around me got shot but my tattoo protected me."
"Sak yant" are etched onto both soul and skin, as Thai photographer Aroon's portraits record in hypnotic detail. The mostly monochromatic designs borrow from Buddhist and Hindu mythologies, and the space between them is often overlaid with an ancient Khmer script that German writer Vater likens to "mysterious instructions." Designs are executed by priestlike figures who have their own secret ink recipes and recite prayers while they work. Their customers see themselves as disciples, bound for life to their master and feeling a kinship with all those bearing his designs. Some disciples are also in thrall to the tattoo's spirit. That introductory "Uaaahh!" emanated from a man who believed he was possessed by the spirit of the tiger tattooed on his torso. Vater describes him careering around a Buddhist temple near Bangkok in a trance so violent that it took five soldiers to subdue him.
Prominent among "sak yant" enthusiasts are police, soldiers and gangsters, who claim bullets bounce off their magical second skin. Many Thais still associate tattoos -- even sacre
Sacred Skin Thailand s Spirit Tattoos, the new two-hundred page, eight-by-ten-inch guide to sak yant protection tattoos by Tom Vater, with color photography by Aroon Thaewchatturat, is a beautifully organized, visual treat for both tattoo artists and collectors. Divided into easily navigable sections (Sak Yant, Master and Devotees, Sacred Images, Wai Khru the annual day of respect held in central Thailand and a helpful Glossary), this clearly-written, entertaining treatise is packed with fascinating facts and descriptions of every aspect of this time-honored art form. But it s the photos that steal the show. Page after page of both full-body and detailed images showcase the work of leading traditional sak yant masters. Available at $32.95 from amazon.com, this is the perfect handbook, for those of us who have long been intrigued by the magical hand-poked designs that protect the wearer from the dangers of an ever-encroaching world.ReviewTattooRoadTrip.comBob Baxter, editor-in-chief TattooRoadTrip.com and past editor-in-chief of the award-winning tattoo magazine Skin & Ink
You may also be interested in...
Simply reserve online and pay at the counter when you collect. Available in shop from just two hours, subject to availability.
Thank you for your reservation
Your order is now being processed and we have sent a confirmation email to you at
When will my order be ready to collect?
Following the initial email, you will be contacted by the shop to confirm that your item is available for collection.
Call us on or send us an email at
Unfortunately there has been a problem with your order
Please try again or alternatively you can contact your chosen shop on or send us an email at