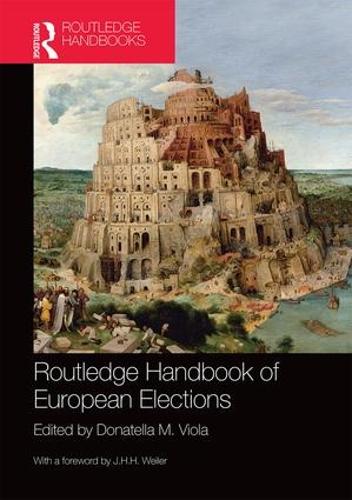 Hardback
786

Pages / Published: 07/09/2015
The Routledge Handbook of European Elections explores the multifaceted dimension of the European Parliament's (EP) electoral contests across the European Community and European Union since 1979.
After setting a general empirical and theoretical framework, this collaborative project presents original contributions from leading experts from virtually all the corners of the European Union. Each case study adheres to a common template that makes it easy to compare data, methodology and outcomes.
Every country chapter includes:
a brief geopolitical profile and historical background of the Member State;
a glance at the national political landscape;
a short account of the main political parties, including their attitude toward the European Union;
a section on public opinion and European integration;
a summary of electoral systems;
an overview of all EP and national elections;
an in-depth analysis of the 2009 EP electoral race;
an overall theoretical interpretation of European elections.
A comparative chapter closes the Handbook followed by an Epilogue focussing on the 2014 EP contest with a detailed analysis of the newly elected European Assembly in terms of political group and gender compostion.
The volume aims to enhance readers' understanding of the European Parliament and revive their interest in the European integration process. By providing a wide range of national and European facts and figures, this investigation represents a comprehensive reference guide to scholars, practitioners, and students of the European Parliament, European elections, political parties, European Union and comparative politics.
Publisher: Taylor & Francis Ltd
ISBN: 9780415592031
Number of pages: 786
Weight: 1565 g
Dimensions: 248 x 171 x 48 mm
---
MEDIA REVIEWS
"I am truly delighted to welcome the Routledge Handbook of European Elections, which represents an important step forward in overcoming the gap of public knowledge and participation that has characterized the European Parliament's electoral contests over the last years. Donatella M. Viola's ground-breaking volume, targeted not just at an academic but at a wider audience, is built on a meticulous research on the organization and functioning of the European Parliament. It presents crucial insights and detailed analysis at national and EU level that may help reviving the old principles of European integration and hopefully lead to forging a common European identity." - David-Maria Sassoli, Vice-President of the European Parliament
"No student or practitioner will work on the European Parliament in the future without using this Handbook as an essential source of data and information both on the electorates in the national of the Member States and at the European level. No scholar will analyze the EP in the process of integration, ignoring the suggestions of this book on the current shortcomings and the necessary remedies, first of all the passage from the initial permissive consensus to that real popular legitimacy, which is the oxygen of any democratic institution of our time." - Giuliano Amato, Former Prime Minister of Italy and Professor Emeritus at the European University Institute, Florence, Italy
"The community of political scientists - be they involved in the study of EU, legislatures or elections - was awaiting for a book proposing an inclusive and fully documented view on the EP elections. The volume edited by Donatella M. Viola proposes, for the first time, a longitudinal and comparative approach of this event in all the EU Member States since 1979. It is based on an in-depth empirical comparative research - combining the qualitative and the quantitative methods - shaped by a robust theoretical framework. This Handbook proposes a novel and refreshing exploration of the EP elections. It constitutes a major contribution to the understanding of political life, at both national and European levels, and to the study of the institutional evolutions that affect the EU regime". - Olivier Costa, Director of European Political and Administrative Studies, College of Europe, Bruges, Belgium and Research Professor, Sciences Po Bordeaux, France
"This is the definitive Handbook on European Parliament elections. The chapters paint a picture of growing heterogeneity in how these elections work: with declining turnout and legitimacy in many Central and Eastern European countries, yet the seeds of a new engagement with the 2014 Spitzenkandidaten process in some of the Original Six Member States. This heterogeneity is a challenge to both existing theories of these elections as well as ongoing EU democratic reform." - Simon Hix, Professor of European and Comparative Politics, London School of Economics, UK and Fellow of the British Academy
"In its combination of broad scope and close attention to detail, Donatella M. Viola's ambitious Handbook would be hard to beat as a reference of first resort for those studying the EU's democratic credentials, electoral processes or the linkage between electoral behaviour and election outcomes at national and EU level. I am confident that it will prove an essential source and important reference tool for students and scholars alike." - Mark N. Franklin, inaugural Stein Rokkan Professor of Comparative Politics, European University Institute, Florence, Italy and Fellow at the Massachusetts Institute of Technology, Cambridge, USA
"Handbooks have become an essential resource for researchers in political science as they provide a `state of the art' on important scholarly topics. This 800-page volume entitled The Routledge Handbook of European Elections offers those interested in the politics of the European Union, comparative politics and electoral studies with a treasure trove of data and analysis on the largest transnational elections in the world since the inception of direct elections in 1979. Donatella M Viola is to be congratulated on the achievement of such a Herculean task". - Brigid Laffan, Director of the 'Robert Schuman' Centre for Advanced Studies, European University Institute, Florence, Italy
"Donatella M Viola has produced in this Handbook an excellent survey of the different aspects of elections to the European Parliament. It provides a broad theoretical framework for understanding and evaluating these elections as well as a rich fund of empirical data on all the elections held in each of the Member States. As the most complete and up-to-date volume of European elections in an enlarged Europe, I strongly recommend it to scholars and students of European Union politics." - John Loughlin, Professor of European Politics and Director of the Von Hugel Institute in St Edmund's College, University of Cambridge, UK
"The European Parliament deserves a big book because it is the only institution of the European Union that is directly elected by European citizens. Donatella M Viola's Handbook gives the subject the full cover it deserves by combining a European overview with detailed accounts of how national parties and electorates behave in each of the EU Member States." - Richard Rose, Professor, University of Strathclyde Glasgow, UK and author of "Representing Europeans: a Pragmatic Approach."
"It is increasingly rare to see scholars venturing upon ambitious projects aimed at writing and editing large books since it is widely recognized that what counts are just articles in highly ranking journals. Donatella M. Viola proves that this is a false and erroneous conception. There is indeed room and, what is more, a sustained need for comprehensive overviews. I am therefore very pleased to welcome this excellent and up-to-date account of theoretical and empirical efforts to understand European Parliament elections." Hermann Schmitt, Professor of Political Science, University of Manchester, UK and University of Mannheim, Germany
"The Routledge Handbook of European elections, comprehensive in its scope, provides an excellent reference source for students of comparative and EU politics who are looking for wide-ranging information on the political and party landscape, electoral systems, European Parliament and national elections in EU Member States since 1979. The volume will also be extremely valuable to scholars and practitioners who wish to expand their empirical and theoretical knowledge on EP contests across the European Union" - Aleks Szczerbiak, Professor of Politics and Contemporary European Studies, University of Sussex, UK, Co-convenor of the 'European Parties Elections and Referendums Network (EPERN)
"This book, edited by Donatella Viola, is a remarkable work for a number of reasons: first, for its size-786 pages (in addition to the 36 pages of prefaces and the prologue) organized into 32 chapters plus a synoptic appendix on European politics and an analytic index; second, for its content...Ultimately, the volume is important because it draws attention to other issues related to European politics starting from the paradox between powers (increased) and legitimacy (in decline) of the European Parliament and of the EU itself." - Francesco Raniolo, Italian Political Science, 11(1), June 2016
"[A]n essential reference work in the field. It offers detailed coverage of the institutions, parties, and European election results of all EU Member States". The country chapters provide information on national elections in the same period as well as on levels of public support for European integration. ... [A] valuable source of information, which will prove useful both for scholars interested in single countries and for comparatists in search for a systematic overview on certain aspects of EP elections." - Romain Lachat, Science Po, Paris, Journal of Common Market Studies, 2017, Vol. 55, No.1

"At last, thanks to the comprehensive endeavour of Donatella M. Viola, we now have full coverage of the results of the eight European Parliament (EP) elections which have taken place from their inception in 1979". "The study of the European parliamentary election process has[..]come to be a study of the extent to which, of the rhythm at which, and of the countries in which the decline in that parliamentary electoral participation was taking place. Professor Viola's work makes it possible (better than ever before) to assess the precise `damage'. What Professor Viola's work does make possible, moreover - indeed imperative - is [...] to document precisely and comparatively, on country after country and on election after election, the extent of what is in effect a `refusal to belong', which has become a `massive', indeed one might even say a `panic action', from the beginning of the twenty-first century." - Jean Blondel, Professor Emeritus at the European University Institute, Florence, Italy, Journal of Party Politics.
"Donatella M. Viola [...] has done a splendid job in providing a common framework for the analysis country-by-country of European elections in the twenty-eight member states. In the epilogue to her impressive handbook, which will be of immense usefulness to students, scholars and practitioners, the editor compares the EP to a Tower of Babel, `emphasizing the vulnerability of the European unification process' and stressing the fact that the European `elites have been left dangerously hanging in the middle' of the Tower." - Gianfranco Pasquino, Professor Emeritus, Bologna University, Italy; Senior Adjunct Professor, SAIS-Europe, Fellow of the Accademia dei Lincei, Italy.
"By coordinating this challenging project and by compiling such a monumental volume, exceeding 800 pages, Donatella M. Viola has successfully managed to produce the first complete book on European Parliament Elections, filling an evident lacuna in the academic literature. [..] It represents an essential reading for both political scientists for its empirical analyses and jurists for its regulatory descriptions and, in general, for all scholars interested in social phenomena, such as elections. Beyond the evident great scholarly skills that such an enterprise requires, this project is an eloquent testimony of Donatella M. Viola's strong determination and steadfast commitment to the European unification project. This seems to be the extension of her paternal spirit, as mentioned in the Preface of the volume, which describes her father's personal experience in a Nazi concentration camp in Germany during the Second World War by emphasizing the sufferings and sacrifices that men and women of his generation had to go through in order to achieve freedom, peace and democracy." - Antonio A. Martino, Professor Emeritus at El Salvador University, Buenos Aires, Argentina, Professor at Lanus University, Argentina, and Former Professor at Pisa University, Italy
You may also be interested in...
Simply reserve online and pay at the counter when you collect. Available in shop from just two hours, subject to availability.
Thank you for your reservation
Your order is now being processed and we have sent a confirmation email to you at
When will my order be ready to collect?
Following the initial email, you will be contacted by the shop to confirm that your item is available for collection.
Call us on or send us an email at
Unfortunately there has been a problem with your order
Please try again or alternatively you can contact your chosen shop on or send us an email at