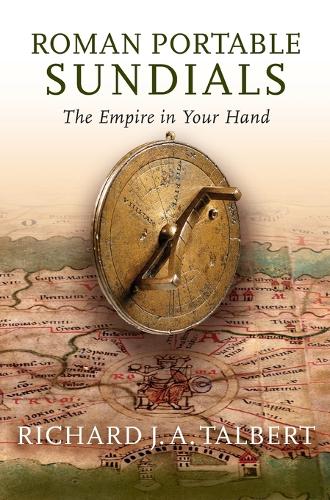 Hardback
264

Pages / Published: 23/02/2017
In an unscientific era when maps were rarities, how did ancient Romans envisage their far flung empire? This was done by various means for certain, including with the aid of an ingenious type of portable sundial that has barely attracted notice. As the Romans understood before the first century BCE, to track the passage of the sun across the sky hour-by-hour one needed to know one's latitude and the time of year, and that, furthermore, sundials did not have to be fixed objects. These portable instruments, crafted in bronze, were adjustable for the changes of latitude to be expected on long journeys-say, for instance, from Britain to Spain, or from Alexandria to Rome, or even on a Mediterranean tour. For convenient reference, these sundials incorporated lists of twenty to thirty names of cities or regions, each with its specific latitude. One of the insights of Roman Portable Sundials is that the choice of locations offers unique clues to the mental world-map and self-identity of individuals able to visualize Rome's vast empire latitudinally. The sixteen such sundials known to date share common features but designers also vied to create enhancements. Comparison with modern calculations shows that often the latitudes listed are incorrect, in which case the sundial may not perform at its best. But then the nature of Romans' time-consciousness (or lack of it) must be taken into consideration. Richard Talbert suspects that owners might prize these sundials not so much for practical use but rather as prestige objects attesting to scientific awareness as well as imperial mastery of time and space. In retrospect, they may be seen as Roman precursors to comparable Islamic and European instruments from the Middle Ages onwards, and even to today's luxury watches which display eye-catching proof of their purchasers' wealth, sophistication, and cosmopolitanism. Richly enhanced with detailed photographs, line drawings, maps, a gazetteer, and a table of latitudes and locations, Roman Portable Sundials brings these overlooked gadgets out of the shadows at last to reveal their hitherto untapped layers of meaning.
Publisher: Oxford University Press Inc
ISBN: 9780190273484
Number of pages: 264
Weight: 622 g
Dimensions: 241 x 181 x 19 mm
---
MEDIA REVIEWS
This fascinating text is recommended for students of the classics, world geography and history, archaeology, and astronomy. ... Summing Up: Recommended. Lower-division undergraduates and above; faculty and professionals. * S. A. Curtis, CHOICE *
It is useful to think of this book as the historical counterpart of what in literary studies would be the first major scholarly edition and commentary on a recently discovered text. Talbert writes (p. xiii): 'My hope is that the book will both enlighten and intrigue readers across disciplines by uncovering a fresh, imaginative vision of the world shared by what might be termed a loose community of Romans.' Mission accomplished. * Andrew M. Riggsby, University of Texas at Austin *
[Richard Talbert] is to be congratulated on producing a fine example not only of microhistory, but also of how to investigate the social and cultural history of science and technology, as opposed to the history of science and technology itself. * Jane Draycott, Journal of Roman Studies *
The objects are fascinating, and Talbert burrows into the data they present to reconstruct a convincing image of the meaning of the empire's geography to Roman intellectuals. * J.P Oleson, Journal of Roman Archaeology *
Richard Talbert's loving study...A short and beautifully illustrated cataglogue is at the heart of the book. * Greg Woolf, Times Literary Supplement *
Without Richard Talbert's important work over the last decades, any attempt at mapping the ancient world would simply be impossible today. In his new work, he leaves the realm of the Tabula Peutingeriana and zooms into a different kind of evidence: portable sundials. Only a scholar with the experience, detailed knowledge, and ardent love for the classical world, which are the author's hallmarks, could explain how these rare, and rarely studied, artifacts can contribute to a better understanding of the Roman Empire and the people in whose hands they lay. * Kai Brodersen, Professor of Ancient Culture, University of Erfurt *
It is hard to imagine that such a pathbreaking book might arise from sixteen small objects. To such rebarbative and seemingly unpromising material the author has brought unmatched cartographic, epigraphic, and cultural historical expertise. The result is fascinating and unexpected insight into everyday geographical knowledge. This book will engage anyone who cares about ancient Roman society, the history of maps, or the history of time-reckoning. * Grant Parker, Professor of Classics, Stanford University *
A valuable study of surviving Greco-Roman portable sundials, which offers an original geographical analysis, and neatly places them in their broader historical context. A striking demonstration of how much artifact studies can contribute to the analysis of past societies, and a foundation for all future work. * Anthony Turner, author of Mathematical Instruments in Antiquity and the Middle Ages *
If you open this elegant volume, copiously illustrated with black and white photographs, charts, maps and tables, anticipating 'a technical study' aimed at 'chronometric specialists', you will not be disappointed ... Although displaying some lighter touches, such as the proposal of Trimalchio as the likeliest sort of person to own a geographical portable sundial, this study remains primarily a book for scholarly specialists. * Claire Gruzelier, Classics For All *
This is a fascinating and eminently scholarly book that is the first to focus attention on this important aspect of Roman timekeeping, and Oxford University Press is to be commended for publishing the many photographs with the clarity required to see the fine details commented upon by the author. * Dr. Clifford J. Cunningham, Journal of Astronomical History and Heritage *
You may also be interested in...
Simply reserve online and pay at the counter when you collect. Available in shop from just two hours, subject to availability.
Thank you for your reservation
Your order is now being processed and we have sent a confirmation email to you at
When will my order be ready to collect?
Following the initial email, you will be contacted by the shop to confirm that your item is available for collection.
Call us on or send us an email at
Unfortunately there has been a problem with your order
Please try again or alternatively you can contact your chosen shop on or send us an email at