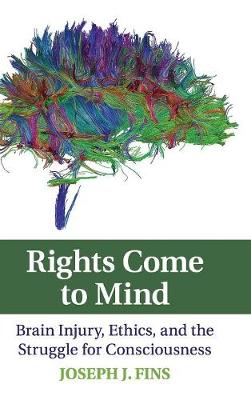 Rights Come to Mind: Brain Injury, Ethics, and the Struggle for Consciousness (Hardback)
Joseph J. Fins
(author)
Hardback
250

Pages / Published: 11/08/2015
Through the sobering story of Maggie Worthen and her mother, Nancy, this book tells of one family's struggle with severe brain injury and how developments in neuroscience call for a reconsideration of what society owes patients at the edge of consciousness. Drawing upon over fifty in-depth family interviews, the history of severe brain injury from Quinlan to Schiavo, and his participation in landmark clinical trials, such as the first use of deep brain stimulation in the minimally conscious state, Joseph J. Fins captures the paradox of medical and societal neglect even as advances in neuroscience suggest new ways to mend the broken brain. Responding to the dire care provided to these marginalized patients, after heroically being saved, Fins places society's obligations to patients with severe injury within the historical legacy of the civil and disability rights movements, offering a stirring synthesis of public policy and physician advocacy.
Publisher: Cambridge University Press
ISBN: 9780521887502
Number of pages: 250
Weight: 680 g
Dimensions: 228 x 152 x 28 mm
---
MEDIA REVIEWS
'As the mother of a daughter with severe brain injury and an advocate for patients like her, I found Rights Come to Mind to be a compassionate call to action and a must-read. It should be thoroughly studied by families, professionals, and policy makers concerned about these patients. In every chapter and on every page, Dr Fins uses his knowledge of neuroethics and disorders of consciousness to broaden the civil rights of patients too long neglected, writing truly in the spirit of the Americans with Disabilities Act.' Marilyn Price Spivack, mother of Deborah Lee Price, cofounder of the Brain Injury Association of America, and Neuro-Trauma Outreach Coordinator at Spaulding Rehabilitation Hospital
'Dr Fins has written a powerful and ethically challenging book that introduces the science of severe brain injury in the context of the stories of families committed to the recoveries of their loved ones. Dr Fins knows this difficult terrain firsthand as the ethicist member of a team that has pioneered technologies intended to engage the conscious thoughts of individuals rendered by their injuries unable to communicate or even move.' Steven E. Hyman, Harvard University Distinguished Service Professor and Director of the Stanley Center for Psychiatric Research, Broad Institute of MIT and Harvard
'Dr Fins brilliantly captures the despair of families with brain-injured loved ones who are navigating Dante's rings of hell. He gives voice to those of us who choose to stand and fight for our loved ones. Rights Come to Mind aligns expectations, treatment, and nuance both at the bedside and in public policy.' Bob Woodruff, ABC News Correspondent, and Lee Woodruff, authors of In an Instant Woodruff
'Dr Fins has provided us with a wonderful book that masterfully integrates the clinical and ethical challenges faced by medical care providers along with a deep empathy for the challenges faced by patients and their families. Above all this volume is a call, even a demand, to do better. I strongly recommend this thoughtful, readable, deeply informed, and challenging volume.' Harold T. Shapiro, President Emeritus of Princeton University and former Chair of the National Bioethics Advisory Commission
'Rights Come to Mind is a beautiful book that blends science, humanity, morality, and law to paint a far more nuanced picture of severe brain injury than ever before. The book teaches, moves, and provokes as it sets out its vision for the rights of this long-ignored population.' Abbe R. Gluck, Yale Law School
'Joseph J. Fins has woven a unique narrative covering both the science of unconsciousness and the lives of brain-injured patients. He offers readers detailed case reports, stories of illness based on extensive interviews with patients' family members, medical and scientific explanations of coma and the vegetative and minimally conscious states, critical commentaries, and an ethical and legal argument for the importance of advocating for the rights of this group or ignored and disadvantaged patients ... [Fins] is ideally poised to write this account ... [His] erudition in palliative care, ethics, and humanities is evident ... This is a highly personal work that illustrates both the individual impact of brain injury and the current deficits in the care of brain-injured patients. By successfully outlining both the human and humane dimensions of a scientific subject, the narrative bridges the gap between the sciences and the humanities ...' James L. Bernat, Neurology Today
'Although not lacking in technical detail, Fins humanizes people with disorders of consciousness by describing a number of case studies in addition to Maggie's. This makes for a book that has broad interest and appeal, engaging both those readers who are interested in traumatic brain injury and those who relish the latest research and treatment. For readers at all levels of expertise and sophistication, this book is an interesting and often fascinating read.' Elizabeth V. Swenson, PsycCRITIQUES
'Fins offers an impassioned plea for the rights of those suffering in MCS, invoking the legacy of the Civil Rights Movement. Here lies the casus belli of his work: a belief that MCS patients are being lumped together with PVS patients and denied their rights to participation in the community of humankind ... Rights Come to Mind is a multifaceted tour de force not to be missed.' Jacob M. Appel, Education Update Online
'Fins is a zealous advocate for the rights of those suffering impaired consciousness, and he sees an institutional injustice that demands change. For attorneys representing people with a brain injury and their families, this is an essential guide to medical and ethical dilemmas.' Shana De Caro, Trial
'Fins moves quickly beyond the profit and loss columns of conventional health care costs to invoke rights to adequate assessment and rescue, to a rehabilitation program adaptable to a variable time course of recover, and to being treated as a human being with (potentially but not always actually) a voice ... We should take up the responsibility to reveal a world of human experience into which many of us, despite ourselves, may one day find ourselves plunged. It behooves us to listen to that voice and add our own, crying in the wilderness for those who cannot find themselves there.' Grant Gillet, Hastings Center Report
'Rights Come to Mind is a compelling discussion of the actual lives of patients at the edge of consciousness, as well as the experiences of those caring for them. The book is a valuable resource for anyone interested in the medical, social, and personal dimensions of severe brain injury and resulting disorders of consciousness. Those directly and indirectly affected by these disorders, and indeed all of us, are indebted to Fins for presenting and assessing these dimensions in an informative, thoughtful and humane way.' Walter Glannon, The American Journal of Bioethics
'Rights Come to Mind is one of those rare works and may conceivably become an instant classic on the ethics of brain injury and disorders of consciousness ... The substantial intellectual grace and deep humanity that pervade every part of the book are a testimony to the scholarly excellence and exceptional academic generosity of its author ... [This book] marks a major milestone in the contemporary scholarship on the ethics of disorders of consciousness, in the narrative approach to medical ethnography, and in patients' rights advocacy. It is safe to predict that it will become a work of reference and reverence for everyone who is interested in these topics for many years to come.' Philipp Kellmeyer, Cambridge Quarterly of Healthcare Ethics
'Joseph Fins has made contributions (to bioethics) of the utmost importance. It is enough to cite two, his works ... on clinical pragmatism and on the other, efforts to improve and dignify the care of patients at the end of life ... The title of Rights Come to Mind expresses the book's fundamental purpose: to denounce the way people suffering from prolonged loss of consciousness have been treated ... This recently published volume is situated in line with that fundamental interest of Fins to dignify the lives of persons afflicted with grave or terminal illness ... For Fins, the right to recover lost consciousness is a moral imperative, and consequentially a fundamental right of being human...the book ends with that call to action.' Diego Gracia Guillen, translated from EIDON
A fascinating new book [which] carefully illustrates ... that predicting the course of any of the disorders of consciousness is not a binary, definitive-cure-versus-quick-death matter; instead, the existence, extent, and rate of each person's recovery varies along a continuum that often includes multiple gray zones ... the radical question that Fins forces us to address is precisely what, if any thing, we should be doing with the MCS population ... the central message ... is a profoundly disruptive one for certain parts of the health care system, and that fully is the book's intent ... [it] will properly shake up settled understandings and attitudes held toward a largely neglected but worthy segment of our population ...' Marshall R. Kapp, Care Management Journals
'Fins provides a fair and comprehensive overview of the historical, biological, technological, social, and political contexts surrounding TBI and MCS patients, while also acting as an advocate for patients and their families.' Michael Roess, The Pharos
You may also be interested in...
Simply reserve online and pay at the counter when you collect. Available in shop from just two hours, subject to availability.
Thank you for your reservation
Your order is now being processed and we have sent a confirmation email to you at
When will my order be ready to collect?
Following the initial email, you will be contacted by the shop to confirm that your item is available for collection.
Call us on or send us an email at
Unfortunately there has been a problem with your order
Please try again or alternatively you can contact your chosen shop on or send us an email at