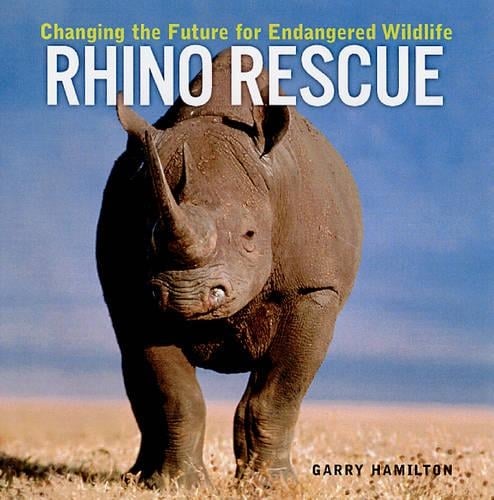 Paperback
64

Pages / Published: 04/05/2006
A rhinoceros is a powerful beast weighing 3 tons or more and wielding a deadly horn up to five feet long. Ruthlessly slaughtered for centuries, rhinos are suddenly one of conservation's great success stories as populations of white rhinos and black rhinos recover. Even so, rhinos are still at risk: Javan and Sumatran rhinos are close to extinction and the world rhino population is still less than it was just thirty years ago. This book profiles the people and the organisations around the world who are helping rhinos to survive, and surveys the biological issues in and challenges of preserving a future for endangered wildlife. The "Firefly Animal Rescue" series promotes endangered and threatened species and what is being done to protect them. Each book introduces readers to a featured animal, explains the threats it is facing, and explores efforts by conservationists and organisations to protect it.
Publisher: Firefly Books Ltd
ISBN: 9781552979105
Number of pages: 64
Weight: 268 g
Dimensions: 229 x 229 mm
---
MEDIA REVIEWS
Plenty of vivid color photographs, maps, timelines, resources, and fast paced and informative text keep young readers interested and aid them in understanding the complex issues surrounding endangered species and their environment.--Elizabeth Shaffer"BC Parent" (09/01/2006)
Award winning... With beautiful photography and inspiring examples of individuals passionately devoted to wildlife conservation, these are excellent resource for the classroom or school library.-- (12/01/2006)
These books have a lot of punch, not just in content, but in the presentation... magnificent color photography.-- (05/28/2006)
[review of series: ] Anyone interested in learning more about endangered animals will find these books fascinating... This series will make a strong addition to any school library.-- (01/01/2006)
I think that this book is fascinating reading for the level [for] which it is intended. The language is stimulating in the way that the book describes the basics about crocodilians without getting too deep and going into too much detail. Also, the discussion is lively...with great color photographs. The book gives a detailed overview of the crocodilian species and their habitats, behavior, feeding, mating habits, and other characteristics.-- (06/05/2007)
A great book for educating young people [on] the need for conservation, this time the topic is rhinos. The information covers background on the five species of this animal and what has been done and still needs to be done to preserve this interesting creature. The information is clear and concise and does not talk down to the reader. The photographs do much to explain the plight of rhinos and show them in their natural setting. A well-written book.-- (06/30/2010)
Not necessarily a first choice as poster child for the animal world, the huge, homely and often bad-tempered rhino nonetheless has achieved a remarkable feat as one of the world's best conservation stories. Having no significant enemies other than humans, some species of this animal have rebounded through the aggressive efforts of conservation programs in Africa, India and Indonesia. The white rhino stands out for a reversal from a population low of a few dozen in the early 1900s to nearly 12,000 in Africa... As in other books in this series, individuals who work closely in rhino conservation efforts are profiled.... Readers are treated to exciting close-ups of the animals and action shots of conservationists at work worldwide. If you haven't been attracted to rhinos before, you may change your mind after seeing the appealing portrait of that new calf at the Cincinnati zoo. A list of groups devoted to rhino conservation is included for further investigation. Highly Recommended.-- (05/12/2006)
Although the rhino population is nowhere near what it was even thirty years ago, three of the five species have increased their numbers enough that the rhino was dubbed "the comeback kid" when concentrated efforts were made to address the issues that threaten their survival. No surprises here--it is human behaviour that is to blame for rhino numbers dropping to near extinction levels in every part of the world. Luckily for them, a few dedicated individuals and organizations have persevered in the face of determined poachers and indifferent local peoples. Rhino Rescue tells the stories of these "megaherbivores" who originally flourished in Africa, India, and Nepal, and Indonesia and Malaysia, and of the people who are trying to save them. Rhino Rescue is another weapon in our arsenal of materials so desperately needed to educate young people and motivate them to take action in their lifetimes to protect the diversity of life on this planet. Hopefully they'll do a better job than their ancestors.--Canadian Teacher (09/01/2007)
A joy to read because they carry a message of hope... told in a clear, engaging fashion.-- (07/01/2006)
The pictures throughout the book are wonderful... The index and fast-facts sections are especially helpful... Overall, a very well-presented and informative book.-- (09/01/2006)
Document past and present efforts to stave off extinction... beautifully illustrated Firefly Series. It is good stuff.-- (07/01/2006)
In 1984, in an attempt to stop slaughter of black rhinos in Zimbabwe, Operation Stronghold was launched which allowed park rangers to shoot poachers on sight. Over the next 10 years, 178 suspected poachers and 4 game wardens were killed. In the 1970s the value of rhino horns rose and there was a spread of highpowered rifles which further threatened the black rhino, almost to extinction. Beautifully illustrated with clear photos and lots of charts, fast facts an index and How You Can Help, the book is good for reports and for anyone concerned that the number of rhinos alive today is but a fraction of their numbers even 30 years ago. Maps show where the 5 major types of rhinos live, mostly in southern Africa, India and Indonesia. Happily many organizations and individuals are devoting themselves to the preservation of this ungainly 3-ton animal.-- (12/15/2006)
One oddly successful method described to restore the alligator is a partnership of conservationists with hunters where hunters are permitted to hunt alligators for use of their skins while others are protected. Major players in the conservation movement are profiled. Each topic is dealt with in a two-page spread, which makes information accessible. The strength of this book is the vivid, crisp, abundant photos that almost tell the story. There is much information to be found here, accompanied by a timeline, fast facts, and a list of conservation agencies as well as a red and white map pinpointing the location of each species. Paper quality is good and tiny little crocodilians under each page number are a cute touch.-- (05/04/2007)
The pictures throughout the book are wonderful--especially one of a cute baby rhino out for a run. The index and fast-facts section are especially helpful and include addresses of organizations dedicated to helping save these endangered animals. Overall, a very well-presented and informative book. The pictures throughout the book are wonderful--especially one of a cute baby rhino out for a run. The index and fast-facts section are especially helpful and include addresses of organizations dedicated to helping save these endangered animals. Overall, a very well-presented and informative book.-- (12/01/2006)
This book outlines the threats to the alligators and crocodiles. It tells about the people and programs around the world who are involved in preserving the future for these endangered animals. The colorful photos are clear and students can glean much information for reports or pleasure reading. Fasts facts. index, and How you can help are included.-- (06/30/2010)
Both African and Asian rhinos are discussed, with profiles of the people involved in rhinoceros conservation... Excellent source for reports.-- (10/24/2006)
You may also be interested in...
×
Download the Waterstones App
Would you like to proceed to the App store to download the Waterstones App?
Simply reserve online and pay at the counter when you collect. Available in shop from just two hours, subject to availability.
Thank you for your reservation
Your order is now being processed and we have sent a confirmation email to you at
When will my order be ready to collect?
Following the initial email, you will be contacted by the shop to confirm that your item is available for collection.
Call us on or send us an email at
Unfortunately there has been a problem with your order
Please try again or alternatively you can contact your chosen shop on or send us an email at