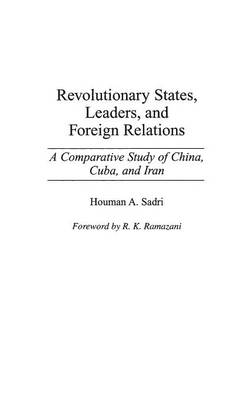 Revolutionary States, Leaders and Foreign Relations: Comparative Study of China, Cuba and Iran (Hardback)
Houman A. Sadri
Hardback
Published: 16/04/1997
Can be ordered from our supplier
This book compares and contrasts the foreign relations strategies of China, Cuba, and Iran in the first decade of their post-revolutionary periods. Among a variety of explanatory variables, leadership, particularly the type of revolutionary leaders, played a significant role in explaining the outcome of the policymaking process in each case. Three distinct patterns of foreign relations strategies are evident among all three revolutionary regimes in the ten-year period: Two-Track, Conflictual, and Conciliatory. This book is a valuable source for both experts and non-experts alike in providing insight into the foreign relations of revolutionary regimes in developing countries and in helping U.S. policymakers anticipate behaviors of future revolutionary leaders. A focal point of this book is the examination of the nonalignment strategies of these prominent developing countries during the infancy of their regimes. Each state's particular strategy is described and explained in detail and then contrasted and compared. Although there are differences among their foreign policies, considering their geographic locations, size, wealth, military capabilities, leadership characteristics, and political institutions, there are significant similarities regarding their foreign policy goals and trends in their foreign relations with the Great Powers. Among explanatory factors, leadership played a significant role in the policy making process, although the foreign relations strategies of these revolutionary regimes were fed by a combination of national and international variables. In all three states, the tone of foreign policy was set by revolutionary leaders who were either idealists or realists. Idealists tended to take a more active and conflictual approach toward one or both of the superpowers, while Realists were more cautious and less willing to resort to a conflictual posture. This book also investigates the gap between the theoretical and practical nonalignment stance of each state. This cross-regional study provides policy analysts with clues about the foreign policies of other revolutionary developing countries in similar situations. Finally, it makes suggestions about how a Great Power may relate to a developing country during its first post-revolution decade.
Publisher: ABC-CLIO
ISBN: 9780275953218
You may also be interested in...
We would love to hear what you think of Waterstones. Why not review Waterstones on Trustpilot?