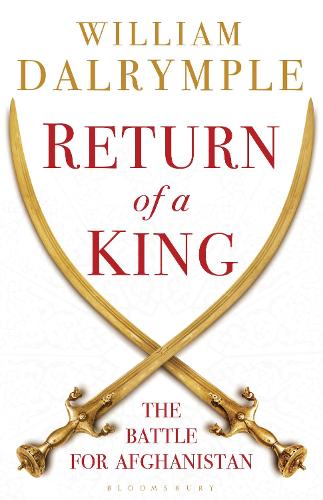 Hardback
608

Pages / Published: 04/02/2013
In the spring of 1839, the British invaded Afghanistan for the first time. Led by lancers in scarlet cloaks and plumed shakos, nearly 20,000 British and East India Company troops poured through the high mountain passes and re-established on the throne Shah Shuja ul-Mulk. On the way in, the British faced little resistance. But after two years of occupation, the Afghan people rose in answer to the call for jihad and the country exploded into violent rebellion. The First Anglo-Afghan War ended in Britain's greatest military humiliation of the nineteenth century: an entire army of the then most powerful nation in the world ambushed in retreat and utterly routed by poorly equipped tribesmen. Return of a King is the definitive analysis of the First Afghan War, told through the lives of unforgettable characters on all sides and using for the first time contemporary Afghan accounts of the conflict. Prize-winning and bestselling historian William Dalrymple's masterful retelling of Britain's greatest imperial disaster is a powerful and important parable of colonial ambition and cultural collision, folly and hubris, for our times.
Publisher: Bloomsbury Publishing PLC
ISBN: 9781408818305
Number of pages: 608
Weight: 1101 g
Dimensions: 234 x 153 x 53 mm
---
MEDIA REVIEWS
This sorry saga has been recounted many times, but never that I can recall as well as by Dalrymple. He is a master story-teller, whose special gift lies in the use of indigenous sources, so often neglected by imperial chroniclers * Max Hastings, Sunday Times *
Enchantingly written ... In Dalrymple's usual happy style of historical narrative, applied to a fascinating, neat and highly suggestive series of events, this long and involved book will be a great success, and bring the famous story to a large new audience * Philip Hensher, Spectator *
Of the books swooped into being by his scholarship (to which he himself has applied the adjective "obsessive"), this one is the most magnificent ... The seductive artistry of Dalrymple's narrative gift draws the reader into events that are sometimes almost unbearable, but his account is so perceptive and so warmly humane that one is never tempted to break away ... This book would be compulsive reading even if it were not a uniquely valuable history, which it is, because Dalrymple has uncovered sources never used before ... one can't put down this book without feeling that the old man is right, and that politicians who know not what they do have been at it yet again * Diana Athill, Guardian *
Few writers could go wrong with a story populated with so many villains, rogues, politicians, swashbucklers, spies, assassins and heroes. But none would make a better job of it than William Dalrymple in his thrilling, magnificently evocative Return Of A King ... Time and again as you read the book you'll be struck, like Dalrymple, by the extraordinary parallels between that first Afghan campaign and the latest one * James Delingpole, Mail on Sunday *
Shows all the elements we have come to expect from Dalrymple: the clear, fluid prose, the ability to give complex historical events shape, story and meaning, the use of new local sources to allow the voices of the people, in this case, of Kabul, Kohistan, the Khyber and elsewhere to be heard alongside the much-better documented accounts of the invaders, the deep knowledge and affection for the magnificently rich culture of the Mughals and their various copiers and a lack of patience with tiresome orientalist visions of the "proud Pashtun" or "noble Afghan". This is clear-eyed, non-judgemental, sober history, beautifully told * Observer *
Both a ripping yarn and a warning from history, an epic of a past debacle echoes through the present ... William Dalrymple is a master storyteller, who breathes such passion, vivacity and animation into the historical characters of the First Anglo-Afghan war of 1839-42 that at the end of this 567-page book you feel you have marched, fought, dined and plotted with them all ... once I had finished I turned straight back to the beginning ... Return of a King is not just an animated and highly literate retelling of a chapter of early 19th-century British military history, but also a determined attempt to reach out and influence the politicians and policy-makers of our modern world * Independent *
Brilliant ... Even 170 years later, the events described in Return of a King still have the power to shock - and so they should. It is to be hoped that any future British leader contemplating intervention in Afghanistan, or any other part of the Muslim world, will read Dalrymple's book. For while it is first and foremost a valuable contribution to the history of Afghanistan and the British Raj, it is also intended to draw parallels and convey lessons about the latest western involvement in the region - lessons, it is worth noting, that were not lost on the more intelligent British officials of the time * Financial Times *
Pacey ... Return of a King is a work of deep scholarship, informed by the author's decades of engagement with India and extensive research in Pakistan and Afghanistan * The Times *
A major contribution to the historiography of south-west Asia and of the British empire ... Dalrymple has resurrected an oft-told tale and brought it convincingly back to life ... Return of a King will come to be seen as the definitive account of the first and most disastrous western attempt to invade Afghanistan, occupy it and then, in short order, remake it on lines mapped out by foreigners * New Statesman *
This is vintage Dalrymple; warp-speed historical narrative meticulously researched ... My only regret reading this wonderful history is that it was not published a decade earlier * Evening Standard *
William Dalrymple, in his sparkling new history of the First Anglo-Afghan War, draws striking parallels between that 19th-century conflict and Nato's current Afghan imbroglio ... Dalrymple has written some marvellous books on the British in Asia but this, I think, is his best. Extensively researched (with much new material) and beautifully written, it covers the story from the perspective of both invaders and invaded, and is by far the most comprehensive history of the conflict yet written. It also says important things about war and why it's waged; whether anyone who needs to will listen is another matter * Daily Telegraph *
Dazzling account of Britain's foray into Afghanistan in 1839 * The Sunday Times *
His triumph is to describe in brilliant, exact language events such as the horrific retreat from Kabul and to draw vivid portraits of the main characters in a spell-binding drama ... There is much in Dalrymple's superb book that has contemporary resonance * Sunday Herald *
In his rollicking look at the First Afghan War, Britain's military inclusion into the region in 1842, Dalrymple has certainly gone a mile or two further than most historians with his research ... Yet for all its current geopolitical echoes, Return of a King's strengths are - like Dalrymple's two other history titles, the bestsellers White Mughals and The Last Mughal - in the characters and its combination of sprightly readability and serious research ... Likely to become the definitive book on this highly topical subject * Bookseller *
Dalrymple's excellent, carefully researched and very readable book is a reminder that the recreation and study of the past can offer important advice for future generations * The Tablet *
A must-read for anyone wanting to understand the complexities of modern day Afghanistan * Sunday Express *
Grips the reader's attention from start to finish ... William Dalrymple's Return of a King is a riveting account of one imperial disaster on the roof of the world; it teaches unforgettable lessons about the perils of neo-colonial adventures everywhere * Literary Review *
Dazzling * The Sunday Times *
Like Dalrymple's heartbreaking, extraordinary White Mughals, this book is as taut and richly embroidered as a great novel ... this book is a masterpiece of nuanced writing and research, and a thrilling account of a watershed Victorian conflict * Sunday Telegraph *
Contains startling historical parallels ... This is a monumentally important book that shows precisely why the British are in a mess there today ... Larger-than-life characters throng Dalrymple's pages ... Exemplary historian that he is, Dalrymple has discovered hitherto unknown sources ... This history as it should be written revisionist, readable and rollicking * Tatler *
Dalrymple lets the action play out relentlessly and compellingly, yet has endnotes, glossary, bibliography, and index of a high scholarly standard * Times Literary Supplement *
William Dalrymple's phenomenal achievement is to combine a steady overview of his broad canvas with a magpie's eye for detail and a film-maker's sense of when to shift the mood and focus. His writing is ebullient, but his conclusion is timely and grave * Intelligent Life *
Dalrymple's excellent account of the first Anglo-Afghan war in 1839 should be required reading for those spending the defence budget today * The Lady *
Mr. Dalrymple's writing is sly, charming and clever. His histories read like novels ... This latest book delights and shocks as he points the finger at both sides for their deceit, treachery and cruelty ... Magnificent * Wall Street Journal Europe *
A powerful account of Britain's deluded occupation * Scotland on Sunday *
A dramatic narrative * Sunday Times Summer Reads *
In this enthralling study, William Dalrymple explores the causes and tragic consequences of war * Guardian Summer Reads *
Lessons abound in this couldn't-make-it-up account of British imperial ineptitude * Mail on Sunday Summer Reads *
Engaging, eloquent, and chilling * Good Book Guide *
A rousing history ... This is a story that ought to be described as unforgettable, were it not that recent history suggests quite the opposite * The Times, Summer Reads *
Wherever this book is read, it will on every page transport the reader to the summer heat and bitter winter snows of Afghanistan ... At one level it is a compendium of ripping yarns, but at another it is the work of a scrupulous historian telling, as though he were an eyewitness, a tale so pitiless and tragic that it should be read by every politician involved in our policies in Afghanistan now * Brian Sewell, Evening Standard Books of the Year *
The story has been told many times, but Dalrymple has produced a gripping new account, incorporating little-known Afghan sources as well as lavish descriptive passages and blood-curdling set pieces * Sunday Times History Books of the Year *
Dalrymple is a writer who can make the most recondite historical issues come alive and with each succeeding book he becomes more entertaining and enlightening literary companion. His latest offering, Return of a King ... is quite simply brilliant * Alexander McCall Smith, New Statesman Books of the Year *
Dalrymple's masterful retelling of the first Afghan war had an eerie modern-day relevance * Shami Chakrabati, Guardian *
Historical storytelling at its best * Mark Muller, Scotland on Sunday Books of the Year *
Magnificent ... Dalrymple is a breathtakingly good writer, who injects wit and compassion into his account of a complex imperial disaster * Alexander McCall Smith, Scotsman Books of the Year *
William Dalrymple at his best ... A parable for present times * Country Life Best Reads of 2013 *
Beautifully written and extensively researched ... It is Dalrymple's best book ***** * Daily Telegraph *
This fascinating account of Britain's biggest imperial disaster, the first Afghan war, is a lesson for our times * Patricia Nicol, Metro Non-fiction Books of the Year *
You may also be interested in...
Simply reserve online and pay at the counter when you collect. Available in shop from just two hours, subject to availability.
Thank you for your reservation
Your order is now being processed and we have sent a confirmation email to you at
When will my order be ready to collect?
Following the initial email, you will be contacted by the shop to confirm that your item is available for collection.
Call us on or send us an email at
Unfortunately there has been a problem with your order
Please try again or alternatively you can contact your chosen shop on or send us an email at