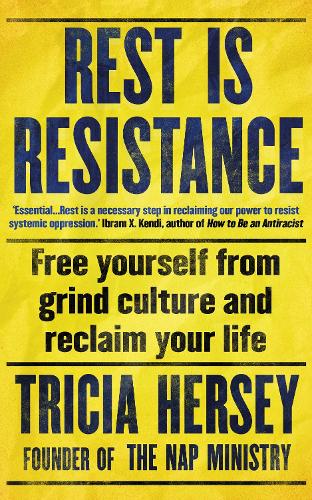 Paperback
224

Pages
Published: 13/10/2022
THE INSTANT NEW YORK TIMES BESTSELLER

'Extremely important and brilliant work... [Hersey] is a revolution.' - Glennon Doyle, activist and bestselling author of Untamed, Love Warrior and Carry On, Warrior

'Essential...Rest is a necessary step in reclaiming our power to resist systemic oppression.' - Ibram X. Kendi, activist, professor and bestselling author of How to Be an Antiracist

'This book will save lives and transform the world. - Emily Nagoski Ph.D., bestselling author of Come As You Are and Burnout

'This book has honestly left me changed and rearranged.' - Afua Hirsch, bestselling author of Brit(ish)

RECLAIM POWER, REST AND HEAL FROM GRIND CULTURE

'May we have space to navigate our lives from a liberated rest state. May all of culture slow down. The time to rest is now.' - The Nap Ministry

By founder and creator of The Nap Ministry, Rest is Resistance is a call-to-action for anyone suffering from the toxic urgency of modern-day life. It centres around the systemic issues that cause us to overwork, and ultimately burn out, and offers us liberation through rest. In its simplest form, rest becomes an act of resistance and a reclaiming of power because it disrupts and pushes back against capitalism and white supremacy. Slowing down moves us away from trying to operate at machine levels of productivity, to make us all more human.

In this fierce and tender manifesto, Tricia Hersey elevates rest as a divine right, and paves the way towards a more well-rested life that empowers imagination, invention and healing. Divided into four sections, Rest is Resistance explains Tricia's philosophy and methods, and includes both storytelling and practical advice. It will offer you the guidance and context to craft a rest practice for long-term health, both within yourself and society as a whole.

Rest is Resistance is not self-care: it is the urgent wake-up call you need to nap, rest and, most importantly, dream once more.
Publisher: Octopus Publishing Group
ISBN: 9781783255153
Number of pages: 224
Weight: 232 g
Dimensions: 212 x 134 x 22 mm
---
MEDIA REVIEWS
Extremely important and brilliant work... [Hersey] is a revolution. This book will save lives and transform the world. Tricia Hersey speaks the truth about rest, a truth that begins our unraveling from the lies of white supremacy and capitalism. Gradually we refuse to live at a machine pace. We surrender to the beautiful experiment of being human. We return to our truest selves. This is a book to read again and again, slowly, savoring it sentence by sentence. I'll be giving copies to everyone I work with and everyone I love. Tricia Hersey whispers 'rest is a form of resistance' to me, to you, to those who think resistance is always movement. Her message is essential: Sit. Lay down. Slow down. Rest is a necessary step in reclaiming our power to resist systemic oppression. [Hersey] is an artist at heart...She approaches the notion of collective rest as a form of performance art, incorporating elements of Black liberation theology, Afrofuturism and poetry into her messaging. In a culture that often seems obsessed with output, Hersey is more focused on the inner calm and self-knowledge that can come with proper rest...and on investigating who has traditionally been denied that rest and its myriad benefits. With
Rest Is Resistance
, Tricia Hersey helps us understand that rest is how we can sustain ourselves as we awaken to the truth of the toxic systems of our times. She is not ahead of or above us in this journey, but right here in the midst of social media addiction and overwork and systemic frustration, shouting that she can see an opening. She offers us rest not
instead
of the incredible work we are doing, but as a way to undergird all our efforts against capitalism and white supremacy. She shows us that our dream space is sacred, and rest is how we reclaim access to the wisdom there. Naps and all kinds of rest are portals through which we return to ourselves. Tricia, sounding like an ancestor who is DONE seeing us suffer, is inviting us to join her and step on through.
Rest Is Resistance
connects the dots between capitalism and white supremacy. Rest, Hersey posits, asserts humanity and pushes back against all-consuming grind culture. A plan of action to help people challenge the idea that our bodies are machines to be used for capitalism's profit as opposed to truly belonging to us. Sometimes the window is open and a breeze comes through singing a sweet song: it is nap time. Grandmother sits on the front porch; grandpapa cuts the grass. It is a song. You nap. I nap. The angels hug us. A book settles beside us.
Rest Is Resistance
. It is a war we will win. Tricia Hersey's voice is vivid, well-researched and evocative. She writes intimately about the liberating power of rest and how we imagine a new world outside of capitalist systems. Hersey's manifesto towards radical restoration is lifegiving; I found myself deeply moved by her principles & authenticity. She has established herself as a preeminent voice in the world of Black liberation theology and beyond. Lay your ass down and read this book right now!
Rest Is Resistance
is an inspiring, affirming and revolutionary balm. Tricia and the Nap Ministry's ethos have changed my life, and work, for the better and this manifesto is no different. With compassionate inquiry and actionable offerings, Tricia divinely guides us further into rest, ourselves, and our collective liberation. Tricia Hersey's Nap Ministry changed my life.
Rest Is Resistance
is more than a book - it is one of the most vital interventions of our time. Over the span of several days, I read
Rest Is Resistance
as a meditative practice to alter my pace and ground my soul in this frenzied grind culture. Unlike other texts that list a litany of strategies to stave off exhaustion, Hersey presents a lullaby of liberation that frames rest as a portal for healing and imagination available to all. Once you open this book prepare to breathe more deeply and come to see the world more clearly. In the words of the Nap Bishop, 'The Doors of the Nap Temple are open. Won't you come?'
Deep beneath the marked surfaces of unyielding productivity, shrouded by the thick plumes of the city, a movement is afoot. Or rather, a stillness. A break from the sensorial monocultures that incarcerate us. A refusal to give our bodies to the engines that world the world. A soft theology of the fugitive. An invitation to the postactivism of rest. If this rude stillness of rest is a sermon, Tricia Hersey is its underground prophet.
Two hundred years ago, 75 enslaved Igbo people walked right back into Dunbar Creek, refusing to give their bodies to the cotton plantation. Some say they sprouted wings and flew all the way home to Africa. Tricia's fierce insistence that rest is resistance is more than a plea for us to take occasional vacations, and nothing less than a spell masterfully crafted to evacuate us from the settlement politics of capture. Read this book. Then sleep, irreverently, knowing you shake worlds as you do.
Rest Is Resistance
left me feeling elated. This book reminds us that we are in charge of our restoration. In these pages, Tricia has offered us an invitation to take our power back
.
Rest Is Resistance
is a clarion call for our generation. In this pioneering book, Tricia Hersey invites us all to opt out of "grind culture" and embrace our basic and sacred human right to self-care, relaxation, and rest. As Hersey makes clear, this revolutionary praxis is especially important for Black people who have historically and contemporarily been primarily valued for our labor. Ultimately, Hersey reminds us that leisure is not only a way to restore and rejuvenate, but it is also an act of resistance as we hurtle towards end-stage capitalism. [
Rest Is Resistance
] teaches readers that rest is an essential tool in reclaiming power and resisting systemic oppression. Hersey's ministry background shines through in her passionate and eloquent arguments that read like a clear-eyed sermon...the provocative message will appeal to those tired of grind culture. Exquisitely beautiful...a book to read and reread with a pen in hand and pad beside you; one that you will find yourself wanting to give to friends, coworkers, and strangers. A stunning call to a slower, richer life of faith. Get the book and then read, nap, rest, relax and repeat. This book has honestly left me changed and rearranged. As someone who prided myself on needing little sleep and being able to keep going at all costs, reading this was like an epiphany on the error of my ways. Hersey's thesis is that 'the grind' - the idea that it's admirable to keep plugging away at work that depletes us - is rooted in systems that see our bodies as expendable, rather than the divine beings we are. Coming from a woman with deep Christian faith, descended from those who were enslaved, it hits different. Hersey sees rest as a radical act of resistance against these exploitative forces, and now, I do too.
You may also be interested in...
×
Download the Waterstones App
Would you like to proceed to the App store to download the Waterstones App?
Reserve online, pay on collection


Thank you for your reservation
Your order is now being processed and we have sent a confirmation email to you at
When will my order be ready to collect?
Following the initial email, you will be contacted by the shop to confirm that your item is available for collection.
Call us on or send us an email at
Unfortunately there has been a problem with your order
Please try again or alternatively you can contact your chosen shop on or send us an email at