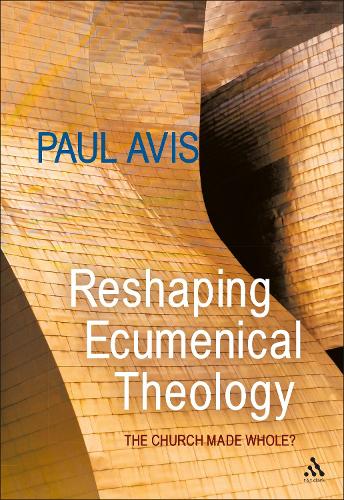 Paperback
208

Pages / Published: 11/02/2010
"Contesting Ecumenical Theology" is a major contribution to the study of the Church. It provides clear and authoritative orientation for the student, while probing deep into a range of key issues in ecclesiology and ecumenical dialogue from a critical standpoint that will stimulate discussion among scholars and ecumenists. It reclaims some old orthodoxies, while challenging some new ones, and points to a deeper and more personal engagement with the major traditions of the Christian Church as the way to fuller unity and more effective mission. "Contesting Ecumenical Theology" argues that the values of difference and diversity and the priority of mission and evangelisation must shape our picture of unity. It transcends old arguments about 'establishment', by showing that all churches are compelled to develop a constructive relationship to the modern state, wherever possible, if they are to be effective in mission. The central ecumenical notion of 'reception' is re-interpreted, not as the faithful unquestioningly receiving the teaching of church authorities, but as the process whereby the whole Church discerns the truth of new developments. The mantra 'baptism is complete sacramental initiation' is challenged, and the place of confirmation is secured within a total process of initiation. The ministry of the episcopate is affirmed, but only by being related to the gospel on which the Church is founded. The nature of communion is examined and the imperative of maintaining it against divisive tendencies is affirmed. 'The hermeneutics of unity' shows that we are shaped by each other through the conflict or rivalry of traditions: 'We are what we are because you are what you are'.
Publisher: Bloomsbury Publishing PLC
ISBN: 9780567194435
Number of pages: 208
Weight: 363 g
Dimensions: 234 x 156 x 18 mm
---
MEDIA REVIEWS
'This is an important book and should be read by all seriously engaged in ecumenical activity' Newsletter of the Ecumenical Society of the Blessed Virgin Mary, May 2010
"As always, Pul Avis writes clearly and attractively. However, in this book, one feels that he reveals not just the depth of his learning but a heart set on fire for the unity of Christ's church. To read a book by Paul Avis is always a delight intellectually but this one is also spiritually moving. ... This is an important bookand should be read by all seriously engaged in ecumenical activity." The Ecumenical Society of the Blessed Virgin Mary Newsletter, May 2010
'In the context of an ecumenical movement in which many have lost interest and all passion is spent, Paul Avis sets out some valuable pointers for reshaping ecumenical theology today. He builds on much that has been achieved in theological conversations over many years and on the steps taken by Anglicans to closer communion in the agreements of Meissen, Porvoo and Fetter Lane. Re-shaping requires that we take diversity more seriously, never lose sight of the integral relation of mission and unity, and keep asking questions about the goal of the endeavour. Avis brings his extensive knowledge of church history, Anglicanism and ecumenical dialogue to bear on some of the outstanding, seemingly intractable, issues: episcopacy, primacy, the enduring place of ecclesial identity, and the relation of pulpit and altar fellowship to the ordering of the ministry and the life of the Church, with its underlying question of whether we can speak of first and second order issues. There are two chapters that stand out for me as having the power to take us further. The first the one on reception in which Avis commends the notion of 'open reception' giving an attractive account of its use in Anglicanism and commending its potential for grappling with the hard questions on the ecumenical agenda. The other, perhaps the most important in the book, is the one on ethics and communion. Although to bring the ethics of human sexuality into the arena is fraught with risk, as Avis acknowledges, it is necessary and unavoidable and should be near the top of the ecumenical agenda as a new frontier in ecumenism. His chapter goes a long way to showing how this might be approached. Both of these chapters are as relevant for internal Anglican conversation as for ecumenical dialogue.This is a stimulating read, well written and thought provoking. The book ought to give heart to those who have grown weary in the ecumenical cause. It does offer the promise that there are new insights to be pursued, fresh d
'I warmly commend Dr. Avis's book. It is well-informed, up-to-date, clearly readable, well-argued, and rightly integrates questions of mission with issues of unity. He suggests that of the institutional, intellectual, and devotional aspects, it often the first that causes most problems. He brings a wealth of scholarship and experience to the subject, to produce a thoughtful further book, which carries the debates forward.' - Canon Professor Anthony C. Thiselton, Professor of Christian Theology, University of Nottingham, UK.--Sanford Lakoff
'He [Avis] writes very lucidly about the ecumenical movement...He provides some extremely helpful chapters that re-frame the conversation from an either/or standoff...I was very busy with my highlighter.'--Sanford Lakoff
'This book is an excellent guide to help navigate the perplexing and often precarious waters of ecumenical dialogue, to steer the reader towards significant questions, and to emphasize why ecumenism is so vital for the church.'--Sanford Lakoff
'"Reshaping Ecumenical Theology "would be a good book for students or others who know little about ecumenism and need a simple, general introduction to the search for Christian unity.'--Sanford Lakoff
'In Reshaping Ecumenical Theology: The Church Made Whole? Paul Avis presents a penetrating analysis of the current state of ecumenical theology and a fresh vision for its renewal. Skilfully summarising a huge amount of source material, Avis provides a concise overview of ecumenical theology before outlining ideas for 'reshaping' it in creative ways that open up new possibilities for tackling as yet unresolved issues... As Avis' readers have come to expect from him, this present volume is clear-sighted, highly readable and engaging.'--Sanford Lakoff
You may also be interested in...
Simply reserve online and pay at the counter when you collect. Available in shop from just two hours, subject to availability.
Thank you for your reservation
Your order is now being processed and we have sent a confirmation email to you at
When will my order be ready to collect?
Following the initial email, you will be contacted by the shop to confirm that your item is available for collection.
Call us on or send us an email at
Unfortunately there has been a problem with your order
Please try again or alternatively you can contact your chosen shop on or send us an email at