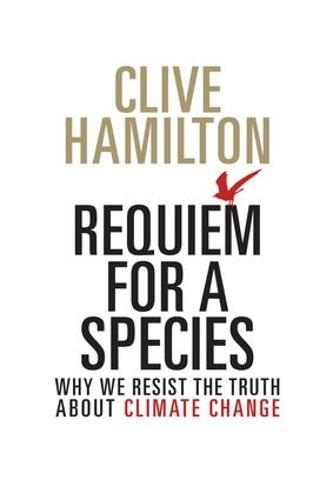 Paperback
300

Pages / Published: 09/06/2015
This book does not set out once more to raise the alarm to encourage us to take radical measures to head off climate chaos. There have been any number of books and reports in recent years explaining just how dire the future looks and how little time we have left to act. This book is about why we have ignored those warnings, and why it is now too late. It is a book about the frailties of the human species as expressed in both the institutions we built and the psychological dispositions that have led us on the path of self-destruction. It is about our strange obsessions, our hubris, and our penchant for avoiding the facts. It is the story of a battle within us between the forces that should have caused us to protect the Earth - our capacity to reason and our connection to Nature - and those that, in the end, have won out - our greed, materialism and alienation from Nature. And it is about the 21st century consequences of these failures. Clive Hamilton is author of the bestselling Affluenza and Growth Fetish, of Scorcher, and most recently Freedom Paradox.
Publisher: Taylor & Francis Ltd
ISBN: 9781138928084
Number of pages: 300
Weight: 318 g
Dimensions: 216 x 140 x 16 mm
---
MEDIA REVIEWS
'Listen to this Requiem and weep, if it helps. False hope is as dangerous as despair. But don't get mired in helplessness. Above all, Requiem is a call to arms; to the urgent task of overhauling democracy in pursuit of survival. At stake, the biggest prize of all: our own humanity.' Tim Jackson, author of Prosperity Without Growth 'I am afraid Clive Hamilton has it right about climate change - deeply afraid. Requiem is a brave and searingly honest book by a brilliant scholar. Ignoring it will only make a bad situation worse, so, please, read this book now.' James Gustave Speth, author of The Bridge at the Edge of the World: Capitalism, the Environment and Crossing from Crisis to Sustainability and Dean Emeritus, Yale School of Forestry and Environmental Studies 'Requiem for a Species is a remarkable publication which brings together the scientific imperatives of taking action in the field of climate change. Hamilton highlights the political inertia which is currently acting as a roadblock. In the wake of the weak outcome of Copenhagen, this book assumes added significance in breaking the resistance to the truth about climate change.' R K Pachauri, Chair, Intergovernmental Panel on Climate Change (IPCC) and Director-General, TERI 'I find it hard to imagine what life would be like if I had genuinely come to the irrevocable conclusion that it was too late to do anything serious about preventing runaway climate change For me, this ongoing internal dialogue gets a little bit more painful, every year And having just finished reading Clive Hamilton's excellent (but deeply disturbing!) Requiem for a Species, I'm now going to have to think it all through all over again.' Jonathon Porritt, Founder, Forum for the Future, and author of Capitalism As if the World Matters 'Requiem offers an insightful and informative look at why the human species can't come to terms with a changing climate. And Hamilton's conclusion--To despair, accept, then act--is an important call for us to respond to climate change immediately and decisively or spend the rest of our lives reacting to a warming world and an unraveling civilization.' Erik Assadourian, Director: State of the World 2010: Transforming Cultures: From Consumerism to Sustainability and Senior Researcher, Worldwatch Institute 'Clive Hamilton investigates - in real time - our society's choice not to act to protect ourselves from devastating climate change. We know the science, but 'scientific facts are fighting against more powerful forces' - power, money, bureaucratic inertia and our innate desire to ignore what we don't want to believe. 'It's too late,' he says. 'Humanity failed.' That past tense is devastating.' Fred Pearce, writer and author of The Last Generation: How Nature will take her Revenge for Climate Change 'Hamilton's book presents a powerful statement of the problems confronting us - not just the problem of climate change itself, but the tendency to wish the problem away by denial (which in less extreme circumstances can arguably be an adaptive response to difficult situations). And all compounded by the fact that neither our institutions nor we ourselves have experience in acting on behalf of a seemingly distant future. Read this book.' Robert M May OM AC FRS 'When future generations look out on a planet ravaged by climate change, they will ask of our generation 'When you knew what was happening--surely the greatest debacle since we came out of our caves--why didn't you stop it?' Clive Hamilton proposes the problem lies with 'the perversity of our institutions, our psychological dispositions, our strange obsessions, our penchant for avoiding facts, and, especially, our hubris.' It all makes for a riveting read because (alas) it is all too true--just like Greek tragedy.' Norman Myers, 21st Century School, University of Oxford 'Requiem for a Species magnificently captures the idea that by and large, none of us want to believe that climate change is real. It explains our inability to seriously weigh the evidence of climate change, and to take appropriate action to ensure our own survival.' Tim Costello, CEO, World Vision Australia 'Clive Hamilton, as usual, has courageously challenged the current nature of our society in this inspirational new book.' Graeme Pearman, former head of the CSIRO Division of Atmospheric Research 'Books that change one's life are rare... Requiem is a tour de force of compression and analysis that cannot help but shift climate change thinking.' Andres Kabel, Cultural Pilgrim (www.andreskabel.com) 'Requiem for a Species is a call to immediate action. It should be sent to every elected official at each level of government. All concerned citizen should read it in order to hold government and industry accountable for knowing the facts, altering policy, and developing clean technologies-not at some later point in time but now. The future looks grim; but, as Hamilton says, action is the best cure for despair. It may also be our only hope.' Courier Mail 'Well worth reading by anyone who takes a serious interest in climate change. It's concise, accessible, and full of insights and information which I suspect most readers will find new and revealing.' Permaculture Magazine 'Requiem for a Species is recommended for those who want to get a clearer picture of the science of climate change' Camilla Royle, Socialist Review 'Anyone even superficially concerned about climate change would fo well to read CLive Hamilton's Requiem for a Species...highly entertaining and excellently sources book' Talitha Haller, Ecosystem Marketplace. 'Even more strongly, Hamilton argues that humans have become docile puppets of the growth-focused system and that only those 'who have internalized the goals of the system most faithfully' become political leaders.' Climate Policy 'Hamilton advises that we grieve appropriately. That is, we should despair about the failure of humanity to prevent the climate change problem from reaching current levels, we should accept the new vision of the future that this entails and the need to transform our previous way of life, and we should act to make the best of the situation as we can. Unlike other drier reports and softly spoken analyses of climate change, this book frankly communicates the urgency of the problem, and I hope many people read it.' Katie Steele, Climate Law. 'As Hamilton so convincingly demonstrates, climate change is not only an inconvenient, but a distressing and fundamentally life-changing, truth. When faced with facts so alien to our ideology, we experience 'cognitive dissonance', and become almost incapable of accepting the evidence before us. So if, psychologically, humans as a species were never able to deal with the threat of climate change, is anyone really to blame? Well, Hamilton lays the blame firmly with the corporations.' Green World 'Requiem for a Species by Clive Hamilton was chosen as the May 2010 Book of the Month on my website, www.globalforesightbooks.org. Very important book.' Michael Marien, Editor, GlobalForesightBooks.org 'Anyone concerned with global affairs, facing up to climate change, and long-term futures should read this book' Michael Marien, Editor, GlobalForesightBooks.org 'Refreshing in its candour, clearly-written and well-sourced, Requiem for a Species is a landmark polemic. So while it is undoubtedly an important book for activists, it is clear humanity's future depends on those who are currently not involved in climate activism reading and acting on the facts and arguments contained within. Spread the word.' Ian Sinclair, Peace News
"This book succeeds in revealing why we have ignored the scientific warnings of climate change. Hamilton analyses the science and underlying reasons for global warming with an appropriate blend of dispassion and compassion." -Suzanne Simard, PhD, RPF, BC Forest Professional Magazine
You may also be interested in...
Simply reserve online and pay at the counter when you collect. Available in shop from just two hours, subject to availability.
Thank you for your reservation
Your order is now being processed and we have sent a confirmation email to you at
When will my order be ready to collect?
Following the initial email, you will be contacted by the shop to confirm that your item is available for collection.
Call us on or send us an email at
Unfortunately there has been a problem with your order
Please try again or alternatively you can contact your chosen shop on or send us an email at