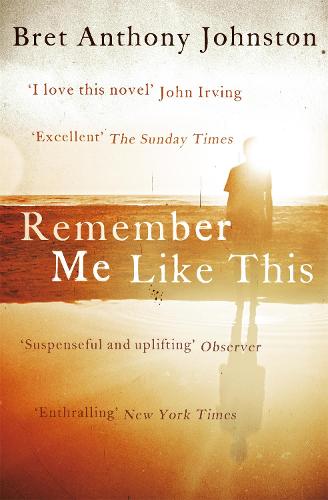 Paperback
384

Pages / Published: 12/02/2015
'I love this novel' John Irving
'Excellent' Sunday Times
'Enthralling' New York Times

By internationally bestselling author Bret Anthony Johnston, WINNER of the Sunday Times EFG Short Story Award 2017.

What happens to a family when a lost child returns?

In the four years since Justin's abduction his family has become a group of separate units, each nursing their pain and guilt.

Now, when they should be at their happiest, how can they forgive each other and become a family again?

A gripping literary novel with the pace of a thriller, Remember Me Like This introduces Bret Anthony Johnston as a gifted storyteller.
Publisher: John Murray Press
ISBN: 9781444788075
Number of pages: 384
Weight: 278 g
Dimensions: 199 x 131 x 26 mm
---
MEDIA REVIEWS
I'm looking forward to a week in southern Spain in the company of
Remember Me Like This
by Bret Anthony Johnston. It has a fascinating fictional premise: a missing child who comes back and a changed family who have to get used to the idea. I've dipped into it already and
the writing is clear and beautiful
. Besides,
a novel that comes with effusive quotes from John Irving and Alice Sebold has to be pretty good
. -- Elizabeth Day * Observer (Best Summer Reads 2014) *
Johnston's
excellent debut
is primarily a literary novel, with old-fashioned virtues such as
rich characterisation, strong structure and impeccable control of tone
. Although it is
reminiscent of John Updike
, the mixture of summer heat and melancholy feels peculiarly Texan * The Sunday Times *
enthralling and skillful
... the book's beauty is in its complexity, in its characters' endless search for the truth...
uncomfortably revealing
... What Johnston captures and examines so expertly isn't the kind of sadistic cruelty familiar to anyone with a television, but a subtler, more quietly menacing variety, the eggshell tiptoeing,
the killing kindness we unknowingly inflict when acting out of love and fear
...
Remember Me Like This
isn't a novel about kidnapping. It's not a psychological study of Stockholm syndrome or a victimology. It's not a thriller, and it's not even really a mystery, unless it's an unsolved one,
the exquisitely moral mystery of how we struggle to accept and love the people we call family, even when we can't fully know them
* New York Times *
Johnston has an ear for tidy phrases that pinpoint the elegiac in ho-hum domesticity
, noting how blinds "ladder" light on to a bedspread or how, looking at Justin's sad father, an elderly widow would "like to sop him up with a biscuit". It's
a suspenseful, uplifting portrait of a family in crisis
. * Observer *
Remember Me Like This
is
certainly a page-turning read
but more than that it's a subtle analysis of what the minutiae of ordinary life might be like when people find themselves in an extraordinary situation for which there's no rule book. * Daily Mail *
This
stunning
debut novel opens as 16-year-old Justin Campbell is reunited with his family four years after being abducted. Rather than signalling the end of their ordeal, it marks the start of a turbulent summer in the small town of Southport, Texas, as the Campbells fight to keep their family together.
Anthony Johnston announces himself as a major new talent with a story that is beautifully written, in prose packed with imagery and emotion, which will keep readers thinking long after the final page
. * Sunday Express *
Johnston, who directs the creative writing program at Harvard, isn't going to retell the story of a child's murder or a family's grief-fueled incineration. Instead,
Remember Me Like This
is the more
emotionally subtle
tale of a child's unexpected return and a family's complicated recovery... What happens after the cable news hysteria fades away, and the mayor issues a proclamation and the tearful grandparents fly back home? Are these rare families like lottery winners who celebrate in public and then, in the months that follow, squander their good fortune? This is the question Johnston explores with
great tenderness
in
Remember Me Like This
. Eric and Laura must relearn the motions of normal life, a life without psychics' tips, sponsored races and police updates. And normalcy proves much more difficult than anyone in this family anticipated. This portrayal of a family struggling through what should be its happiest moment is
tremendously moving
...
there's real humanity in Johnston's writing
,
and it's heartening to spend time with these folks as they relearn how to be a family
. Rendered in these
compassionate, candid
chapters, theirs is a struggle that speaks to those of us who have endured far less -- Ron Charles * Washington Post *
A
powerful, complex and affecting
debut. * Shortlist *
beautiful and engrossing
book... a most moving novel and the least sensational take on a socially incendiary issue... What is so thrilling and moving about this novel is that the detail is so meticulous, the emotional lives are so brilliantly captured that every character stands out;
there is heart and depth on every page
... The physical detail, the narrative detail and the emotional detail are all one and the same in Johnston's fine writing...
The emotional intelligence of the novel cuts deep, and reading it is a moving and ultimately uplifting experience
. * Irish Examiner *
Superbly crafted... Told from a multiplicity of view points which quietly merge into a surprisingly gripping and suspenseful narrative... memorable.

* Sunday Business Post (Ireland) *
Enthralling
... I know the novel you're looking for. It's the thriller that also has interesting sentences. It's the one with a
driving plot but fully realized characters
as well, the one that
flows like it was plotted by Dennis Lehane but feels like it was written by Jonathan Franzen
. The high-end potboiler. The literate page-turner. It's a surprisingly rare breed even though it's so obviously the novel we all want. Fortunately, there's Bret Anthony Johnston's
Remember Me Like This
... It has all the features of a trashy psychological thriller, but with all the resources of literary fiction brought to bear on the psychologies in question... The plot in
Remember Me Like This
is interstitially tied in to the psychological details of the characters, and that's what makes it interesting.
Johnston has a gift for creating characters that are perfectly ordinary but also deeply peculiar
... In the end, the high literary technique and the pulp elements of
Remember Me Like This
contribute so seamlessly to each other you wonder how they got separate in the first place. It doesn't need a name.
It's just good to read
. * Esquire *
[an]
extraordinary first novel
... In his debut, [Johnston] offers an achingly
beautiful and psychologically insightful portrait of a family rebuilding after a traumatic event
. Told through multiple points of view during the course of one long, hot summer, Johnston tracks how this family and their community manage the aftermath of Justin's unexpected return. External events drive the characters' internal changes, making this literary novel
plot-driven and suspenseful
. Johnston reveals the ways in which trauma affects individuals as well as all those around them in profound and unpredictable ways.
The book is alive with the fully imagined inner lives of each of its characters
. Johnston's scenes are
exquisite
, the internal and external worlds kept in taut balance... Johnston is a terrific stylist who wields lyrical language in a way that makes it seem natural and unforced... in this
fully immersive novel in which the language is luminous and the delivery almost flawless
. What does rebuilding look like for individuals and for small towns in which each person is important and missed when they are gone? Johnston tackles these issues with empathy and tact, rendering the many faces of loss with acute observational skill. Readers will be surprised and moved by this novel in which being found is only the beginning of the story. -- Emily Rapp * Boston Globe *
Quietly devastating... Johnston is less interested in who-done-it than in how we do it: how we keep going, how we find the courage to know each other and ourselves, how we let go while holding on...
In his patient attention to the Campbell's terror, Johnston is able to mine something wild and essential at its root
. You could probably call it love, although it's certainly not romantic, or anything like the "hug your kids" sentimentality that is such a close cousin to the things it fears. It is elemental, as primitive as a hurricane, and most clearly revealed in moments of stillness - a mother resisting the impulse to tousle her son's hair, a father "fighting not to tremble," a teenager waiting silently outside his brother's closed bedroom door. Johnston intuitively grasps the way a family of many years, subjected to many years more of displacement - from one of their own, from each other, and from what they used to think of as the real world - might develop a profound new sense of what is real, and of who they are. * Los Angeles Review of Books *
Bret Anthony Johnston delivers the special something that makes a book worth losing sleep over:
a masterfully designed architecture of psychological truths and observations that build ironclad believability
... Like the best contemporary American authors,
he abstains from sermonizing and builds his story with description and the accumulation of telling details
... In Johnston's hands, the happy ending of a son returned home is the beginning of a story that evokes reflections on what it means to be lost. Johnston illustrates that only the lucky few get a chance to learn firsthand that pain is associated with being found. Only the lucky few learn to be grateful for everything - grateful even for the tears that flow when we more fully understand the folly of taking family for granted. * Dallas Morning News *
Bret Anthony Johnson's
arresting
new novel Remember Me Like This... one that his readers won't soon be able to forget.
Like all great novels, the characters rather than the plot keep the reader riveted, although the plot alone would be gripping enough
... We get to know the emotion coiled up inside each of [the characters] intimately - so intense is the interiority at times that
it makes for a sort of southern Texan version of reading Virginia Woolf
... Their quests are moving examples of tragedy's many aftershocks, reminders of how difficult it is to predict or control the ripples from an original, seismic event. Beating beneath these ripples in this novel is
the heart of a family desperate to prove the efficacy of their love
. To listen to this heartbeat inlaid with Johnston's powerful prose is to come as close to experiencing the Campbells' heightened emotional register as we can on mere ink and paper.
Remember Me Like This is a novel of emotional dexterity and purity
: It reminds us that lost things can be found, but that they will be so on their own terms. And it is also
a novel you finish having felt, like it or not, as the characters did - deeply
. * Huffington Post *
Remember Me Like This
is
breathtaking
.
Deeply empathetic and masterfully constructed
, it's
a raw, courageous portrait of a family attempting to rebuild themselves
. It's a novel that
has both the feel of a great epic and the focused intensity of standing on a highwire
. I read in awe. -- Paul Yoon * Salon *
Remember Me Like This
, set in Corpus Christi in south Texas, is
a mystery, a page-turning thriller, a poignant novel about loss, a moving family story and a fresh, fascinating look at American history
. By beginning the story of a kidnapped boy with his return to his family, Johnston reveals the complexity of our losses and our recoveries, the way a change for one is a change for all, the limits of our love for our children, and the way that love can be expanded beyond those limits...
I was astonished and thrilled by this book
... [it] has the delicate and precise mechanics of a Swiss watch. -- Susan Cheever * Daily Beast *
Bret Anthony Johnston mines the shadows in American family mythology in his
stealthily moving
first novel. * Vogue *
The highly anticipated debut novel from the creative writing director at Harvard University comes a decade after his critically lauded short story collection,
Corpus Christi: Stories
. That it took him ten years to produce is evident in
the sheer psychological depths and narrative twists of this striking book
. This is
a sensitive portrait of the emotionally devastating impact of trauma
upon each member of an ordinary Texan family, following their son's abduction... [Johnston] artfully draws out the interior landscapes of pain that come with losing a child with
a great deal of sensitivity and resonance for the reader
, producing characters that are heartening for the raw authenticity of their struggles... A heady novel, it
blows the lid on the notion of the "happily ever after"
. * The Lady - Book of the Week *
The terror and pain of losing a child is all too well realised in
Remember Me Like This
...
The genius of this novel is its subtlety
, with the characters displaying the true-to-life emotions of guilt and confusion in the aftershock of tragedy. * Irish Tatler *
Every now and then, a reader stumbles across a debut novelist and thinks to herself: What took you so long? Bret Anthony Johnston - current Director of Creative Writing at Harvard University and named one of the National Book Foundation's 5 under 35 following the publication of his 2004 short story collection - is such an author. His first novel is
so spellbinding, so moving
, that one's only complaint is that we had to wait 10 years to read it...
Johnston is a master at creating honest portraits of family members that could easily be your neighbour
. Make no mistake about it:
Bret Anthony Johnston is a writer to watch
. * BookPage *
a
remarkable debut novel
from the award-winning and widely published author of
Corpus Christi Stories
... Johnston ably deals with what most would consider stomach-churning subject matter...
Johnston incites the reader's urgent need for answers, satisfied in a surprising way that makes Remember Me Like This virtually unputdownable.
* Kirkus Reviews *
an
exciting
, intricate book * Bookbag *
Bret Anthony Johnston presents
a thrilling debut novel
with
Remember Me Like This
. . . This is
a sensitively written piece about a family's trauma
, which is also
filled with suspense
. * Image magazine *
This is a book which starts where many others finish up. Justin Campbell is an 11 year old child who simply disappeared one day and has been missing for 4 years. His parents and brother each find their own way to try and deal with the grief but it permeates everything and their lives are suspended, waiting and wondering. Then one day, the phone call they've waited so long for comes - but the process of picking up the pieces and learning how to be a family again isn't straightforward and in some ways is as heartbreaking as the earlier loss. This is a very carefully written, nuanced, beautiful book about the impacts of all this on an ordinary, average family, thrust into circumstances beyond their control (as opposed to being Justin's story - we're spared all those details) - and I thought it was
magnificent
.
Highly recommended
. * Joan Mackenzie, Fiction Buyer, Whitcoulls (NZ) *
I so loved this. Knockout.
I will be personally pressing into the hands of anyone I encounter in the shop
. -- Sarah Lutyens * Lutyens & Rubinstein Bookshop, London *
it powerfully takes hold... a
gripping
read and
powerful
psychological study. * Adelaide Advertiser *
A
shining example of superior story-telling
,
right up there with the classics
, and not to be missed by any reader with an interest in the most profound aspects of what it is to be human. * Otago Daily Times (NZ) *
The brilliance of Bret Anthony Johnston's
Remember Me Like This
is the way he folds one character's narrative over another's in a seamless transition of perspective... The family pulls apart and squeezes together,
the reader almost holding their breath waiting for it all to implode, or explode
...
Subtle
,
tender and wise
, this novel
will not fail to move you
. * The Hoopla *
It is as a writer that I admire the architecture of
Remember Me Like This
, the novel's
flawless storytelling
. It is as the father of three sons that I vouch for the psychological authenticity of this depiction of any parents' worst fears. Emotionally, I am with this family as they try to move ahead - embracing 'the half-known and desperate history' that they share.
I love this novel
. * John Irving, author of A PRAYER FOR OWEN MEANY and IN ONE PERSON *
You could say that this book is ripped from the headlines, but that wouldn't be fair. Bret Anthony Johnston's
riveting
novel picks up where the tabloids leave off, and takes us places even the best journalism can't go.
Remember Me Like This
is a
wise, moving
, and troubling novel about family and identity, and a clear-eyed inventory of loss and redemption. * Tom Perrotta, author of LITTLE CHILDREN and THE LEFTOVERS *
In this deeply nuanced portrait of an American family, Bret Anthony Johnston fearlessly explores the truth behind a mythic happy ending. In
Remember Me Like This
, Johnston presents an incisive dismantling of an all too comforting fallacy: that in being found we are no longer lost. * Alice Sebold, author of THE LOVELY BONES *
This
mesmerizing
story of loss and redemption on Texas's Gulf Coast will take you in and hold you and not let go until it's done with you, leaving you wiping at your eyes with the kind of soul-gratitude that comes only after experiencing true art. * Andre Dubus III, author of THE HOUSE OF SAND AND FOG *
Both
devastating and transporting
, this is the rare novel a reader lives in, so persuasive is the impact, the insight, the heat of south Texas. * Amy Hempel, author of THE DOG OF MARRIAGE *
In
Remember Me Like This
, Bret Anthony Johnston paints
a brilliantly rendered portrait of a family in the aftermath of trauma
.
Beautifully crafted and so suspenseful you cannot look away
, this is a novel as much about what is hidden as what is revealed; the balancing act is nothing short of
masterful
. * Jill McCorkle, author of LIFE AFTER LIFE *
a
beautifully written
and
very haunting
read... Every character in this novel is
gorgeously drawn and authentic
, very real emotions come off the page and it is often sad but also very uplifting. This is
a novel about family, love, holding onto hope and learning to be happy in the face of huge upheaval
. Brilliantly done: evocative and terrifically compelling,
this is one that will stay with me
* lizlovesbooks.com *
You may also be interested in...
×
Download the Waterstones App
Would you like to proceed to the App store to download the Waterstones App?
Reserve online, pay on collection


Thank you for your reservation
Your order is now being processed and we have sent a confirmation email to you at
When will my order be ready to collect?
Following the initial email, you will be contacted by the shop to confirm that your item is available for collection.
Call us on or send us an email at
Unfortunately there has been a problem with your order
Please try again or alternatively you can contact your chosen shop on or send us an email at