We regret that due to the technical limitations of our site, we are unable to offer eBooks or Audio Downloads to customers outside of the UK.
For further details please read our eBooks help.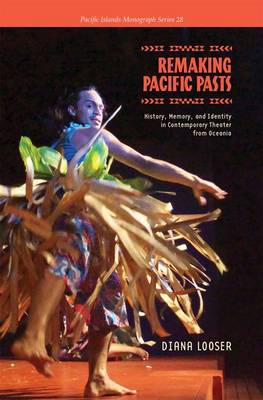 Remaking Pacific Pasts: History, Memory, and Identity in Contemporary Theatre from Oceania - Pacific Islands Monograph Series 28 (Hardback)
Diana Looser
Hardback
Published: 30/10/2014
Since the late 1960s, drama by Pacific Island playwrights has flourished throughout Oceania. Although many Pacific Island cultures have a broad range of highly developed indigenous performance forms--including oral narrative, clowning, ritual, dance, and song--scripted drama is a relatively recent phenomenon. Emerging during a period of region-wide decolonization and indigenous self-determination movements, most of these plays reassert Pacific cultural perspectives and performance techniques in ways that employ, adapt, and challenge the conventions and representations of Western theatre. Drawing together discussions in theatre and performance studies, historiography, Pacific studies, and postcolonial studies, Remaking Pacific Pasts offers the first full-length comparative study of this dynamic and expanding body of work. It introduces readers to the field with an overview of significant works produced throughout the region over the past fifty years, including plays in English and in French, as well as in local vernaculars and lingua francas. The discussion traces the circumstances that have given rise to a particular modern dramatic tradition in each site and also charts routes of theatrical circulation and shared artistic influences that have woven connections beyond national borders. This broad survey contextualizes the more detailed case studies that follow, which focus on how Pacific dramatists, actors, and directors have used theatrical performance to critically engage the Pacific's colonial and postcolonial histories. Chapters provide close readings of selected plays from Hawai'i, Aotearoa/New Zealand, New Caledonia/Kanaky, and Fiji that treat events, figures, and legacies of the region's turbulent past: Captain Cook's encounters, the New Zealand Wars, missionary contact, the overthrow of the Hawaiian monarchy, and the Fiji coups. The book explores how, in their remembering and retelling of these pasts, theatre artists have interrogated and revised repressive and marginalizing models of historical understanding developed through Western colonialism or exclusionary indigenous nationalisms, and have opened up new spaces for alternative historical narratives and ways of knowing. In so doing, these works address key issues of identity, genealogy, representation, political parity, and social unity, encouraging their audiences to consider new possibilities for present and future action. This study emphasizes the contribution of artistic production to social and political life in the contemporary Pacific, demonstrating how local play production has worked to facilitate processes of creative nation building and the construction of modern regional imaginaries. Remaking Pacific Pasts makes valuable contributions to Pacific literature, world theatre history, Pacific studies, and postcolonial studies. The book opens up to comparative critical discussion a geopolitical region that has received little attention from theatre and performance scholars, extending our understanding of the form and function of theatre in different cultural contexts. It enriches existing discussions in postcolonial studies about the decolonizing potential of literary and artistic endeavours, and it suggests how theatre might function as a mode of historical enquiry and debate, adding to discussions about ways in which Pacific histories might be developed, challenged, or recalibrated. Consequently, the book stimulates new discussions in Pacific studies where theatre has, to date, suffered from a lack of critical exposure. Carefully researched and original in its approach, Remaking Pacific Pasts will appeal to scholars, graduate students, and upper-level undergraduate students in theatre and performance studies and Pacific Islands studies; it will also be of interest to cultural historians and to specialists in cultural studies and postcolonial studies.
Publisher: University of Hawai'i Press
ISBN: 9780824839765
You may also be interested in...