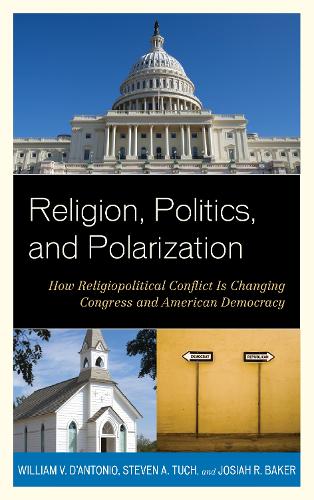 Hardback
172

Pages / Published: 20/06/2013
Do the religious affiliations of elected officials shape the way they vote on such key issues as abortion, homosexuality, defense spending, taxes, and welfare spending? In Religion, Politics, and Polarization: How Religiopolitical Conflict is Changing Congress and American Democracy, William D'Antonio, Steven A. Tuch and Josiah R. Baker trace the influence of religion and party in the U.S. Congress over time. For almost four decades these key issues have competed for public attention with health care, war, terrorism, and the growing inequity between the incomes of the middle classes and those of corporate America. The authors examine several contemporary issues and trace the increasing polarization in Congress. They examine whether abortion, defense and welfare spending, and taxes are uniquely polarizing or, rather, models of a more general pattern of increasing ideological division in the U.S. Congress. By examining the impact of religion on these key issues the authors effectively address the question of how the various religious denominations have shaped the House and Senate. Throughout the book they draw on key roll call votes, survey data, and extensive background research to argue that the political ideologies of both parties have become grounded in distinctive religious visions of the good society, in turn influencing the voting patterns of elected officials.
Publisher: Rowman & Littlefield
ISBN: 9781442221079
Number of pages: 172
Weight: 381 g
Dimensions: 234 x 158 x 18 mm
---
MEDIA REVIEWS
Few social scientists have attempted to measure religion's influence on the U.S. Congress with the level of precision that William D'Antonio, Steven Tuch and Josiah Baker exercise in their fine new study. . . . In the end, the authors can show persuasively that Congress has polarized and that its members' religious affiliations have shifted away from mainline Protestantism and toward Catholicism and conservative Protestantism. * National Catholic Reporter *
Anyone who has ever been interested in how religious affiliation affects decision-making in Congress will find this book a valuable source of information and insight. The authors focus on the last half century (1960-2010), noting how a changing religious demography has shaped the political culture. . . . This book deserves a very wide audience. * Voice of Reason *
Readers will get a clear sense of the unique impact of religious affiliations on congressional decision-making in the multivariate regression models. * America: The Jesuit Review of Faith & Culture *
There is endless discussion of partisan and ideological polarization and a great deal of talk about the role of religion in American politics. But remarkably, there is not nearly enough work on how polarization and the faith-commitments of our citizens interact. Religion, Politics and Polarization fills that void with enormous care, using data in a creative but rigorous way to illuminate two central questions of our time. And it also helps to explain what is going on inside Congress. D'Antonio, Tuch, and Baker have performed a great service and deserve a wide audience. -- E. J. Dionne Jr., syndicated columnist and author of Our Divided Political Heart
Religion, Politics, and Polarization fills a gaping hole in the burgeoning literature on political polarization. Revisiting questions about culture wars raised two decades ago by James Davison Hunter, the authors demonstrate how the changing religious affiliations of members of Congress and their visions of the good society have contributed to the striking increase in partisan polarization in congressional voting behavior. They also persuasively make the case that the public is as deeply implicated as political elites in this most important transformation in contemporary American politics. -- Thomas E. Mann, The Brookings Institution
We hear it every day: 'Congress is mired in partisan polarization, gridlocked-dysfunctional.' But how and why? Pundits offer superficial answers, but very few mention religion. This book says otherwise. Using hard data and sound analysis, scholars William D'Antonio, Steven A. Tuch and Josiah R. Baker use 40 years of data to show that 'the political ideologies of both political parties are rooted in religion.' It's a must read for those interested in the future of American politics. -- Maureen Fiedler, host of NPR's Interfaith Voices
The ideological polarization of our political parties is one of the most important and defining characteristics of contemporary American politics, both in the mass public as well as within our elected institutions. In this concise volume, the authors provide an excellent analysis of the various ways in which religion interacts with partisan affiliation to influence the polarized voting behavior of members of Congress over the last three decades. This book is highly recommended for anyone seeking a more comprehensive understanding of the intersection of religion and politics in modern American society. -- Benjamin R. Knoll, Centre College
This book is an indispensable guide to the role religion has played, and is playing, in the U.S. Congress. In recent years, scholars have spent a lot of time and energy understanding the religion of voters, but far less research has been devoted to religion among lawmakers. D'Antonio, Tuch, and Baker fill in this gap-demonstrating that making law is often a matter of faith. -- David E. Campbell, University of Notre Dame; author (with Robert Putnam) of American Grace: How Religion Divides and Unites Us
This is an important study for understanding the effects of religious belief and affiliation on the oppositional dynamics and processes of American politics and political institutions and on the competing visions of the good society that underlie those conflicts. The authors show that some common understandings of conflictual American political phenomena-articulated in such metaphors as "culture wars"-either have less empirical evidence to support them than might be imagined, or require tempering and nuancing to be useful for understanding significant aspects of those phenomena. It is in the relationship between party affiliation and religious affiliation that we find perhaps the most politically potent and divisive correlations. -- Thomas Heilke
This book is a thorough treatment of a subject scholars have not studied enough. It appears at an especially timely moment, as the U.S. Congress is more polarized than ever thanks to seemingly intractable differences in worldviews. -- Laura R. Olson, Clemson University
It has been over three decades since Benson and Williams published their seminal Religion on Capitol Hill, and more than twenty years since James Davison Hunter's influential Culture Wars. William D'Antonio and his colleagues bring these concerns together by examining roll-call votes in the House and Senate over the past 40 years, looking at how religion and political party identification interact to shape votes on several key issue-areas of American life. They find evidence of changes in the religious composition of both parties in Congress and increasing polarization in votes. Their argument that these reflect two distinct visions of what constitutes the 'good society' is one that scholars of religion and politics will now be engaging-perhaps for another three decades! -- Rhys H. Williams, University of Cincinnati, Editor, Journal for the Scientific Study of Religion
You may also be interested in...
Simply reserve online and pay at the counter when you collect. Available in shop from just two hours, subject to availability.
Thank you for your reservation
Your order is now being processed and we have sent a confirmation email to you at
When will my order be ready to collect?
Following the initial email, you will be contacted by the shop to confirm that your item is available for collection.
Call us on or send us an email at
Unfortunately there has been a problem with your order
Please try again or alternatively you can contact your chosen shop on or send us an email at