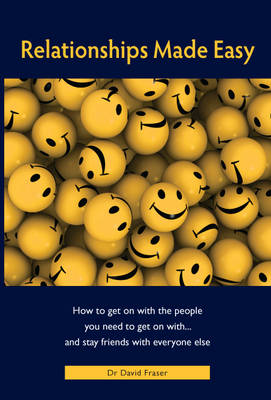 Relationships Made Easy: How to Get on with the People You Need to Get on with...and Stay Friends with Everyone Else (Paperback)
Dr David Fraser
Paperback
Published: 08/04/2010
The ability to relate to other people is the most critical skill a person can ever have - at work, at home or anywhere else - and strong people skills simply make everything else easier. With the right approach, developing relationship expertise is an easy route to success and one of the few reliable and enduring ways we can improve our lives. But we need to take the task seriously. Drawing on practical psychology, Neuro Linguistic Programming (NLP) and other wisdom from various philosophies, as well as first-hand experience of organizational life, David Fraser, Ph.D. offers a systematic, practical and intelligent approach to achieving success with other people. Packed with real-life examples and tried-and-tested steps to take, this book is for business professionals who want to develop their interpersonal relationship skills as a key strength. In his very positive, helpful and enlighteningA" and ultimately upliftingA" book, the author sets out the 12 essential areas of interpersonal insight and growth: (1) Attention to others; (2) Attitude; (3) Self-control; (4) Tuning in to people; (5) Personality; (6) Connection; (7) Values - working with what matters; (8) Language; (9) Self-awareness; (10) Attention to yourself - clarifying what you really want; (11) Balance; and (12) Love - the power of care. The author includes with honesty a flavour of his own learning journey, and in the words of his readers, the result is accessible and relevant,A" simply fascinating stuff,A" and very easy and interesting to read.A"
Publisher: Hothive Books
ISBN: 9781906316532
You may also be interested in...
We would love to hear what you think of Waterstones. Why not review Waterstones on Trustpilot?