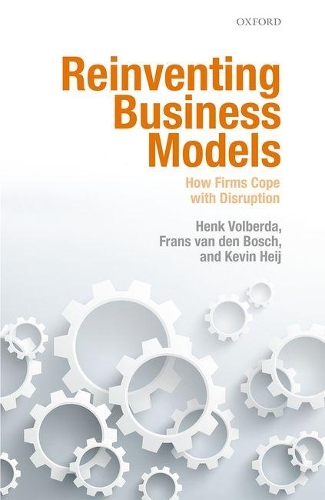 Hardback
336

Pages / Published: 23/11/2017
Although research on business model innovation is flourishing internationally, many important questions on the 'how', 'what', and 'when' of this process remain largely unanswered, particularly in regard to the role of top management. This book answers some of those pressing questions by taking a deliberately managerial perspective. Based on new and original findings derived from a survey among firms from various industries, and several case studies (including DSM, NXP Semiconductors, Randstad, and TomTom), the authors provide new insights into how and when managers can change a firm's business model. They turn their attention particularly to one key question: is it better to replicate existing models or develop new ones? Business model renewal is regarded as being especially vital in highly competitive environments. Nonetheless, whatever the environment, high levels of both replication and renewal will be key for a firm to succeed. The book looks at four levers that can be used by managers to innovate their business model: management itself, organizational structure, technology, and co-creation with external parties. It discusses the individual effects of these levers on business model replication and renewal. It also analyses specific combinations that strengthen business model innovation, including those which are technology oriented, internally oriented, externally oriented, and those which combine all of the levers in an integrated way.
Publisher: Oxford University Press
ISBN: 9780198792048
Number of pages: 336
Weight: 622 g
Dimensions: 240 x 162 x 24 mm
---
MEDIA REVIEWS
This text provides a clear, concise, and lucid exposition of the subject that should be of interest to all students and to practitioners. Highly recommended. * Choice *
A great book that de-mystifies business model innovation. In the first part, the authors explain the critical difference between replicating an existing business model to exploit past success and business model renewal that breaks new ground harnessing novel customer trends and new technologies. The authors identify why this separation of business model innovation into two paths is a novel but essential concept, and the organisational structures associated with effective results. The authors go further, in the second part they outline the leadership challenge associated with each path identifying the agenda and roles of different actors, and the necessary culture and process that will make things happen. This book is a must read for CEOs and boards of directors, especially those of established companies in older industries. * Charles Baden-Fuller, Centenary Professor of Strategy, Cass Business School, City, University of London *
For CEOs operating in today's fast-paced world, the biggest challenge is knowing when and how to reinvent their business modeltheir formula for making money. This book, Reinventing Business Models provides the most detailed and compelling analysis to date of how to do this. Combining careful academic thinking with practical examples, it is a must-read guide for any educator, student or businessperson who wants to understand the secrets of corporate success in a disruptive world.' * Julian Birkinshaw, Deputy Dean and Professor of Strategy and Entrepreneurship, London Business School *
This book provides an extensive and rigorous analysis of the imperatives and mechanisms for businesses to refresh their business models, building on numerous examples and case studies. For many companies this is a highly topical question as they face almost certain disruptions from technology development; the book reminds them to remain alert also to broader potential drivers of disruption, and to consider how responses must combine technology, management, organisation and partnerships to be most effective.' * Ruth Cairnie, Non-Executive Director at Rolls-Royce Holdings plc, Associated British Foods plc and Keller Group plc and former Executive Vice President for Strategy and Planning at Shell *
Reinventing Business Models provides significant research on business renewal and replication. This book provides unique thought provoking insights to the need to change and when and how to alter a firm's business model. It gives key requirements of management practices and the culture necessary to successfully alter a company's direction. Overall, the book is a great foundation for business model formulation in our rapidly changing business environment. * Murray Deal,Vice-President EMEA, Asia Pacific and Latin America at Eastman Chemical Company *
Business models go out of date increasingly fast. You really have to read this book to change your business model successfully. * Guido Dierick, CEO, NXP Semiconductors Netherlands *
Business model innovation is a very challenging phenomenon. Practitioners agree that it is immensely important; yet, academic researchers have had little sound advice to offer on the subject. Volberda,Van den Bosch and Heijs new book means that this is changing: They offer clear conceptualizations, highly relevant theory, and numerous examples. A breakthrough and a milestone in a field that is crucially important, but still very much an emerging one! * Nicolai Foss, Professor of Organization Theory and Human Resource Management, Bocconi University *
In today's economy, firms are confronted with disruptions in markets and technologies and erosion of their business models. The authors of Reinventing Business Models show perfectly that developing a new business model requires more than adopting new technologies. This inspiring book provides groundbreaking new insights for management scholars as well as new tools to help managers cope successfully with disruption in their industries. * Vijay Govindarajan, Coxe Distinguished Professor at Tuck at Dartmouth & Marvin Bower Fellow at Harvard Business School *
In incomparable style, Reinventing Business Models shows what happens behind the scenes when you change your business model. * Goof Hamers, Former CEO and President, Vanderlande Industries *
We all know the brands which were far ahead of competitors in their sector until a disruptor appeared on the market. This book will help you stay ahead of the game. * Leon He, President Western Europe Enterprise Business Group, Huawei Technologies Co. Ltd. *
Reinventing Business Models is a thorough and academically-rigorous book that examines how a firm can reinvent its business model. It provides a clear and managerially focused roadmap on how to do this in practice and brings out several lessons of what works and what doesn't. In this age of disruption, organizations of any size and from any sector will find it required reading. * Costas Markides, Professor of Strategy & Entrepreneurship, Holder of the Robert Bauman Chair of Strategic Leadership, London Business School *
Reinventing Business Models inspires and encourages managers to take action and to reflect. * Hans Smits, CEO Janssen de Jong Groep, Non-Executive Director at Air France-KLM *
Adapting to a changing world survival of the fittest calls for continual re-invention of your own business model and presents a major leadership challenge. This book can help you in this. * Feike Sijbesma, CEO, DSM *
Highly recommended for managers who want to grow and develop their organizations. * Jeffrey Tierie, Former CEO Claymount Technologies Group *
Reinventing Business Models is an important contribution to both academics as well as practicing managers. In this well researched, argued, and written book, Volberda, Van den Bosch, and Heij present a compelling point of view on how, when, and why organizations build capabilities to both replicate and renew. This book presents fresh data and induces fresh ideas on the roots of dynamic capabilities. It is one of those rare books that is both insightful and pragmatic. This book belongs on both the academic's desk and in the manager's office. * Michael Tushman, Paul R. Lawrence, MBA Class of 1942 Professor of Business Administration, Harvard Business School *
The book gives a good picture of how managers can achieve the two variants of business model innovation: refining and renewing. * Carlo van de Weijer, Vice-President Traffic Solutions, TomTom *
You may also be interested in...
Simply reserve online and pay at the counter when you collect. Available in shop from just two hours, subject to availability.
Thank you for your reservation
Your order is now being processed and we have sent a confirmation email to you at
When will my order be ready to collect?
Following the initial email, you will be contacted by the shop to confirm that your item is available for collection.
Call us on or send us an email at
Unfortunately there has been a problem with your order
Please try again or alternatively you can contact your chosen shop on or send us an email at