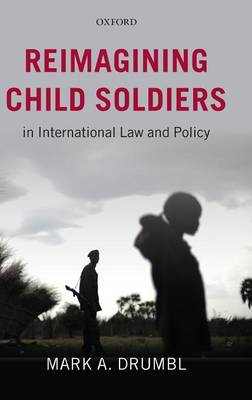 Reimagining Child Soldiers in International Law and Policy (Hardback)
Mark A. Drumbl
(author)
Hardback
254

Pages / Published: 26/01/2012
The international community's efforts to halt child soldiering have yielded some successes. But this pernicious practice persists. It may shift locally, but it endures globally. Preventative measures therefore remain inadequate. Former child soldiers experience challenges readjusting to civilian life. Reintegration is complex and eventful. The homecoming is only the beginning. Reconciliation within communities afflicted by violence committed by and against child soldiers is incomplete. Shortfalls linger on the restorative front. The international community strives to eradicate the scourge of child soldiering. Mostly, though, these efforts replay the same narratives and circulate the same assumptions. Current humanitarian discourse sees child soldiers as passive victims, tools of war, vulnerable, psychologically devastated, and not responsible for their violent acts. This perception has come to suffuse international law and policy. Although reflecting much of the lives of child soldiers, this portrayal also omits critical aspects. This book pursues an alternate path by reimagining the child soldier. It approaches child soldiers with a more nuanced and less judgmental mind. This book takes a second look at these efforts. It aspires to refresh law and policy so as to improve preventative, restorative, and remedial initiatives while also vivifying the dignity of youth. Along the way, Drumbl questions central tenets of contemporary humanitarianism and rethinks elements of international criminal justice. This ground-breaking book is essential reading for anyone committed to truly emboldening the rights of the child. It offers a way to think about child soldiers that would invigorate international law, policy, and best practices. Where does this reimagination lead? Not toward retributive criminal trials, but instead toward restorative forms of justice. Toward forgiveness instead of excuse, thereby facilitating reintegration and promoting social repair within afflicted communities. Toward a better understanding of child soldiering, without which the practice cannot be ended. This book also offers fresh thinking on related issues, ranging from juvenile justice, to humanitarian interventions, to the universality of human rights, to the role of law in responding to mass atrocity.
Publisher: Oxford University Press
ISBN: 9780199592654
Number of pages: 254
Weight: 512 g
Dimensions: 241 x 162 x 19 mm
---
MEDIA REVIEWS
eimagining Child Soldiers in International Law and Policyr represents an excellent contribution to the literature on child soldiering. The topic is debated and explored through clear and creative arguments, offering an empirical synthesis to law and policy. * Armelle Vessier, JICJ *
By drawing on different methodologies and research from diverse disciplines, Drumbl goes beyond the traditional approach adopted by international lawyers and thus offers a broader and more detailed examination of child soldiering than other works in this area. Additionally, his willingness to confront the often uncomfortable reality of children's voluntary participation both in armed conflict and, to a much smaller degree, in atrocities, is to be welcomed. As such, this study is an invaluable source for academics and students interested in this highly topical and controversial issue as well as for law and policy-makers involved in initiatives addressing the child soldier phenomenon. * Jastine Barrett, BYIL *
Drumbl draws on insights from numerous disciplines - developmental psychology, anthropological and ethnographic research, and critical intersectionality theory. He deploys these interdisciplinary insights skillfully to contest contemporary legal fictions...Whether or not one agrees with Drumbl's prescriptions, his book illuminates one of the darkest aspects of current conflicts and reinvigorates the international legal imagination. * Jose E. Alvarez, New York University School of Law *
Stimulating and provocative, Mark Drumbl provides us with a new understanding of what he calls the oxymoron of child soldiers. It is a discussion that is traditionally plagued with cliche, shibboleth and stereotype. His imaginative analysis of the subject is set out here with rich nuance and distinction, and presented in sparkling prose. * William Schabas, Middlesex University, London *
Expertly argued, scrupulously presented and intellectually assured, Reimagining Child Soldiers offers a subtle, often unorthodox, retort to the prevailing intellectual and legal currents. It is always a pleasure to come upon a book whose very great ambitions are fully realised. Mark Drumbl has set the agenda on this subject for years to come. * Gerry Simpson, University of Melbourne *
This well researched book challenges us to rethink whether there should be greater accountability for child soldiers who are implicated in acts of atrocity. Rejecting simplistic images of child soldiers as passive victims or as being all alike, it calls attention to children's agency and invites fresh consideration of the value of accountability, not through retributive trials but through reintegrative and restorative justice processes. * Mike Wessells, PhD, Columbia University *
...this book canvasses a broad range of literature, such as ethnographic participant observations, anthropological studies, qualitative research, survey data and feminist theory. The author integrates them robustly into conversations about child soldiering and objectively demonstrates the problems concealed in the existing law and policy. * Lingling Zhu and Huan Lu, Chinese Journal of International Law *
Drumbl's book is without question a fundamental contribution to the international legal discourse on child soldiering, not least because it lays bare our conceptual tunnel vision before trying to reinvigorate this discourse through the presentation of salient data from previously overlooked disciplines. It is therefore essential reading for anyone seeking to prevent and respond to the practice of child soldiering. * European Journal of International Law *
Reimagining Child Soldiers in International Law and Policy represents an excellent contribution to the literature on child soldiering. The topic is debated and explored through clear and creative arguments, offering an empirical synthesis to law and policy. * Journal of International Crime Justice *
[I]nnovative not only regarding the reformulation of the child soldiers' image, but in essence of international criminal justice itself ... the book demonstrates Drumbl's rounded legal thinking and a spherical approach which stands to ultimately make it a seminal work in the field of international criminal law. * Journal of the Philosophy of International Law *
Reimagining Child Soldiers in International Law and Policy is groundbreaking in its broad coverage of child soldier experiences and the ways in which the international community and various governments address the problem of child soldiering ... Moving away from the universal image of child soldiers as faultless-passive victims is crucial if we are to deal with child soldiers on their own terms rather than through a narrow Western framework ... [the book] is a crucial step in the right direction. * Think Africa Press *
Drumbl makes a powerful and persuasive case. * Lawfare Blog *
This text is very valuable ... [i]t may help the international community grasp the key to preventing child soldiering. * Chinese Journal of International Law *
Reimagining Child Soldiers in International Law and Policy provides a timely and compelling contribution. The book is moulded in rich prose and illuminating vocabulary. Any interested reader will be challenged, inspired, set free from the constraints of conventional wisdom. * Melbourne Journal of International Law *
[U]ne contribution savante et audacieuse ... rA (c)digA (c) da un style A (c)rudit avec des connaissances encyclopA (c)diques, le livre est un produit de recherche documentaire de quantitA (c) et qualitA (c), de substance et de sA (c)diments. Il est bie structurA (c); les idA (c)es sont scrupuleusement prA (c)sentA (c)es et intellectuellement assures. * Canadian Yearbook of International Law *
[T]his book represents an ambitious and valuable addition to thinking about the troubling phenomenon of underaged combatants. * American Journal of International Law *
[A]n excellent contribution to the topical study of child soldiers ... an insightful and ambitious project. * Political Studies Review *
Drumbl's contribution is well researched and reflective, striving to account for nuance and complexity rather than proposing simple solutions ... [and] illustrates how responses to child soldiering that disregard any consideration of children's agency, although often seeking to protect children, can actually undermine an acknowledgement of their strength and resilience in difficult circumstances and their position as rights bearers. * Social & Legal Studies *
Drumbl's key contribution is his careful and comprehensive consideration of his the faultless passive victim image has been reflected in international law and policy, with a particular emphasis on accountability and reintegration. [He] articulates a case for a more nuanced conception of child soldiers as individuated legal personalities who act with political, economic and social incentives as well as constraints. * African Journal of Legal Studies *
[A]n invaluable source for academics and students ... as well as for law and policy-makers involved in initiatives addressing the child soldier phenomenon. * British Yearbook of International Law *
Through its novel and innovative approach, [this book] challenges current conventional wisdom. [T]he way this book unveils fascinating and little-known aspects of child soldiering ... will most certainly prompt debate therefore realizing Drumbl's goal of reenergizing international discussion on the subject. * War Studies Publications *
Drumbl's excellent book provides us with a very interesting and challenging perspective that should be carefully considered. He has astutely raised many of the problems and issues that need rethinking and, ultimately, will require repairing. * Criminal Law and Philosophy *
You may also be interested in...
Simply reserve online and pay at the counter when you collect. Available in shop from just two hours, subject to availability.
Thank you for your reservation
Your order is now being processed and we have sent a confirmation email to you at
When will my order be ready to collect?
Following the initial email, you will be contacted by the shop to confirm that your item is available for collection.
Call us on or send us an email at
Unfortunately there has been a problem with your order
Please try again or alternatively you can contact your chosen shop on or send us an email at