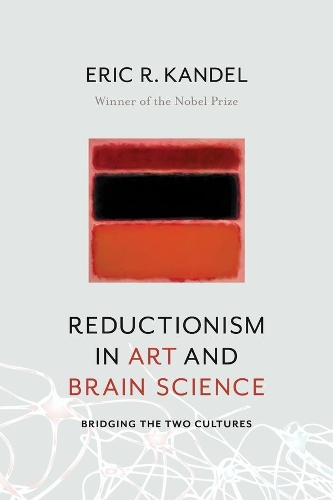 Reductionism in Art and Brain Science: Bridging the Two Cultures (Paperback)
Eric R. Kandel
(author)
Paperback
Published: 12/06/2018
Are art and science separated by an unbridgeable divide? Can they find common ground? In this new book, neuroscientist Eric R. Kandel, whose remarkable scientific career and deep interest in art give him a unique perspective, demonstrates how science can inform the way we experience a work of art and seek to understand its meaning. Kandel illustrates how reductionism—the distillation of larger scientific or aesthetic concepts into smaller, more tractable components—has been used by scientists and artists alike to pursue their respective truths. He draws on his Nobel Prize-winning work revealing the neurobiological underpinnings of learning and memory in sea slugs to shed light on the complex workings of the mental processes of higher animals.

In Reductionism in Art and Brain Science, Kandel shows how this radically reductionist approach, applied to the most complex puzzle of our time—the brain—has been employed by modern artists who distill their subjective world into color, form, and light. Kandel demonstrates through bottom-up sensory and top-down cognitive functions how science can explore the complexities of human perception and help us to perceive, appreciate, and understand great works of art. At the heart of the book is an elegant elucidation of the contribution of reductionism to the evolution of modern art and its role in a monumental shift in artistic perspective. Reductionism steered the transition from figurative art to the first explorations of abstract art reflected in the works of Turner, Monet, Kandinsky, Schoenberg, and Mondrian. Kandel explains how, in the postwar era, Pollock, de Kooning, Rothko, Louis, Turrell, and Flavin used a reductionist approach to arrive at their abstract expressionism and how Katz, Warhol, Close, and Sandback built upon the advances of the New York School to reimagine figurative and minimal art. Featuring captivating drawings of the brain alongside full-color reproductions of modern art masterpieces, this book draws out the common concerns of science and art and how they illuminate each other.
Publisher: Columbia University Press
ISBN: 9780231179638
Dimensions: 229 x 152 mm
---
MEDIA REVIEWS
Eric R. Kandel seamlessly moves between the intricacies of science and art, weaving their histories into a common narrative that illuminates both fields and shows they have more in common than is often assumed. It is a fun and informative read that anyone with a curious mind can enjoy and learn from. Kandel's book, with one foot in the humanities and one foot in the sciences, stands comfortably in both. Writing in deceptively simple prose, not unlike the art he writes about, Kandel lucidly states the biological case for how abstract art challenges us to look so that we can see. Words like 'genius' or 'renaissance man' are rarely used in these egalitarian times, but such descriptions wouldn't be entirely inappropriate for Kandel, who is renowned for his work on memory. He has now written a remarkable book full of poetic insights without compromising scientific rigor. Aiming to lessen the gap between the cultures of art and science, Kandel forwards new ways of considering abstract art through the model of reductionism: less is more when it comes to stimulating the brain's creative abilities and our aesthetic responses. In this engaging and brilliant exploration, Kandel illuminates the beauty and power of both abstract art and the brain and mind that unravels it. It is a bold and exciting story about the modern revolution in art and brain science that bridges the traditional chasm between the culture of the arts and sciences and helps us understand and experience the most challenging art with the depth it deserves and the joy it enables. Eric Kandel's new book, Reductionism in Art and Brain Science is a beautiful integration of visual art and neuroscience. The book engages C.P. Snow's theme of two cultures- the humanities and the sciences- and provides an artful window into the science of the mind through his fourteen nicely written chapters that include elegant figures in visual art and neuroscience. While the book de-mythologizes the idea of reductionism, it also importantly provides a sense for knowing an object and the objects to be known. This is a must read for both neuroscientists and anyone interested in the visual arts and humanities. [A] fascinating survey of mind science and modern art.... Kandel presents concepts to ponder that may open new avenues of art making and neuroscientific endeavor. [An] intriguing treatise. Recommended for those interested in the intersection of psychology and art. The effort to complete this book will be well rewarded.... C.P. Snow would be proud. Unique and thought-provoking. Elegant and entertaining. [Eric Kandel's] new book offers one of the freshest insights into art history in many years. A pleasure to read The result is an intriguing, thought provoking book which will appeal to those with pre-existing knowledge but also to those who may be unfamiliar but curious. Kandel makes an important contribution with this book; he lucidly describes the very active interplay across disciplines that has taken place with regard to exploring how information is managed and understood, and then related across artistic mediums, scientific research, and socially, through sharing of ideas and findings. Kandel's theory of how are our neurons fire in response to abstract art is illuminating. . . . One looks forward to hearing more from Kandel, a most inventive scholar, now that his bridge has been solidly built.
You may also be interested in...
×
Download the Waterstones App
Would you like to proceed to the App store to download the Waterstones App?
Reserve online, pay on collection


Thank you for your reservation
Your order is now being processed and we have sent a confirmation email to you at
When will my order be ready to collect?
Following the initial email, you will be contacted by the shop to confirm that your item is available for collection.
Call us on or send us an email at
Unfortunately there has been a problem with your order
Please try again or alternatively you can contact your chosen shop on or send us an email at