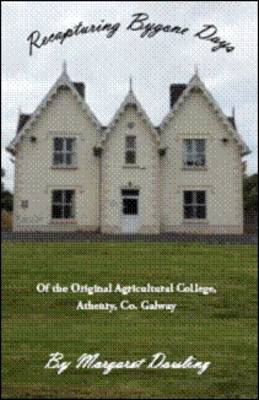 Recapturing Bygone Days: Of the Original Agricultural College, Athenry, Co Galway (Paperback)
Margaret Dowling
(author)
Paperback
144

Pages / Published: 01/02/2013
Ireland is steeped in wonderful history but many historical pockets with their own bygone stories to tell are been forgotten. Indeed, we hang on to a lot of them and that is not a bad thing in an ever-changing modern Ireland the culture of which is changing rapidly; our young people are being swallowed up in the rush of time. The youth of our land need to be made aware of its past values. Change is good but why so much and in such hast? If we lose sight and memory of our past how will we ever get through the crisis we are encountering today. Journeying back to the years when I worked in the Agricultural College Athenry, in the early 1950's, in the search of past history of domestic life. Endeavouring to bring to light, a story unknown to our present generation in how their ancestors toiled and survived. In January 2012 on a cold wet day I ventured to visit the Agricultural College Athenry, the place where I once worked and had left from well over half a century ago (it took courage for I didn't know what I would discover after so many years). As I walked into a whole new era the reader will discover the many changes I encountered. Knowing there would be changes, but how many? Will the college be boarded up? Maybe people are employed there and will tell me I am trespassing; what about my reaction? I know I will cry. (In comparison with 1950, when I stepped down from the Dublin bus at the college gate a young nervous fifteen year old in search of work). I am now in 2012, parking my car at the same college gate. I walk between the twin stone piers, which are showing no sign of change, the old familiar driveway is still the same but this is where most of the familiarity ended. The first noticeable change I discovered was the bungalow where Mr Sean Ward and his family lived was now gone. Where are they now? I wondered, but then that was a long time ago. I walk slowly down the driveway thinking back to the years and the many times I trod up and down on it. The college comes into view it is now a white painted building with a white weather glazed door. My memory of it was a high grey stone building with a heavy brown entrance door, a brass knob, knocker and letterbox. I walked around to the side of the college discovering here a car park, which has taken the place of the young farmers green corrugated huts. There were many cars parked in this area, a sign of plenty of employment but in what capacity. I was about to turn and walk away when a young man enquired if he could help me. Giving him my name and my reason for being on the premises he immediately whipped off his wool cap shook my hand and said my name is Michael Stapleton. My fears and doubts were immediately dispelled. "Where would you like to see first?" he asked, "the kitchen," I replied. Slowly entering, I discovered it was smaller than in my time and had taken on a new life. The Aga cooker and Cooks worktable were replaced with computers, desks and filing cabinets. The door leading out to the student's quarters was gone as were the two sculleries and pantry. At the back of the college where the rich kitchen garden gave up a surplus of fruit and vegetables it is now a patch of green grass. Dining room sitting room and what was Matrons office are also adapted to accommodate computers, desks and filing cabinets. The surrounds of a fireplace partly boarded up could be seen reminding me of the days of ashes and black leading. Once again Michael asks "where next"? "I would like to see the bedroom" where the four of us girls shared so long ago. As we climbed the stairs there was excitement in my heart and butterfly's in my stomach. Before knocking on the door Michael asked me to wait a second until he'd tell the workers about me. As I waited I could hear Michael telling how this woman after almost sixty years had come back to her roots. As I entered the office the ladies stood to greet me, I was overcome by their welcome. I explained that this room, now office, was once a bedroom to four domestic 'girls' who worked in the college. I explained the furniture arrangements of the room in my time. One lady wished to know where my bed used to be; I said "exactly where your desk is." The bathroom was removed and a fire escape was installed. The tiny toilet window that was once wooden framed is now weather glazed like all the college windows with one reminder of the past the ancient window shutters still in good condition. The staff bedrooms leading from the landing are also used for office work; the staff bathroom, which, was at the top of the stairs, is gone and in its place an alcove painted a bright red this caught my eye. Before returning to his work Michael introduced me to Sue Clark, I thanked Michael for giving me his time. Sue pointed out more changes like the electrical moveable seat installed on the stairs for the Invalided. Out in the yard, Sue introduced me to Cyril McNamara who proved to be an excellent tour guide, as he showed and described all the changes that had taken place there. The piggeries are now offices and testing laboratories. What was the dairy is now converted to a sciences laboratory; the pay office where Mr John Fitzsimons paid out the wages each Friday stands idle. Many old lofts, barns and sheds still remain 'but in silence'. It was now time for a sit down and this we did in what was once the Carpentry School where Bobby Gardener joined by Jimmy Burke trained the young farmers in carpentry. Paddy Connelly was very forthcoming with information as he pointed out to me one very important relic of the past the Bell Tower with the bell still intact. It was rung by Stephen Ruane to call the farmers and students to work and to their meals Stephen was also a yard foreman. Even though I have a good recollection myself of life in the college I struggled at times to piece together in my research some necessary information, such as people's names dates and place names. I found it a delight to talk with the people of Athenry and to feel their enthusiasm. Their wish to talk about the people they were related too who worked in the college yard in my time. Their fathers, brothers, sisters and many other people they knew. But time moves on and many of these nice people have passed away, some at a young age. Indeed I felt many waves of nostalgia rise in my heart it was hard to keep a dry eye. I am only making a small dent in bringing to mind the days of manual work of an era of very few automatic appliances compared with today's modern touch button age, how we worked then would be looked upon now as slavery. Regardless of the many chores we had to accomplish during a days' work, we always made time for cups of tea, chats and other forms of relaxation. As domestic workers we never felt or were made to feel inferior to anyone who worked in the college in any capacity. The reader will find this out as they travel with us down our domestic road in the Agricultural College Athenry in the early 1950's. A Domestics' Quote A bone picker, or plate licker, I'll never be, To those who think they are above me. Of course, most of the people I met for the information I required were many years after my time of being employed in the college. Through our conversations I could pick material for the project I ventured to do. 'Good Luck' was wished to me on leaving. Sitting into my car it was time to let the tears flow for the memories of the past. I considered myself a very lucky woman.
Publisher: Choice Publishing
ISBN: 9781909154179
Number of pages: 144
Dimensions: 228 x 152 mm
You may also be interested in...
Simply reserve online and pay at the counter when you collect. Available in shop from just two hours, subject to availability.
Thank you for your reservation
Your order is now being processed and we have sent a confirmation email to you at
When will my order be ready to collect?
Following the initial email, you will be contacted by the shop to confirm that your item is available for collection.
Call us on or send us an email at
Unfortunately there has been a problem with your order
Please try again or alternatively you can contact your chosen shop on or send us an email at