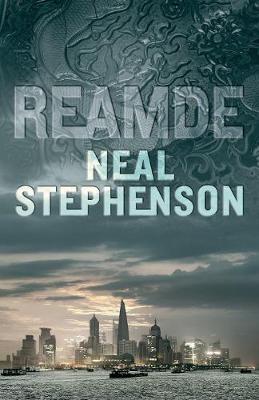 Hardback
Published: 20/09/2011
Across the globe, millions of computer screens flicker with the artfully coded world of T'Rain - an addictive internet role-playing game of fantasy and adventure. But backstreet hackers in China have just unleashed a contagious virus called Reamde, and as it rampages through the gaming world spreading from player to player - holding hard drives hostage in the process - the computer of one powerful and dangerous man is infected, causing the carefully mediated violence of the on-line world to spill over into reality. A fast-talking, internet-addicted mafia accountant is brutally silenced by his Russian employers, and Zula - a talented young T'Rain computer programmer - is abducted and bundled on to a private jet. As she is flown across the skies in the company of the terrified boyfriend she broke up with hours before, and a brilliant Hungarian hacker who may be her only hope, she finds herself sucked into a whirl of Chinese Secret Service agents and gun-toting American Survivalists; the Russian criminal underground and an al-Qaeda cell led by a charismatic Welshman; each a strand of a connected world that devastatingly converges in T'Rain. An inimitable and compelling thriller that careers from British Columbia to South-West China via Russia and the fantasy world of T'Rain, Reamde is an irresistible epic from the unique imagination of one of today's most individual writers.
Publisher: Atlantic Books
ISBN: 9780857894069
Dimensions: 234 x 156 mm
Edition: Signed
---
MEDIA REVIEWS
"[R]iveting idea porn."--Details on ANATHEM
"Clever and intricate...truly ingenious...it's brilliance is undeniable."--Locus, Gary K. Wolfe on ANATHEM
"A masterpiece...mind-bogglingly ambitious...readers will delight in puzzling out the historical antecedents in philosophy, science, mathematics, and art that Stephenson riffs on with his customary quicklsilver genius...it's one of the most thought-provoking novels I've ever read, and also one of the most engaging."--Locus, Paul Witcover, on ANATHEM
"A sprawling disquisition...[a] logophilic treat for those who like their alternate worlds big, parodic and ironic."--Kirkus Reviews on ANATHEM
"Anathem is a brilliant, playful tour of the terrain where logic, mathematics, philosophy and quantum physics intersect, a novel of ideas par excellence, melding wordplay and mathematical theory with a gripping, human adventure."--London Times on ANATHEM
"A hell of a read."--Wired
"Reading Anathem is a humbling experience."--Washington Post on ANATHEM
"In Anathem, Stephenson creates a religion for skeptics and nerds."--Austin American-Statesman on ANATHEM
"Suddenly, novels of ideas are cool again."--io9 on ANATHEM
"The cult legend's newest book, Anathem, [is] destined to be an instant sci-fi classic."--Popular Mechanics on ANATHEM
"Big, complex, and ambitious...Promises to be one of the most extravagant literary creations of the turn of the millennium--and beyond."--Publishers Weekly (starred review)
"Intertwined the tale of an Internet startup with a Greatest Generation flashback, as if the author had foreseen both the Nasdaq bubble and Saving Private Ryan."--Slate
"Anyone who has read Stephenson's Baroque Cycle will be familiar with his ingenuity when it comes to mixing science, sociology and satire with swashbuckling adventure, and ANATHEM duly marries extensive dialogues on quantum mechanics and the nature of consciousness to literal cliffhangers, high-tech warfare and general derring-do."--The Examiner (Ireland) on ANATHEM
"Learned, witty, weirdly torqued, emotionally complex, politically astute, and often darkly comic...ANATHEM is an audacious work by a highly intelligent imagination, a delightfully learned text."--Edmonton Journal (Alberta) on ANATHEM
"Anathem is a challenge: Make yourself one of the avout. Make yourself a scholar, and try to understand the world a little differently."--Eugene Weekly on ANATHEM
"Anathem duly marries extensive dialogues on quantum mechanics and the nature of consciousness to literal cliffhangers, hi-tech warfare and derring-do."--Leicester Mercury on ANATHEM
"Stephenson has a once-in-a-generation gift: he makes complex ideas clear, and he makes them funny, heartbreaking and thrilling."--Time magazine
"A magnificent achievement. "--Booklist (starred review) on ANATHEM
"Stephenson displays his ingenuity when it comes to mixing science, sociology and satire with swashbuckling adventure. Anathem marries extensive scientific and philosophical dialogues to cliffhangers, hi-tech warfare and derring-do."--Sunday Sun (UK) on ANATHEM
"It's almost impossible to not be impressed by Anathem; there's simply too much erudition, wit, craft and risk-taking."--San Francisco Chronicle on ANATHEM
"A daring feat of speculative fiction...ANATHEM offers the reader a luscious arrangement of words, jokes, and speculations."--Boston Globe
"This is a book about science and philosophy which demands the full concentration of the reader -a worthwhile, smart, exciting read."--Time Out London
"An engrossing look at the way the flow of information shapes history."--Entertainment Weekly(A)
"Stephenson's expansive storytelling echoes Walter Miller's classic A Canticle for Leibowitz, the space operas of Larry Niven and the cultural meditations of Douglas Hofstadter - a heady mix of antecedents that makes for long stretches of dazzling entertainment."--Publishers Weekly on ANATHEM
"Stephenson has a knack for making even the driest topics fascinating while rending the most complex subjects understandable. His attention to detail and relish for providing historical context provide the attentive reader with a liberal education, while his imagination and humor delight."--Daily Yomiuri (Tokyo)
"[Neal Stephenson] has a magnificent gift."--Denver Post
"Blending quantum physics, phenomenological philosophy and various other fun hobbies...Stephenson's enthusiasm to share his theories and explanations is infectious...think "The Name of the Rose" crossed with "Dune."..genuinely fascinating brain food."--The Oregonian (Portland) on ANATHEM
"Electrifying . . . hilarious...a picaresque novel about code making and code breaking, set both during World War II and during the present day."--New York Times Book Review
"What ever happened to the great novel of ideas? It has morphed into science fiction, and Stephenson is its foremost practitioner. A-"--Time magazine on ANATHEM
"Rambling and revelatory...[Stephenson is] the hacker Hemingway."--Newsweek
"A tour-de-force of world building and high-concept speculation, wrapped around a page-turning plot."--St. Louis Post-Dispatch on ANATHEM
"He mashes up genres with the flair of Thomas Pynchon and the intellect of William Gibson."--Winnipeg Free Press on ANATHEM
"The world Stephenson builds is richly visual, its complicated social politics are convincingly detailed, and its cool and conflicted heroes struggle with thrilling intellectual puzzles while they are tested in epic physical adventures."--Slate, Best of 2008 List, on ANATHEM
"Fascinating...hysterical."--USA Today
"[the] Homer of geek mythology."--San Diego Union-Tribune
You may also be interested in...
Simply reserve online and pay at the counter when you collect. Available in shop from just two hours, subject to availability.
Thank you for your reservation
Your order is now being processed and we have sent a confirmation email to you at
When will my order be ready to collect?
Following the initial email, you will be contacted by the shop to confirm that your item is available for collection.
Call us on or send us an email at
Unfortunately there has been a problem with your order
Please try again or alternatively you can contact your chosen shop on or send us an email at