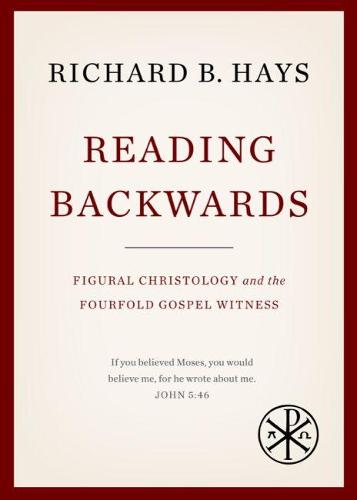 Reading Backwards: Figural Christology and the Fourfold Gospel Witness (Paperback)
Richard B. Hays
(author)
Paperback
177

Pages / Published: 15/08/2016
In Reading Backwards Richard B. Hays maps the shocking ways the four Gospel writers interpreted Israel's Scripture to craft their literary witnesses to the Church's one Christ. The Gospels' scriptural imagination discovered inside the long tradition of a resilient Jewish monotheism a novel and revolutionary Christology. Modernity's incredulity toward the Christian faith partly rests upon the characterization of early Christian preaching as a tendentious misreading of the Hebrew Scriptures. Christianity, modernity claims, twisted the Bible they inherited to fit its message about a mythological divine Savior. The Gospels, for many modern critics, are thus more about Christian doctrine in the second and third century than they are about Jesus in the first. Such Christian "misreadings" are not late or politically motivated developments within Christian thought. As Hays demonstrates, the claim that the events of Jesus' life, death, and resurrection took place "according to the Scriptures" stands at the very heart of the New Testament's earliest message. All four canonical Gospels declare that the Torah and the Prophets and the Psalms mysteriously prefigure Jesus. The author of the Fourth Gospel puts the claim succinctly: "If you believed Moses, you would believe me, for he wrote about me" (John 5:46). Hays thus traces the reading strategies the Gospel writers employ to "read backwards" and to discover how the Old Testament figuratively discloses the astonishing paradoxical truth about Jesus' identity. Attention to Jewish and Old Testament roots of the Gospel narratives reveals that each of the four Evangelists, in their diverse portrayals, identify Jesus as the embodiment of the God of Israel. Hays also explores the hermeneutical challenges posed by attempting to follow the Evangelists as readers of Israel's Scriptureacan the Evangelists teach us to read backwards along with them and to discern the same mystery they discovered in Israel's story? In Reading Backwards Hays demonstrates that it was Israel's Scripture itself that taught the Gospel writers how to understand Jesus as the embodied presence of God, that this conversion of imagination occurred early in the development of Christian theology, and that the Gospel writers' revisionary figural readings of their Bible stand at the very center of Christianity.
Publisher: Baylor University Press
ISBN: 9781481302333
Number of pages: 177
Dimensions: 215 x 139 mm
---
MEDIA REVIEWS
This is an exceptionally rich study, illustrating how early Christianity and, in particular, the four evangelists "read backwards" in their portrayal of Jesus' divine identity. -- Donald Senior, CP, Catholic Theological Union in Chicago -- The Bible Today
This is a rich, rewarding, and challenging work. The main substance of Hays' argument is not only convincing but nourishing to Christian faith: many of Hays' readings undermine those of more skeptical scholars and align precisely with the instincts of faithful though not learned Christians. -- Bobby Jamieson, University of Cambridge -- Credo Magazine
A masterpiece. -- Scot McKnight, Northern Seminary -- Books & Culture
This book is such a gem that it may prove more widely influential than anything Hays has done yet. -- Jason Byassee, Senior Pastor at Boone United Methodist Church in North Carolina -- Christian Century
Reading Backwards is a wonderful book, offering the reader a succinct but potent experience with a contemporary and refined hermeneutical approach to Scripture that holds in tension critical and pre-critical sensibilities. -- Edward W. Klink III, Pastor of Hope Evangelical Free Church in Roscoe, Illinois -- Books at a Glance
A beautiful book. -- Stephen Finlan -- Catholic Biblical Quarterly
Reading Backwards successfully demonstrates that Jesus is indeed Israelas Lord incarnate. The genius of this short volume lies in Haysa deft appropriation of Old Testament texts in the Gospels. He pays attention to often overlooked details in specific Old Testament texts, teasing out some of the nooks and crannies, and then weaves these insights into the Gospels. The book not only demonstrates how the Evangelists read the Old Testament, it also serves as a model for us to do the same. -- Benjamin L. Gladd -- Reformed Faith & Practice: The Journal of Reformed Theological Seminary
This is an encouraging, intriguing, and stimulating book. Readers who are interested in interpretation and in learning lessons from the Bible itself about the nature of interpretation will find this a valuable companion for their reflections. -- Church Times
The strengths of Reading Backwards are obvious, and it will prove fruitful for anyone interested in Gospel studies, but also for studies in biblical theology and Christology more generally, as well as modern debates over what stratum of the Christian tradition first recognized Jesusa divinity. -- Nicholas G. Piotrowski -- Journal of the Evangelical Theological Society
Professor Hays is to be congratulated upon offering in this brief book a great deal more substantive scholarship than is provided in most books many times the length. -- Simon Gathercole -- Reformation21
Hays has made an excellent study of this subject. His insights are rich and interpretations are clear. His style of writing is appealing and the illustrations he gives are truly convincing. Yes, the Old Testament teaches us how to read the Gospels and likewise the Gospels teach us how to read the Old Testament. -- Dominic Mendonca -- Revue Biblique
You may also be interested in...
Simply reserve online and pay at the counter when you collect. Available in shop from just two hours, subject to availability.
Thank you for your reservation
Your order is now being processed and we have sent a confirmation email to you at
When will my order be ready to collect?
Following the initial email, you will be contacted by the shop to confirm that your item is available for collection.
Call us on or send us an email at
Unfortunately there has been a problem with your order
Please try again or alternatively you can contact your chosen shop on or send us an email at