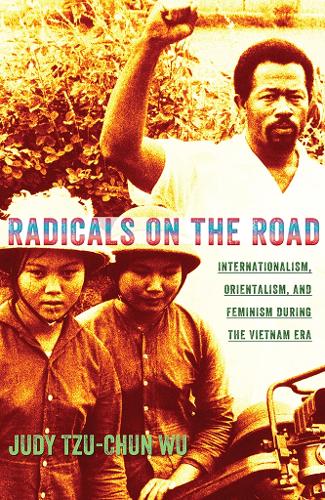 Radicals on the Road: Internationalism, Orientalism, and Feminism during the Vietnam Era - The United States in the World (Hardback)
Judy Tzu-Chun Wu
(author)
Hardback
352

Pages / Published: 07/05/2013
Traveling to Hanoi during the U.S. war in Vietnam was a long and dangerous undertaking. Even though a neutral commission operated the flights, the possibility of being shot down by bombers in the air and antiaircraft guns on the ground was very real. American travelers recalled landing in blackout conditions, without lights even for the runway, and upon their arrival seeking refuge immediately in bomb shelters. Despite these dangers, they felt compelled to journey to a land at war with their own country, believing that these efforts could change the political imaginaries of other members of the American citizenry and even alter U.S. policies in Southeast Asia.
In Radicals on the Road, Judy Tzu-Chun Wu tells the story of international journeys made by significant yet underrecognized historical figures such as African American leaders Robert Browne, Eldridge Cleaver, and Elaine Brown; Asian American radicals Alex Hing and Pat Sumi; Chicana activist Betita Martinez; as well as women's peace and liberation advocates Cora Weiss and Charlotte Bunch. These men and women of varying ages, races, sexual identities, class backgrounds, and religious faiths held diverse political views. Nevertheless, they all believed that the U.S. war in Vietnam was immoral and unjustified.
In times of military conflict, heightened nationalism is the norm. Powerful institutions, like the government and the media, work together to promote a culture of hyperpatriotism. Some Americans, though, questioned their expected obligations and instead imagined themselves as "internationalists," as members of communities that transcended national boundaries. Their Asian political collaborators, who included Buddhist monk Thich Nhat Hanh, Foreign Minister of the Provisional Revolutionary Government Nguyen Thi Binh and the Vietnam Women's Union, cultivated relationships with U.S. travelers. These partners from the East and the West worked together to foster what Wu describes as a politically radical orientalist sensibility. By focusing on the travels of individuals who saw themselves as part of an international community of antiwar activists, Wu analyzes how actual interactions among people from several nations inspired transnational identities and multiracial coalitions and challenged the political commitments and personal relationships of individual activists.
Publisher: Cornell University Press
ISBN: 9780801446757
Number of pages: 352
Weight: 595 g
Dimensions: 229 x 152 x 24 mm
---
MEDIA REVIEWS
"Wu seeks to broaden perspectives on the movement that opposed US involvement in Indochina, offering a racially rooted, gendered, and internationalist perspective. . . . A valuable work."-Choice (October 2013)
"Radicals on the Road makes several contributions. First, it highlights the experiences of a much broader range of social actors than is usually portrayed in most of the existing literature. The book's focus on nonstate actors from diverse background who created partnerships-some successful and some quite challenging- provides valuable insight into how ideological and physical boundaries can be crossed. Second, these cases demonstrate how international travel sparked contributions to a variety of social movements, answering questions about participation, motivation, retention, and experiences in the aftermath of collective action. Finally, Radicals on the Road is a wonderful example of careful and rigorous scholarship that avoids simplistic narratives of failed partnerships or accolades to global sisterhood. Instead, it delves head first into the complexities of creating national and transnational partnerships among diverse communities for a unified goal. This contribution to me is by far the largest. In Wu's studies, social actors are never painted in black and white but rather taken in their social and historical context, illuminating what was at stake in arguments, divisions and failed partnerships and what worked in relationships that overcame such challenges."- Nicky Fox, Mobilization
"Judy Tzu-Chun Wu has taken the theory of orientalism and applied it in a fascinating way to her study of U.S. anticolonial activists who traveled to Asia during the Vietnam War. She has combined thorough research and sophisticated analysis with lively prose to create a work that will impress an academic audience but also engage a broad readership. Wu's study undoubtedly will inspire future scholarship, including work that explores the complicated realities of the nations that the Anti-Imperialist Delegation and other U.S. activists idealized."- Heather Marie Stur, The American Historical Review (June 2014)
"By expanding the geopolitical framework and focalizing on the "political partnerships" between social activists of different national, racial, ethnic, gender, and religious backgrounds, Wu makes more complex the picture of social activism during the Vietnam era. In addition, by focusingon travel, Wu shows how the discursive registers of race and gender also shift across space as they are produced and reproduced in different contexts and for different political purposes." -Quyne Nhu Le, Journal of Asian American Studies (February 2015)
"Judy Tzu-Chun Wu's book Radicals on the Road is a valuable contribution to the growing literature on the varied and unpredictable circuits of U.S. internationalism. In particular, she privileges the role of African American, Asian American, and feminist activists in shaping an alternate vision of 'Asia,' and she argues that in the 1960s and 1970s, antiwar proponents adopted their own 'radical orientalism.'...Wu's work opens the pathways for new research, particularly on Asian American, African American, and women's roles in the antiwar movement... Wu's work simultaneously respects her subjects' radical pasts while also recognizing the limitations of their 'radical Orientalism.' In the end, antiwar activists' 'radical orientalism' and romantic views of Asia continued to demonstrate far more about U.S. racial and political culture than they ever could reveal about the far more chaotic and contested politics of revolutionary movements in Southeast Asia." -Jana K. Lipman,Journal of American Ethnic History(Summer 2014)
"Radicals on the Road is a powerful work of scholarship that gives readers tools to interpret the book's own cover image with a critical understanding of both its history and its visual rhetoric, where Black Power internationalism and the "radical orientalism" come together in complicated ways." -Michele Hardesty, Monthly Review (October 2014)
"Radicals on the Roadis a dazzling contribution. Its focusis encounters between North American activists and East Asian peoples during theVietnam War, often through travel to the 'enemy' nations of North Vietnam andcommunist China. Documenting both literal and ideological journeys, Tzu-ChunWu demonstrates the prominent place of East Asia in the imaginary of theAmerican left. Activist attitudes toward Asia were developed through particular lenses ofnation, race, ethnicity, and gender. These lenses encouraged Americans' sense ofconnection to Asian peoples, while often deeply dividing activists among themselves.Chronicling this dynamic with remarkable detail, Tzu-Chun Wu offers animpressive account of both the power and perils of the categories of belonging andanalysis animating the American left."-Jeremy Varon, The Sixties
"Radicals on the Road is a remarkably thoughtful, provocative, and thoroughly researched examination of what Judy Tzu-Chun Wu terms the 'radical orientalism' of antiwar activists during the Vietnam War era. Reclaiming Edward Said's famous dialectic of the dominant, normative Occident and an exotic, untamed Orient, Wu defines this type of orientalism as the way in which antiwar activists (of various races, ethnic groups, classes, and sexual orientations) turned the traditional notion of Said's paradigm on its head, with Southeast Asia privileged as a positive model against which activists defined and demythologized the image of the imperialist United States."-Matthew Briones, University of Chicago, author of Jim and Jap Crow: A Cultural History of 1940s Interracial America
"In Radicals on the Road, Judy Tzu-Chun Wu delves deeply and creatively into case studies of U.S. protest against the Vietnam War, in the process adding to our understanding of a number of big themes in U.S. history. The book brings together stories of antiwar radicals who traveled internationally; stories of ethnically diverse antiwar protesters, especially Asian American activists; stories of women antiwar activists who sought to form a 'global sisterhood'; and representations of 'the East' from a perspective she calls `radical orientalism.' Wu illuminates the `long 1960s' by making gender and ethnicity central." -Leila J. Rupp, University of California, Santa Barbara, author of Worlds of Women: The Making of an International Women's Movement
"In Radicals on the Road, Judy Tzu-Chun Wu takes up the story of a handful of U.S. antiwar activists who visited Vietnam, as well as China, Cambodia, and North Korea, in the late 1960s and early 1970s. Most of them were radicals who not only opposed the war but also had come to see U.S. foreign policy as a thinly veiled colonial project that was, if not immoral, at least deeply flawed and bound together with racism and exploitative capitalism."-Robert Self, Brown University, author of All in the Family: The Realignment of American Democracy since the 1960s
You may also be interested in...
Simply reserve online and pay at the counter when you collect. Available in shop from just two hours, subject to availability.
Thank you for your reservation
Your order is now being processed and we have sent a confirmation email to you at
When will my order be ready to collect?
Following the initial email, you will be contacted by the shop to confirm that your item is available for collection.
Call us on or send us an email at
Unfortunately there has been a problem with your order
Please try again or alternatively you can contact your chosen shop on or send us an email at