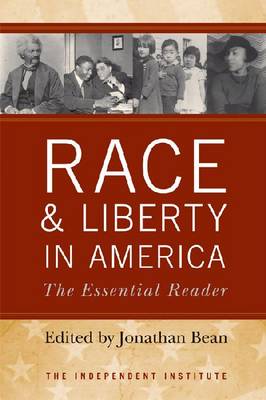 Race and Liberty in America: The Essential Reader (Paperback)
Jonathan J. Bean
(editor)
Paperback
360

Pages / Published: 18/06/2009
The humor of the Old South -- tales, almanac entries, turf reports, historical sketches, gentlemen's essays on outdoor sports, profiles of local characters -- flourished between 1830 and 1860. The genre's popularity and influence can be traced in the works of major southern writers such as William Faulkner, Erskine Caldwell, Eudora Welty, Flannery O'Connor, and Harry Crews, as well as in contemporary popular culture focusing on the rural South. This collection of essays includes some of the past twenty five years' best writing on the subject, as well as ten new works bringing fresh insights and original approaches to the subject. A number of the essays focus on well known humorists such as Augustus Baldwin Longstreet, Johnson Jones Hooper, William Tappan Thompson, and George Washington Harris, all of whom have long been recognized as key figures in Southwestern humor. Other chapters examine the origins of this early humor, in particular selected poems of William Henry Timrod and Washington Irving's "The Legend of Sleepy Hollow," which anticipate the subject matter, character types, structural elements, and motifs that would become part of the Southwestern tradition. Renditions of "Sleepy Hollow" were later echoed in sketches by William Tappan Thompson, Joseph Beckman Cobb, Orlando Benedict Mayer, Francis James Robinson, and William Gilmore Simms. Several essays also explore antebellum southern humor in the context of race and gender. This literary legacy left an indelible mark on the works of later writers such as Mark Twain and William Faulkner, whose works in a comic vein reflect affinities and connections to the rich lode of materials initially popularized by the Southwestern humorists.
Publisher: The University Press of Kentucky
ISBN: 9780813192314
Number of pages: 360
Weight: 485 g
Dimensions: 229 x 152 x 24 mm
---
MEDIA REVIEWS
""If you are interested in the real history of the Civil Rights movement in America -- the radical ideas that set it in motion no matter where they came from -- get ready for an intellectual thrill ride. There is no time for political posturing here. Race and Liberty in America is full of revelations and stunning in its honesty." -- Juan Williams, Senior Correspondent, National Public Radio; author, Eyes on the Prize: America's Civil Rights Years, 1954-1965 and Thurgood Marshall: American Revolutionary" --
""Race and Liberty in America is the race and civil rights anthology we have been waiting for. In our politicized age we often think of civil rights as a movement of racial pride and identity. But Martin Luther King's movement succeeded precisely because it used the principles of classical liberalism to shatter the idea that race or identity could be a source of entitlement.... This book is a timely and necessary corrective." -- Shelby Steele, author, The Content of Our Character: A New Vision of Race in America" --
""Readers will find a wealth of information in Jonathan Bean's outstanding book [which is] a collection of primary source materials covering the great historical debates over race and ethnicity in America. Students, educators, civic leaders, and general readers can all greatly benefit from the book." -- Carol M. Swain, Professor of Political Science and Law, Vanderbilt University; author, Black Faces, Black Interests" --
""This is a wonderful collection of fascinating documents about the black experience in America, many of them little-known, with judicious introductory material by Bean.... [it] deserves a wide audience, and will enrich the reader's understanding of the nation's most difficult and troubling domestic issue." -- Stephan Thernstrom, Winthrop Research Professor of History, Harvard University; co-author, America in Black and White" --
""Race and Liberty in America is indeed essential reading. All too often classical liberals are attacked for their indifference or insensitivity on matters of race. This superb collection of material dispels that illusion." -- Richard A. Epstein, Professor of Law, University of Chicago" --
""Race and Liberty in America is a history buff's dream. Bean has carefully and judiciously chosen the most significant speeches, documents, and journalistic works pertaining to the government's treatment of blacks from slavery to modern times.... If you want a real feel for the civil rights battles your teachers and professors never taught you about, here it is." -- Judge Andrew P. Napolitano, Senior Judicial Analyst, Fox News; author, Dred Scott's Revenge: A Legal History of Race and Freedom in America" --
""Jonathan Bean forces the open-minded reader to think in new ways about the relationship between liberty and equality in the American experience with his shrewd selections of seminal documents and astute explanations of the same. Bean unashamedly lets the evidence speak for itself that the freedom of the individual has most often flourished when governments have been bridled and too often stifled when they interfered." -- Robert J. Norrell, Bernadotte Schmitt Chair of Excellence and Professor of History, University of Tennessee; author, Up from History: The Life of Booker T. Washington" --
""Race and Liberty in America is indispensable -- perhaps the best collection of source documents on the subject ever gathered. Best of all, this terrific book dispels any notion that civil rights are synonymous with racial preferences or that immigration restriction promotes liberty." -- Linda L. Chavez, former Staff Director, U.S. Commission on Civil Rights; author, Out of the Barrio: Toward a New Politics of Hispanic Assimilation" --
""Race and Liberty in America is destined to become a standard source on the American classical liberal, anti-racist tradition. In this magisterial anthology, Bean mines a rich vein of sources. The selections cover such diverse topics as the fight for abolitionism and the allied struggles against Chinese exclusion, Jim Crow and Japanese internment. Bean introduces modern readers to such forgotten anti-racist crusaders as entrepreneur Lewis Tappan, who was the essential financial angel of abolitionism, NAACP super-lawyer Moorefield Storey, frontier novelist Rose Wilder Lane, and black Republican congressman Oscar DePriest. The selections also contain surprising new information about such better known individuals as Frederick Douglass, Warren G. Harding, Milton Friedman, and Zora Neale Hurston." -- David T. Beito, Professor of History, University of Alabama; author, Black Maverick: T.R.M. Howard's Fight for Civil Rights and Economic Power" --
""After reading Race and Liberty in America, my reaction was WOW! But, in case a one-word reaction is insufficient, I hasten to add that this fantastic book is destined to become America's new textbook about 'race, ' civil rights and what it means to be a classical liberal on the subject of race." -- Ward Connerly, Chairman, American Civil Rights Institute; author, Creating Equal" --
""We are one human race, in need of a savior and as my uncle Dr. Martin Luther King said, 'we must learn to live together as brothers or perish as fools.' Life, liberty and justice are matters of the heart and go beyond politics and legislation. The essential book, Race and Liberty in America, is a major step in the process." -- Alveda C. King, Founder and Chairman, King for America; daughter of civil rights leader Rev. A. D. Williams King, brother of Martin Luther King, Jr." --
""Historian Jonathan Bean has provided a signal service by bringing to light the rich tradition of classical liberal thinking about civil rights. The world of ideas has been waiting for a book such as [this] for far too long, but Bean's collection of primary sources and thematic commentary has made it worth the wait. This is a transformative book by a courageous scholar." -- Scott Douglas Gerber, Ella & Ernest Fisher Chair in Law, Ohio Northern University; author, First Principles: The Jurisprudence of Clarence Thomas" --
""Short of studying statistics and census reports, the new book Race and Liberty in America offers a 'classical liberal' description of the past, present and future impact of race and immigration in America's future. It's a challenging book of ideas offering a balanced discussion on these two issues." -- Lee H. Walker, President, New Coalition for Economic and Social Change" --
""Race and Liberty in America is an original and much-needed anthology, indispensable for any serious discussion of race relations in American history. The first-rate introductions and selections provide a fabulous resource for both teachers and students. Genuinely inspired." -- Paul Moreno, William and Berniece Grewcock Chair in Constitutional History, Hillsdale College" --
"If you are interested in the real history of the Civil Rights movement in America -- the radical ideas that set it in motion no matter where they came from -- then get ready for an intellectual thrill ride. There is no time for political posturing here. Race and Liberty in America is full of revelations and stunning in its honesty." -- Juan Williams, NPR
""With its wide collection of writings on race and immigration, Race and Liberty neatly sidesteps left-right characterization and permits the pure ideas of those who endeavored to focus the debate on our common origins, dignity, and destiny to shine through...it provides an insight into the intellectual foundation of civil right s traditions firmly rooted in American principles: individual freedom, equality before the law and fidelity to the Constitution."" -- Cerere Kihoro, Freedoms Journal Magazine Blog
"Bean and the Independent Institute perform a generous service by compiling a treasure trove of historical documents that create a comprehensive account of the progression of race relations in American history." -- Cerere Kihoro, The Birmingham Times
"An enlightening read that will leave the reader feeling both inspired and optimistic about the future." -- TheNewAmerican.com
"The editor compels the reader to think about our society's evolution as he provides the materials necessary to consider its direction." -- Salisbury Post
"He celebrates the end of slavery, anti-immigration laws, and race-based quotas, and rejects the legitimacy of racial pride, diversity, and affirmative action." -- Choice
"Focusing on pieces that exemplify aspects of classical liberalism, including independence from government and individual freedom, the editor provides a primary sourcebook for stories "of people and the difference they made in the face of seemingly insurmountable odds."" -- Rebecca Price
"Bean balances readable and relatively short excerpts with intelligent commentary in the introductions. The big message of the book is that many of our great thinkers shared the vision that equality and progress will result from freedom, not the heavy and coercive hand of the State." -- Foundation for Economic Education, Freeman
""A comprehensive and vital resource for scholars and students of civil liberties, Race and Liberty in America presents a wealth of primary sources that trace the evolution of civil rights throughout U.S. history." -- BookBargainsandPreviews.com
""[This] book reflects what Bean continuously emphasizes about civil rights in America... 'It involves 100 percent of the population."-- Southern Illinoisan" --
""Anyone, from students to academics to civic leaders and the wider reading public, will find it indispensable to a study of the subjects of race, liberty, American political history and sociology."-- Ethnicity and Race in a Changing World" --
You may also be interested in...
×
Download the Waterstones App
Would you like to proceed to the App store to download the Waterstones App?
Simply reserve online and pay at the counter when you collect. Available in shop from just two hours, subject to availability.
Thank you for your reservation
Your order is now being processed and we have sent a confirmation email to you at
When will my order be ready to collect?
Following the initial email, you will be contacted by the shop to confirm that your item is available for collection.
Call us on or send us an email at
Unfortunately there has been a problem with your order
Please try again or alternatively you can contact your chosen shop on or send us an email at