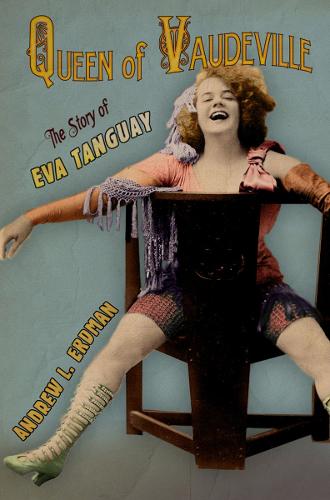 Queen of Vaudeville: The Story of Eva Tanguay (Hardback)
Andrew L. Erdman
(author)
Hardback
320

Pages / Published: 11/09/2012
In her day, Eva Tanguay (1879-1947) was one of the most famous women in America. Widely known as the "I Don't Care Girl"-named after a song she popularized and her independent, even brazen persona-Tanguay established herself as a vaudeville and musical comedy star in 1901 with the New York City premiere of the show My Lady-and never looked back. Tanguay was, at the height of a long career that stretched until the early 1930s, a trend-setting performer who embodied the emerging ideal of the bold and sexual female entertainer. Whether suggestively singing songs with titles like "It's All Been Done Before But Not the Way I Do It" and "Go As Far As You Like" or wearing a daring dress made of pennies, she was a precursor to subsequent generations of performers, from Mae West to Madonna and Lady Gaga, who have been both idolized and condemned for simultaneously displaying and playing with blatant displays of female sexuality.
In Queen of Vaudeville, Andrew L. Erdman tells Eva Tanguay's remarkable life story with verve. Born into the family of a country doctor in rural Quebec and raised in a New England mill town, Tanguay found a home on the vaudeville stage. Erdman follows the course of her life as she amasses fame and wealth, marries (and divorces) twice, engages in affairs closely followed in the press, declares herself a Christian Scientist, becomes one of the first celebrities to get plastic surgery, loses her fortune following the Wall Street Crash of 1929, and receives her last notice, an obituary in Variety. The arc of Tanguay's career follows the history of American popular culture in the first half of the twentieth century. Tanguay's appeal, so dependent on her physical presence and personal charisma, did not come across in the new media of radio and motion pictures. With nineteen rare or previously unpublished images, Queen of Vaudeville is a dynamic portrait of a dazzling and unjustly forgotten show business star.
Publisher: Cornell University Press
ISBN: 9780801449703
Number of pages: 320
Weight: 624 g
Dimensions: 235 x 156 x 25 mm
---
MEDIA REVIEWS
"Erdman has captured the radiant essence of a woman from a bygone era-wholly of her time, yet curiously modern-and her complex personality jumps from the page. Combining detailed historical research with a deftly entertaining writing style, this book will be of interest to anyone in theater history, women in entertainment, and cultural history."-Library Journal, 1 August 2012 (starred review)
"Queen of Vaudeville is a treasure house of material. . . . Erdman writes in this meticulously researched study of Tanguay and her times that at the zenith of vaudeville's popularity just before the First World War there were 5,000 music halls in the United States and 700,000 people attended shows every week in New York alone. Tanguay followed in a line of female performers who were pushing the boundaries of what was decent in a form of entertainment that had only recently become respectable enough for a middle-class, mixed-gender audience. Arrested for lewdness and frequently in the gossip columns, she enthralled both women and men, managing to combine energetic sexality with a mirthful wholesomeness."-Fiona Gruber, Times Literary Supplement (25 January 2013)
"Erdman convincingly places Tanguay's stardom in historical perspective while still summoning the physicality that made her so popular in vaudeville (she was arrested in New York in 1909 for indecent dancing on a Sunday) but never quite translated to radio or movies."-Sam Roberts, New York Times (9 September 2012)
"In his loving new biography of this long-forgotten celebrity, Andrew Erdman brings Tanguay back to life warmly. . . . You can almost feel the same electricity audiences of the early 20th century felt at just the mention of her name."-David Williams, Louisville Courier-Journal (9 November 2012)
"Andrew Erdman tells us that everyday life for Tanguay was filled with its own vaudevillian adventures, and shows it through wild anecdotes of her antics, like the time she defended her handler from thugs with a hatpin. . . . Featuring a likely "illegitimate" daughter, a gender-bending show-biz marriage, a dog's heart in a jar, violent relationships, and the phasing out of a successful performer's career as vaudeville receded along with her health, this biography is tremendous."-Christine Femia, Bust Magazine (Dec/Jan 2013)
"Readers will care about the 'I Don't Care Girl' after reading this fascinating account of the life of singer, actress, and vaudeville performer Eva Tanguay, little know today but a true eccentric who cultivated the outrageous cult of personality like a modern-day rock star well before such a thing existed in the popular culture."-Paula Uruburu, author of American Eve
"A meticulously researched and yet entertainingly accessible biography of an unfortunately forgotten star, whose outlandish persona and passionate vocal style could be viewed as the template for every flamboyant female performer from Martha Raye to Bette Midler to Lady Gaga."-Charles Busch
"Queen of Vaudeville is a lively, detailed biography of Eva Tanguay, one of the most popular performers of the early twentieth century. Andrew L. Erdman restores Tanguay to prominence and presents fascinating new details about her early life."-M. Alison Kibler, Franklin and Marshall College, author of Rank Ladies: Gender and Cultural Hierarchy in American Vaudeville
"Queen of Vaudeville is a revelation, and one long overdue! Eva Tanguay was an immense personality who pioneered a brand of American stardom. Andrew L. Erdman's book combines historical rigor with cultural insight to give us an understanding of America's first wild girl and, perhaps, those who have followed her."-Mary Lorson, musician and author of Freak Baby and the Kill Thought
"Andrew L. Erdman's deep research and vivid prose bring to life the story of a woman who defined American popular culture and celebrity and then vanished from memory. He reveals the fascinating trajectory of Eva Tanguay's life-from Quebec to Massachusetts to Times Square-and persuasively establishes her enduring importance for understanding what it means to be a woman and a star in the twentieth century. I highly recommended this book for anyone who wants to understand the past and present of American popular culture."-Robert W. Snyder, Director of American Studies, Rutgers-Newark, and author of The Voice of the City: Vaudeville and Popular Culture in New York
"This biography is a thorough and important sequel to Andrew L. Erdman's Blue Vaudeville. It is both a skillful rendering of the life of Eva Tanguay and an incisive look at many of the key players whose lives intersected with Tanguay's during the rise of vaudeville. Erdman's storytelling weaves in the historical grounding and context so valuable in a biography; I came away with a strong sense of Tanguay the person, including her quirks of impulse and her questionable choices in business and male associates. Queen of Vaudeville is a must-read for anyone interested in the history of the entertainment industry."-Kathleen M. Golden, Edinboro University, writer and director of Three Vaudeville Women: May Irwin, Marie Dressler, and Eva Tanguay
You may also be interested in...
Simply reserve online and pay at the counter when you collect. Available in shop from just two hours, subject to availability.
Thank you for your reservation
Your order is now being processed and we have sent a confirmation email to you at
When will my order be ready to collect?
Following the initial email, you will be contacted by the shop to confirm that your item is available for collection.
Call us on or send us an email at
Unfortunately there has been a problem with your order
Please try again or alternatively you can contact your chosen shop on or send us an email at