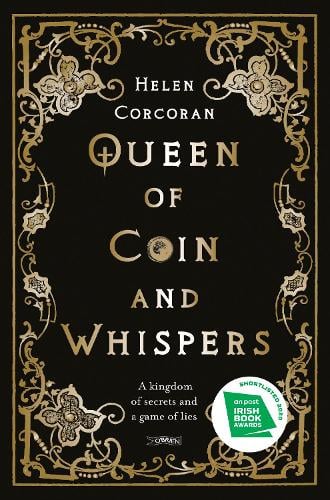 Queen of Coin and Whispers: A kingdom of secrets and a game of lies (Paperback)
Helen Corcoran
(author)
Paperback
464

Pages
Published: 01/06/2020
'She loved me as I loved her, fierce as a bloodied blade'
When Lia, an idealistic queen, falls for Xania, her new spymaster--who took the job to avenge her murdered father--they realise all isn't fair in love and treason.
Lia won't mourn her uncle: he's left her a bankrupt kingdom considered easy pickings by its neighbours. She's sworn to be a better ruler, but if she wants to push through her reforms, she needs to beat the Court at its own games. For years, Xania's been determined to uncover her father's murderer. She finally gets a chance when Lia gives her a choice: become her new spymaster, or take a one way trip to the executioner's axe. It's an easy decision.
When they fall for each other, their love complicates Lia's responsibilities and Xania's plans for vengeance. As they're drawn together amid royal suitors and new diplomats, they uncover treason that could not only end Lia's reign, but ruin their weakened country. They must decide not only what to sacrifice for duty, but also for each other.
Publisher: O'Brien Press Ltd
ISBN: 9781788491181
Number of pages: 464
Weight: 371 g
Dimensions: 196 x 130 x 28 mm
---
MEDIA REVIEWS
I find it absolutely thrilling to pick up a book that's full of twists and turns even the most experienced of readers will find hard to predict. It takes true skill for an author to successfully pull off one big reveal, let alone numerous ones throughout one novel. Ireland's very own Helen Corcoran is one of these authors ... In spite of it being Corcoran's debut, Queen of Coin and Whispers reads like the work of someone who's perfected their craft for many years; the novel illustrates the amount of work and careful planning the author has put into the novel long before it got published. While the book easily lulls in readers of romance and traditional fantasy through its basic premise, it is bound to deliver a reading experience so thrilling that even lifelong crime readers will enjoy it ... Corcoran's novel will have you glued to the page, unable to put the book down. This was impressive enough upon my initial reading of it last year. However, wanting to revisit the world and the characters, I recently decided to reread the book, and am delighted to tell you that it holds up just as well. Few people will manage to write a story that will continue to intrigue a reader when they already know what's in store for them, but Corcoran manages this and I applaud her for it'
* Dubray *
near impossible to put down
* Dublin Book Festival *
'Queen of Coin and Whispers' isn't just a book; it's an immersive experience' https://theroarbots.com/queen-of-coin-and-whispers-isnt-just-a-book-its-an-immersive-experience/
* The Roarbots *
Helen Corcoran's debut novel Queen of Coin and Whispers offers a fantasy journey into a medieval kingdom of political intrigue, duty and honour
* Fallen Star Stories *
Despite being released during an extraordinary time, when it's hard to get any media attention, Helen Corcoran's impressive YA debut novel Queen of Coin and Whispers: a kingdom of secrets and a game of lies is making a notable impact. Now more than ever a powerful fantasy story filled with subterfuge, political manoeuvres and kingdom-building with a dramatic romance at its centre is perfect escapism. From its arresting cover to its many plot twists, turns, machinations and layers upon layers of resentment, stepping into the kingdom of Edar is completely immersive. Corcoran has created a wide cast of diverse and interesting characters, all of whom play their part in adding to the story's intrigue and drama. But Lia and Xania, the main characters and young lovers, really steal the show. The novel is told through their points of view in alternating chapters, a narrative device that works well, providing balance throughout the gripping story ... memorable and remarkable
* Books Ireland Magazine *
brilliant
* Irish Independent *
I have waited for longer than I thought it would be necessary for the YA industry to feed my insatiable desire for a book that centers on political intrigue and serve it with a side of queer romance. Thank you to The O'Brien Press for gifting me a copy ... As well as the two protagonists, the majority of the cast of characters are women, of all different backgrounds, in power. They were nuanced, each recognisable with their own set of trials and tribulations. It was a breath of fresh air to see! I found the romance to be compelling ... I found it the gradual love to be realistic ... I want to briefly mention the cover because I'm obsessed. Designed by Emma Byrne, this really evokes the rich tapestry of love, betrayal, and the delicate decadence that can be found in any corner of historical royal courts... Helen Corcoran's debut cements Irish YA fantasy as something that shouldn't be ignored
* @ACityofBooks *
this book screams everything that I want to read this year. It's fantasy and queer and it sounds perfect!
* @PewterWolf *
I ADORED this book so much. It was filled with so much that I just couldn't put it down. I was gripped from the beginning and hooked on these characters and their story...This book is packed with drama, romance, amazing world-building and a story that will keep you gripped and wanting to read more...A fantastic book from Helen which is not just a fantasy book but also shows the political struggles of this world and how two girls are trying not just too fix what has gone wrong in their lives but hopefully fight whatever comes between them. Amazing rep and an amazing story that you won't be able to stop yourself from getting caught up in!
* @BookLoverx *
in this novel marked with twists and betrayals, it is not safe to trust anyone until the final page
* Foreword Reviews *
wonderful
* @_acciofandoms *
an emotional rollercoaster you just won't want to miss! ... everyone needs this book!!
* @bookswithben *
I pretty much knew I was going to love it. Still, I wasn't expecting to read this 464 page book in a single, engrossed sitting... I turned down food!
* @foxesfairytale *
so well written, gorgeous prose alongside a plot that will have you hooked and keep you guessing... You will not be disappointed
* @bookfacejames *
This book is incredible
* @SifaPoulton *
high fantasy, f/f romance between a queen & her spy-master, political intrigue, unapologetic & ambitious women! ... just brilliant
* @YABookers *
A tautly paced, yet lushly written, book that heralds Helen Corcoran as a great new voice in Irish writing
* Paper Lanterns *
I was enraptured by it from start to end ... a very impressive debut
* @simplybeccamee *
one of my favourite reads of this year and I absolutely loved it ... an excellent and nuanced read that that I couldn't put down
* Pythia Reads *
I loved this book. It's got everything I could ever want and need in a book ... Helen is putting Ireland on the map for having such talented YA authors. FIVE STARS
* kristinas_shelves *
In her debut novel Corcoran engages readers and celebrates women, equality and love
* Armadillo Magazine *
An incredibly crafted fantasy novel of political intrigue with an epic romance between a queen and her spymaster ... Not a book to be missed!
* @RoyalBookshelf *
Full of romance, intrigue and fantastic characters. I needed a good YA book in my life and this one was it ... I couldn't recommend this book more. Don't miss this one
* @Jthbooks1 *
Get ready for some F/F fantasy romance! ... Lia can't afford to fall in love with her tenuous grip on the throne, but sometimes love is worth risking it all'
* @SYFYFANGRRLS *
though the story is awash with intrigue, plots, and counterplots, its strength is the fascinating relationship between two admirable young women
* Irish Examiner *
a fabulous fantasy novel full of political intrigue & a tender love story
* Dubray Books *
Beautifully written... such fabulous details
-- Elaina Ryan, CEO of Children's Books Ireland * Ireland AM, Virgin *
a skilfully-done romance, and Corcoran takes advantage of the fantasy setting to present a world where same-sex relationships carry no taboos. This is a book for everyone (the complexity will satisfy adult readers, too) but I think it will find a particular place in the hearts of young LGBTQ readers for being a love story that involves obstacles other than coming-out, and ends (spoilers!) hopefully ever after
* Irish Times *
With writing that is both incisive and emotive, Corcoran has created a fantasy kingdom that is rich in detail and texture, full of intrigue and thoroughly believable. Clearly well-researched, it harkens back to tales from the Tudor realms and such classics as The Three Musketeers. But far from being purely historical, it holds that ineffable 'something' that makes it feel so contemporary. Expert, perfectly rounded characterisation gives a nuanced and complete understanding of each characters' personality. The reader actually feels the deep impact of their love, loss and, in many cases, deviousness. The sense of duty, responsibility and honour are not simply concepts, but sincerely felt and believed. The complex machinations of the workings of society are laid bare; the prejudices, the assumptions, the reality of living in this world. And beyond this, there is an authentic, sensitive and heartfelt story of young love; it's burgeoning and powerful influence and the conflicts it brings when living a life less ordinary. Beautifully written, marvellous storytelling, intriguing and all in all, exceptional in every way. It took my breath away
* Fallen Star Stories *
richly immersive debut YA novel ... the scenes between the two young women crackle with passion and intensity ... written with confidence and flair ... Corcoran is one to watch
* Irish Independent *
Elegant and clever ... a treasure chest of a fantasy debut, as rich in well-drawn characters as it is in treachery, secrets and desire ... I couldn't stop reading.
* Samantha Shannon, bestselling author of The Bone Season series and The Priory of the Orange Tree *
a fantastic fast-paced novel that manages to be both full of mystery and a joyful coming of age love story ... Corcoran writes with a vividness that draws the reader in and makes them feel like they are watching the story play out in front of them ... she masterfully weaves the intrigue in the story ... a wonderful new voice
* Inis Magazine *
Lia always knew she would rule one day. She just had to hope that her uncle didn't completely ruin their country before he passed away. Xania, her new spymaster, needs to keep her queen alive during the political upheavals. These two girls, brought together by duty, must find a way to protect their growing friendship and love. Corcoran writes with a vividness that engages the reader while drawing out the intrigue in the story, allowing an intricate plot to unfold.
* Children's Books Ireland *
Gripping
* @@Magic_Kitten *
A touching, satisfying story, and one I've returned to more than once as the year wound on
* Liz Bourke, Tor.com's Best Books of 2020 *
This YA Fantasy is from an Irish author, and features lots of court politics as well as a lesbian heroine, a F/F romance, and a demisexual lesbian love interest
* UnitedbyPop *
An epic love story based in a politically driven, fantasy landscape; this is an immersive story that crackles with passion and intensity
* Sunday Independent *
Corcoran's young adult fantasy novel is a bewitching tale of corruption, intrigue and romance
* Irish Examiner *
A richly immersive debut YA novel ... Written with confidence and flair
* Irish Independent *
Rich, clever and compelling
* Irish Examiner *
Loved @hcor's Queen Of Coin And Whispers, which absolutely lived up to the considerable hype from everyone I know who's read it. Stunning fantasy, heavy on political intrigue and sapphic yearning, with an outstanding pair of main characters and amazing world-building. Fabulous!
* @BeyondtheBig5 *
A brilliant book, and Lia and Xania are such wonderful characters ... this definitely has some Tamora Pierce vibes. There was a sense of adventure and navigating new environments that really reminded me of Pierce's work and I loved that. This is a debut book that I took a chance on and I'm so glad I did
* The Valkyries *
Ever just read a book so perfect for you that it's like the author wrote it on spec to your preferences? Yeah, this book is EXACTLY what I'm looking for in a YA fantasy. First things first - how beautiful is that cover? It's stunningly opulent and really suits the intricate mix of royal intrigue and romance. The design is by Emma Byrne ... This is the epitome of 'court fantasy'. It has the gorgeousness - the balls, the dresses, the swoony romance - AND the hard work - the policy issues, the etiquette, the shifting alliances. It combines both seamlessly, which was a wonderful surprise when I see so many 'court' settings in YA that only offer the first ... let's talk about my very favourite thing about this book: it actually deals with statecraft. I'm a huge fan of court fantasy and medieval political intrigue, but as I mentioned above, so often it's used just as set dressing for a story that then ignores the actual technicalities of running a kingdom. Queen of Coin and Whispers joins my very small list of books that feel like they really get into the difficulties of running a country and navigating the complex mesh of shifting loyalties and aristocrats stuck in their traditions and privilege (The Goblin Emperor is there, as is the Farseer trilogy, State of Sorrow, and to a certain extent, most of Tamora Pierce's Jonathan scenes). It's one thing to have a feisty young princess take the throne and say she's going to make sweeping changes to the old regime, as so many fantasy books offer, and entirely another to show her grappling with issues in the Treasury, with managing a network of spies, with the complex etiquette of marriage alliances... I love seeing this butterfly effect, this confirmation that ruling is a full-time job and then some, rather than the kingdom just running quietly in the background while the ruler gets on with their personal plot. It's pulled off to perfection here. The intrigue, too, is brilliantly done ... more of this sort of thing, please!
* Fantasy Hive *
Do yourself a favour and pick up Queen of Coin and Whispers. Not only is it a fantastic YA fantasy with an f/f romance - it is also a perfect read for the upcoming #TheIrishReadathon
* @Aoife_Lawlor *
I loved The Queen of Coin and Whispers. It is a great book that mixes romance and adventure perfectly. There are so many amazing plot twists that literally made me gasp. It has great characters, some of which you love and others that you absolutely hate! I also really enjoyed the way the book switches points of views every chapter as it allows you to get to know both characters better and understand why they do what they do. I'd recommend this book to anyone who enjoys a good romance but also loves more action-packed books
* Jenna Braban, Teen Titles *
really loved @hcor's Queen of Coin and Whispers ... sapphic romance plus outstanding political intrigue plus brilliant world-building equals a truly wonderful YA fantasy!
* Yayeahyeah *
two girls, brought together by duty, must find a way to protect their growing friendship and love. Corcoran writes with a vividness that engages the reader while drawing out the intrigue in the story, allowing an intricate plot to unfold
-- Children's Books Ireland
With excellent worldbuilding, lots of great characters, and a very twisty plot full of court intrigue, murder and political drama, there's a lot to like
-- TheLesbianReview
You may also be interested in...
×
Download the Waterstones App
Would you like to proceed to the App store to download the Waterstones App?
Reserve online, pay on collection


Thank you for your reservation
Your order is now being processed and we have sent a confirmation email to you at
When will my order be ready to collect?
Following the initial email, you will be contacted by the shop to confirm that your item is available for collection.
Call us on or send us an email at
Unfortunately there has been a problem with your order
Please try again or alternatively you can contact your chosen shop on or send us an email at