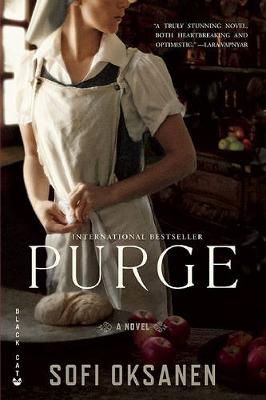 Paperback
388

Pages / Published: 01/04/2010
An international sensation, Sofi Oksanen's award-winning novel
Purge
is a breathtakingly suspenseful tale of two women dogged by their own shameful pasts and the dark, unspoken history that binds them.
When Aliide Truu, an older woman living alone in the Estonian countryside, finds a disheveled girl huddled in her front yard, she suppresses her misgivings and offers her shelter. Zara is a young sex-trafficking victim on the run from her captors, but a photo she carries with her soon makes it clear that her arrival at Aliide's home is no coincidence. Survivors both, Aliide and Zara engage in a complex arithmetic of suspicion and revelation to distill each other's motives; gradually, their stories emerge, the culmination of a tragic family drama of rivalry, lust, and loss that played out during the worst years of Estonia's Soviet occupation.
Sofi Oksanen establishes herself as one the most important voices of her generation with this intricately woven tale, whose stakes are almost unbearably high from the first page to the last. Purge is a fiercely compelling and damning novel about the corrosive effects of shame, and of life in a time and place where to survive is to be implicated.

Publisher: Black Cat
ISBN: 9780802170774
Number of pages: 388
Weight: 363 g
Dimensions: 208 x 135 x 33 mm
---
MEDIA REVIEWS
"A bravura work, deeply engaged with [Estonia's] knotted history, sparing but potent in its use of irony, and containing an empathic treatment of all the miserable choices Estonians faced during their periods of oppression. . . . Oksanen has crafted a stirring and humane work of art."--Jacob Silverman,
The New Republic
"A stunner . . . [Purge is] a compelling look at what we do to survive."--Karen R. Long, The Plain Dealer (Cleveland)
"Purge is that very rare thing, a sheer masterpiece . . . A marvel . . . I hope that everyone in the world who knows how to read, reads Purge."--Nancy Huston, author of Fault Lines
"Oksanen's fluid, unadorned prose gives shape to unspeakable violence and illuminates the process of remembering."--The L Magazine (Top 10 Books of 2010)
"A captivating book about two women with dark secrets and an underlying connection. . . . Oksanen skillfully weaves histories together to form a rich, complex nove."--Shelf Awareness (Top 10 Books of 2010)
"[A] bold combination of history, politics, and suspense."--Sunday Times (UK)
"This is a novel of big issues--the sex industry, the Soviet annexation of Estonia after World War II, the Chernobyl disaster, the tumultuous years immediately after the breakup of the USSR. It's a lot to take on, but Oksanen manages to keep her focus tight . . . handling a complicated, tricky story with deftness and skill. Purge is a serious book, but not a dour one. It has a thriller's air of suspense . . . but there is a tragic core to this story that will reward closer attention."--Bookslut
"[A] taut, well-crafted tale of Europe's still living post-war pain."--Booklist
"Sofi Oksanen's disturbing, riveting novel Purge . . . is a jolt. Set in 1992, only three years removed from the joyful optimism undammed by the demolition of the Berlin Wall, Purge burns through the mists to show how decades of debasement have twisted society in the former USSR into one characterized by crime and cruelty. Oksanen couches this larger theme within a tight, unconventional crime novel, one punctuated by dreadful silences, shameful revelations and repellent intimacies. By examining the toll of history on a close, personal level, Oksanen . . . makes the cost of mere survival sickeningly palpable. . . . Evoking both noir and fairy tales . . . Purge is an engrossing read."--NPR.org
"Power and loss are the themes of Sofi Oksanen's gripping novel, Purge. . . . This is not a book to read last thing at night. It reminds us of things that we would rather forget, that happened while the world looked away. It is the story of millions of people forced to make impossible choices, who had their lives and happiness stolen, and then survived only to find new bullies and cheats taking the place of the old ones. . . . Bears comparison with the excellent novels of Marina Lewycka, A Short History of Tractors in Ukrainian and the semi-sequel Two Caravans."--The Economist online ("Essential Reading")
"A dark, harrowing, and at times difficult read that wrings every ounce of emotion from the reader."--The Bookseller
"This wonderfully subtle thriller . . . captures both the tragic consequences of one of Europe's biggest conflicts and the universal horrors that war inflicts on women. With a tone somewhere between Ian McEwan's Atonement and the best of the current crop of European crime novelists, this bitter gem promises great things from the talented Oksanen."--Kirkus Reviews
"Purge is a truly stunning novel, both heartbreaking and optimistic. Through the stories of two women, Sofi Oksanen shows us the history of a country that has been repeatedly violated by the Russians, by the West, by history itself, yet managed to stand strong."--Lara Vapnyar, author of There Are Jews in my House
"A riveting tale . . . Oksanen adeptly handles dual story lines and multiple points of view as she keeps us turning pages to reach the dramatic conclusion. Highly recommended for fans of classic Russian writers like Tolstoy and Pasternak, as well as those who enjoy a contemporary tale of lust and betrayal."--Library Journal
"Vivid . . . Life in Estonia under Soviet rule is dramatically portrayed in this award-winning Finnish novel. . . . Oksanen paints a vivid picture of the landscape and people of Estonia. She deftly interweaves universal themes of love, isolation, political instability and human trafficking, involving the reader from the beginning to the surprising ending. She does not shrink from depicting rape, torture or murder. But she includes tender moments as well, giving a human face to historical facts. . . . Her frank, short sentences bore to the 'truth' in a direct style that her characters are unable to use."--Carol Hussa Harvey, Winnipeg Free Press
"Purge is a breathtaking novel dense with emotion that snares the reader from the very first pages. . . . Moving and horrifying, it leaves you shuddering and gasping for breath."--Ilkka (Finland)
"Cruel, compelling, and nuanced, Purge vibrates with suspense: unspoken secrets and deeply shameful deeds . . . spread like a web over the book, forcing the reader to go on turning the pages. . . . Vivid, precise, and beautiful."--Hufvudstadsbladet (Finland)
"A stinging account of a chapter of Eastern European history that we are on the verge of forgetting--or denying . . . Sofi Oksanen is an eminently skilled novelist, intricately unraveling her fascinating story bit by bit. She has a sense for the subtle inner drama of a distorted mind and love's self-deceptive logic. Finland can be proud of its brilliant new star."
--Jyllands-Posten (6 out of 6 stars) (Denmark)
"The multidimensionality of Purge is startling. . . . [The novel] encompasses the grand themes . . . [of] shame, betrayal, guilt, atonement . . . with the complexity and seriousness worthy of them."--Turun Sanomat (Finland)
"Now and then I read books that are so good that I can't quite understand how the author does it. . . . Purge is a fantastic novel, as well as a declaration of love to Estonia."--Dagbladet (Norway)
"The first chapter of Purge displays the most condensed, metaphorically effective language I have read in a long time. . . . Oksanen's beautiful prose breaks the silence of the shame and guilt of oppression, and does so with a determination that provides popular storytelling with a legitimacy and weight that one doesn't often experience."--Aftonbladet (Sweden)
"Oksanen is a tightrope walker. . . . Piercingly and mercilessly she reveals the human cost of brutal political regimes, and even manages to tie the abuses of the past to the heartbreaking story of young Zara and her destiny. . . . An overwhelming reading experience."--Dagsavisen (Norway)
"Oksanen is unusually skilled when it comes to building suspense, and this is a brutal novel--it is brutally physical, it exposes the brutality in the greater and smaller games we play, and it is brutally suspenseful to read. . . . Extraordinary."--NRK (Norway)
"Vibrant . . . Absolutely convincing . . . A compelling document of the eternally humane and the eternally inhumane."--Dag og Tid (Norway)

You may also be interested in...
"Excellent"
I didn't know what to expect from this book, but after hearing all the hype I was hoping it wouldn't be a let down. And it wasn't!

The book tells the story of two women - Aliide and Zara. Aliide is an... More
"Certainly not a relaxing read"
Sorry to say that I did not enjoy reading this book..

Chapters are dated so there is no confusion across the timelines but just not the type of book you can relax with.
"Compelling"
I found the book compelling, it wasn't a book that I couldn't put down, but it was a book that I kept picking up... if that makes sense!

I don't really know much about Soviet/Estonian Politics, so I... More
Simply reserve online and pay at the counter when you collect. Available in shop from just two hours, subject to availability.
Thank you for your reservation
Your order is now being processed and we have sent a confirmation email to you at
When will my order be ready to collect?
Following the initial email, you will be contacted by the shop to confirm that your item is available for collection.
Call us on or send us an email at
Unfortunately there has been a problem with your order
Please try again or alternatively you can contact your chosen shop on or send us an email at