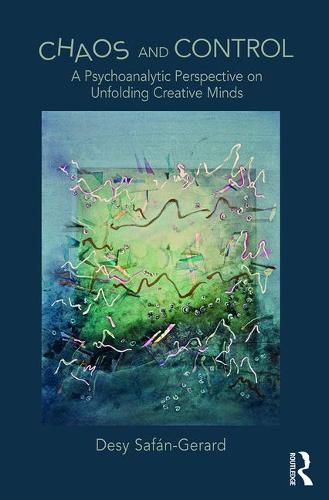 Chaos and Control: A Psychoanalytic Perspective on Unfolding Creative Minds (Hardback)
Desy Safan-Gerard
(author)
Hardback
280

Pages / Published: 17/05/2018
This book explores the role of chaos and control in the creative process as well as the difference between talent and creativity. Part One describes explores some of the common biases and pitfalls in the analysis and therapy of creative people, the role of the accidental in creative work, the nature of creative blocks, passion and its absence, as well as the problem of being able to exercise one's freedom. The author describes the special needs of creative patients, the common problems arising in therapy, its solutions, and, most importantly, the analyst's distinctive role when dealing with such patients. She also probes into the role of narcissism, neurosis, and psychosis on creative work.
Publisher: Taylor & Francis Ltd
ISBN: 9781782202943
Number of pages: 280
Weight: 724 g
Dimensions: 235 x 159 mm
---
MEDIA REVIEWS
`A pleasure to read a psychoanalyst who is also an artist exploring creativity in therapy, art, music, her own life and development. More therapists than realized are artists and nourish profound interweaving between disciplines. This book is an explicit portrayal of such a journey, an exploration and affirmation of the vicissitudes and rewards of creative life and work.'-Michael Eigen, Ph.D., National Psychological Association for Psychoanalysis
`This remarkable book about creativity, the artistic process, and the psychoanalytic treatment of creative individuals is the only one that I know of written by an artist who is also a psychoanalyst capable of explaining complex psychoanalytic concepts in terms understandable to the general public. From this dual perspective, Dr. Safan-Gerard is able to truly understand the dilemmas confronting those of us who struggle with artistic expression and to provide a skilful melding of research, clinical material and personal vignettes. In an incisive and insightful way, she covers such issues as the role of destructiveness and reparation in the creative process, the ability to hold onto the anxiety provoking experience of "not knowing", the essential dialogue with the artistic object, the alternation of spontaneous, "chaotic" periods of expression with reflective control, the development of passion and absorption, and the origins of creative block. For all of these situations, Dr. Safan-Gerard provides a cogent and coherent psychoanalytic framework from which to understand our creative patients and the artist within ourselves.'-Beverly Feinstein, M.D., Ph.D., UCLA Clinical Faculty, Past President of Southern California Psychiatric Society, Past President of New Center for Psychoanalysis; Artist
`Much has been written by psychoanalysts about painting and creativity, and some writing has come from painters about psychoanalysis; but it is indeed rare for someone who is both painter and psychoanalyst to write with dexterity and authority in both fields. Here Desy Safan-Gerard accomplishes that and all that might be required to come from such a synthetic project. Aesthetics is about beauty from everyday materials, and this book wants to understand the balance between craft, accident, order and inspiration. It is a remarkable exploration of the resonance and harmonies in making a life and making things. Art is perhaps a technology of the emotions, of our experience with each other, and our world. But Desy Safan-Gerard also has the other string to her bow, another `technology'-that of psychoanalysis. This book, a long reflection on her life's journey, welds together these two profound approaches to understanding the human gift for creativity as it is pitted in combat against all the opposing forces of chaos. Generously illustrated with her painting, the book is her personal landscape of talent, achievements, erudition and straight human passion.'- Robert. D. Hinshelwood
`The author closes this marvellous collection of papers with comments on her work `translating' a model's movements on to paper/canvas in response to a piece of music:
"There is a special thrill when I feel that the audience is caught up with what I am doing. We are all experiencing the same response to the emergence of beauty through the music, the model and the coloured lines on the wet paper. It is magic again! The same magic of a psychoanalytic session when an interpretation hits the mark, the patient feels understood in a profound way and the analyst is moved by the depth of feelings experienced in response to the patient." (p.221)
Here, as quite often in her book, Desy Safan-Gerard echoes Marion Milner as she shows us her paintings taking off `in their own direction', underlining the role of accident, and of dream; and stressing the influence of Milner's On Not Being Able to Paint, a seminal text on the creative process foregrounding the role of mistakes, accidents, creative destructiveness, fears of madness and, above all, championing the role of the unconscious in all creative life. I think Milner would have been gratified by the homage paid her in chapter 14 on `Destructiveness and reparation: a retrospective' and, also, her implicit influence in `From Mistake to Mistake: the Creative Process in Four Large Paintings' with its important aim of `debunk[ing] the negative connotations attached to mistakes.' Here, as elsewhere in Safan-Gerard's book, the reader is well-served by the accompanying illustrations, colour plates of the works in question.
In honouring Marion Milner, Desy Safan-Gerard highlights her own strengths in this fascinating compilation of many of her most striking and innovative papers and lectures over a 40-year long and distinguished career as artist, musician and psychoanalyst in the United States, Europe and South America. One of the great pleasures of the book is her generous sharing of her polymathic talents, in themselves sufficient to attract a diverse audience to Chaos and Control - a text relevant to analysts/therapists, artists and all who are engaged with creative work or working with creative people. (As a psychotherapist who works with people with writers' block I have found it of the most illuminating help, focusing as it does on the creative process and on the particular needs of creative patients in treatment).'-Emma Letley
`Desy Safan-Gerard's work is highly complex and operates in a variety of levels anticipating complex reactions. Her primary medium is light and not volume; her paintings appear to emanate an internal light that suffuses pictorial space and imagery. There is in all of her work a well-earned sense of effortlessness. Images simply appear, often in powerful, rudimentary forms. These images probe the psyche in profound ways, mirroring conscious and unconscious experience for us.
Safan-Gerard's paintings bring a special dimension to the worlds of fantasy and form. The territory her work engages is of great interest at the present time to young artists working at the edge of possibility. In a similar way, the work of Roberto Matta, another Chilean, is now receiving considerable attention for the plasticity of its visual elements and the manner in which he develops its psychology.
I have always liked the idea that painting is about the conversion of human experience into the experience of the paint. As you view the work of Desy Safan-Gerard you will find yourself converting paint back into a profoundly human experience.'-Roland Reiss, Benezet Professor of the Arts and Humanities, Emeritus, Claremont Graduate University
`The reader rides waves of creative ideas in this book, rising and falling along with several artists including the author. The valuable explanation and exploration of what must be undertaken to bring something, or someone, separate from oneself, into being applies to artistic creative effort and to psychoanalysis. This fascinating and inspiring work will help artists to engage in psychoanalysis, and psychoanalysts to better understand artists. As a bonus, the plates alone are worth the price of the book.'-Leigh Tobias, Ph.D., FIPA
You may also be interested in...
Simply reserve online and pay at the counter when you collect. Available in shop from just two hours, subject to availability.
Thank you for your reservation
Your order is now being processed and we have sent a confirmation email to you at
When will my order be ready to collect?
Following the initial email, you will be contacted by the shop to confirm that your item is available for collection.
Call us on or send us an email at
Unfortunately there has been a problem with your order
Please try again or alternatively you can contact your chosen shop on or send us an email at