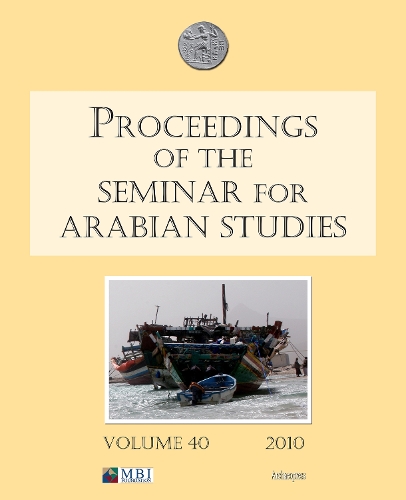 Proceedings of the Seminar for Arabian Studies: Proceedings of the Seminar for Arabian Studies v. 40: Papers from the Forty-third Meeting, London, 23-25 July 2009 (Paperback)
Janet Starkey
(editor)
Paperback
400

Pages / Published: 31/07/2010
Contents: V.M. Azzara, Domestic architecture at the Early Bronze Age sites HD-6 and RJ-2 (JaKalan, Sultanate of Oman); Mark Beech, Marjan Mashkour, Matthias Huels & Antoine Zazzo, Prehistoric camels in south-eastern Arabia: the discovery of a new site in Abu Dhabi's Western Region, United Arab Emirates; Mohammed Ali Al-Belushi & Ali Tigani ElMahi, Archaeological investigations in Shenah, Sultanate of Oman; Lucia Benedikova & Peter Barta, A Bronze Age settlement at al-KhiPr, Failakah Island, Kuwait; Olivier Brunet, Bronze and Iron Age carnelian bead production in the UAE and Armenia: new perspectives; Ingo Buchmann, Tobias Schroder & Paul Yule, Documentation and visualisation of archaeological sites in Yemen: an antique relief wall in Zafar (poster); Fabio Cavulli, Emanuela Cristiani & Simona Scaruffi, Techno-functional analysis at the fishing settlement of KHB-1 (RaMs al-Khabbah, JaKalan, Sultanate of Oman); Julien Charbonnier, Dams in the western mountains of Yemen: a Aimyarite model of water management; Christian Darles, Les monolithes dans l'architecture monumentale de l'Arabie du Sud antique; Daniel Eddisford & Carl Phillips, Kalba in the third millennium (Emirate of Sharjah, UAE); Bat-Zion Eraqi-Klorman, Yemen: religion, magic, and Jews; Francesco G. Fedele, Sabaean animal economy and household consumption at Yala, eastern Khawlan al-Kiyal, Yemen; Serge A. Frantsouzoff, The status of sacred pastures according to Sabaic inscriptions; Jessica Giraud & Serge Cleuziou, Funerary landscape as part of the social landscape and its perceptions: 3000 Early Bronze Age burials in the eastern JaMlan (Sultanate of Oman); Alexandrine Guerin & Faysal al-NaMimi, Territory and settlement patterns during the Abbasid period (ninth century AD): the village of Murwab (Qatar); Maria Hajnalova, Zora Miklikova & Tereza Belanova-Stolcova, Environmental research at al-KhiPr, Failakah Island, Kuwait; Hani Hayajneh, Ancient North Arabian-Nabataean bilingual inscriptions from southern Jordan; Marco Iamoni, The Iron Age ceramic tradition in the Gulf: a re-evaluation from the Omani perspective; Manfred Kropp, "People of powerful South Arabian kings" or just "people of their kind we annihilated before"? Proper noun or common noun in QurMan 44:37 and 50:14; Johannes Kutterer & Sabah A. Jasim, First report on the copper-smelting site HLO-1 in Wadi al-Hilo, UAE; Romolo Loreto, House and household: a contextual approach to the study of South Arabian domestic architecture. A case study from seventh- to sixth-century BC Yala/ad-Durayb; Louise Martin, Joy McCorriston & Remy Crassard, Early Arabian pastoralism at Manayzah in Wadi Cana, Hadramawt; Giovanni Mazzini & Alexandra Porter, Stela BM 102600=CIH 611 in the British Museum: water regulation between two bordering estates; Anne Multhoff, "A parallel to the Second Commandment" revisited; Khudooma al-NaMimi, The discovery of insect remains associated with a Bronze Age tomb in the United Arab Emirates: a preliminary study (poster); Andrew Petersen, Islamic urbanism in eastern Arabia: the case of the al-?Ayn-al-Buraymi oasis; Valeria Fiorani Piacentini & Christian Velde, The battle of Julfar (880/1475); Alexandra Porter, Rebecca Stacey & Brendan Derham, The function of ceramic jar Type 4100: a preliminary organic residue analysis; C.N. Reeler, N.Y. Al-Shaikh & D.T. Potts, An historical cartographic study of the Yabrin oasis, Saudi Arabia; Katrien Rutten, South-east Arabian pottery at ed-Dur (al-Dur), Umm al-Qaiwayn, UAE: its origin, distribution, and role in the local economy; Abdulrahman al-Salimi, The Wajihids of Oman.
Publisher: Archaeopress
ISBN: 9781905739332
Number of pages: 400
Weight: 1338 g
Dimensions: 260 x 210 x 23 mm
Edition: 2010 ed.
You may also be interested in...
Simply reserve online and pay at the counter when you collect. Available in shop from just two hours, subject to availability.
Thank you for your reservation
Your order is now being processed and we have sent a confirmation email to you at
When will my order be ready to collect?
Following the initial email, you will be contacted by the shop to confirm that your item is available for collection.
Call us on or send us an email at
Unfortunately there has been a problem with your order
Please try again or alternatively you can contact your chosen shop on or send us an email at