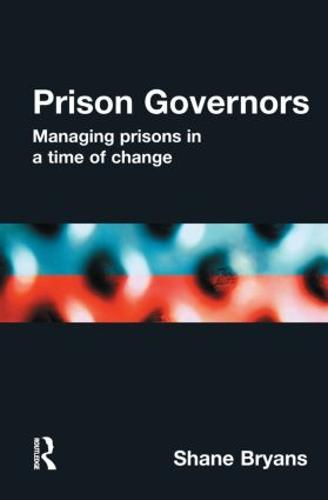 Prison Governors: Managing prisons in a time of change (Paperback)
Shane Bryans
(author)
Paperback
224

Pages / Published: 17/05/2012
We can order this from the publisher
This book provides the first systematic study of prison governors, a hidden and powerful, but much neglected, group of criminal justice practitioners. Its focus is on how they carry out their task, how that has changed over time and how their role has evolved. The author, himself a former prison governor, explains how prison governors have changed under external pressures, and examines a number of the factors that have been influential in changing their working environment in particular the changing status of prisoners and the development of the concept of prisoners rights, the increasing scrutiny of the press and politicians, competitive elements introduced by privatization of the penal institutions, and the introduction of risk management approaches. Based on extensive research, including interviews with 42 prison governors, this book also explores a number of important biographical factors. The author describes the demographic characteristics of the sample of governors interviewed, including their social origins, educational and occupational backgrounds, their reasons and motivation for joining the prison service, their career paths, and also explores their values and beliefs. In the light of the findings of this study the author also makes a number of important suggestions for changes that should be made to policy and practice, and explores the implications for how our prisons should be governed in the future.
Publisher: Taylor & Francis Ltd
ISBN: 9780415627856
Number of pages: 224
Weight: 410 g
Dimensions: 234 x 156 mm
---
MEDIA REVIEWS
Prison Governors : Managing Prisons in a Time of Change . By Shane Bryans ( Cullompton, Devon : Willan Publishing , 2007 , 232pp. AGBP37.50 hb) 'In this timely book, Shane Bryan addresses a signifi cant gap in the British prisons literature, and he does so with sensitivity and insight. His book adds an important dimension to the existing literature on prisons precisely because it focuses on the perspective of those who are expected to manage them in todayaEURO (TM)s changing penal landscape. Bryans was in a unique position to write such a book, since, for many years, he was himself a prison governor. He is therefore well placed to talk knowledgeably about prison governance aEURO" not only in terms of describing the nature of the work that governors do, but also in terms of the changing contexts in which they do their work, the ways in which they define their role and purpose and, importantly, the demands that conflicting and competing pressures place on the individuals themselves. These are all important but hitherto largely un-regarded issues, and the scholarly manner in which Bryans addresses them leaves me in no doubt that the book will make a lasting contribution to the field of prison studies. As Bryans points out in the preface to his book, very little research attention has been paid to the work of prison governors, despite their very central position in both the criminal justice system and, of course, in the prisons they manage. Previous attempts have been made, over the years, to describe the work of prison governors in the United Kingdom, but, until this book, no empirical studies of governors aEURO (TM) work have been published. Generally, the existing literature has been in the form of autobiographies by retired prison governors (see Miller 1976 ), practitioner accounts of their work (see Abbott and Bryans 2001 ) and official reports and reviews of what governors should be doing (see HM Prison Service 1997 ). In the United States, in contrast, there is a scholarly aEURO" and relatively large aEURO" literature on governing and prison management; indeed, as Bryan rightly points out, aEURO~ Warden Studies aEURO (TM) aEURO~ has become a legitimate academic discipline aEURO (TM) . Within this discipline, books on the work of prison wardens include those not only on comparative correctional management ( Dilulio 1987 ), but also on an examination of contemporary penality from the perspective of wardens working in the penal system. To make his argument, Bryans draws from the findings of an empirical study conducted over 18 months with 42 serving prison governors and ten aEURO~ stakeholders aEURO (TM) , i.e. area managers, headquarters staff and directors of private prisons. Bryans clearly recognizes the particular qualities and potential rewards of empirical research. He also recognizes the aEURO~ hands on aEURO (TM) character of prison governor training. As he aptly puts it, the discourse presented in the book aEURO~ is grounded in day-to-day experience of running prisons (and managing prisoners) rather than on an esoteric body of knowledge aEURO (TM) . The key focus of BryanaEURO (TM)s book is on contemporary developments in the management of prisons and, relatedly, the ways in which prison governors defi ne their role and purpose. As such, it provides an invaluable overview of how the process of change has been accomplished, and to what cost. This book also makes a valuable contribution to the literature on public sector administration and management in that it is the first British book to consider in any depth the impacts of a managerialist ideology on the day-to-day running of prisons. BryanaEURO (TM)s book comprises eight chapters. Chapter 1 describes the research process, including a refl ection on the ethical issues in conducting the research and on the challenges of being a aEURO~ practitioner-researcher aEURO (TM) ; Chapters 2 and 3 trace the development of the role and work of governors since the time of the first gaolers. They outline the key organizational and penal changes for each historical period and describe within each context the ways in which the role, work and status of governors have changed over time. Bryans is correct, of course, in his claim that knowledge and understanding of this history are critical to understanding the work of todayaEURO (TM)s governors. Although perhaps over-long, this is a useful, closely observed chapter in which the author tracks the evolution of prison governors as they moved aEURO~ from being amateur and capricious gaolers to military men administering their institutions according to laid-down rules, to charismatic feudal barons exercising patriarchal authority over their prisons and now to general managers bound by bureaucracy and legal rules aEURO (TM) . Chapter 4 follows nicely on from this overview, highlighting some of the factors that have been influential in changing the nature of the governors aEURO (TM) contemporary working environment in more recent years, in particular: (i) the changing status of prisoners with the development of the concept of prisoners aEURO (TM) rights, (ii) increased scrutiny by the press and politicians, (iii) the impact of aEURO~ new managerialism aEURO (TM) and (iv) the aEURO~ competitive aEURO (TM) element introduced by the privatization of penal establishments. Chapters 5 and 6 are, for me, the most engaging sections of the book. In Chapter 5, Bryans examines the demographic and social characteristics of the 43 prison governors who took part in the research, and makes interesting comparisons, for example between the characteristics of direct-entry governors and of those promoted from the ranks of prison officers. He provides compelling evidence that prison governors aEURO (TM) ideologies vary signifi cantly. Moreover, the presence of specified formal procedures, instructions and rules does not prohibit governors from exercising a considerable degree of discretion. Precisely how governors exercise this discretion, however, is, argues Bryans, shaped by their underlying ideologies and value sets aEURO" an issue that he explores through a narrative that explores governors aEURO (TM) working credos. Just like the prison offi cers who act on their instructions, prison governors are not encouraged to articulate their values, beliefs and feelings with colleagues; ensuring non-expression of personal feelings at work is therefore an essential aspect of the performance of the prison governoraEURO (TM)s role. Interestingly, Bryans notes that governors only spoke about such things when asked about more mundane, operational matters. What emerged, then, was a diversity of work values, ranging from a perceived need for compassion and a social conscience and a firm belief in rehabilitation through to a pragmatic, actuarial approach which values systems and procedures over the needs of individual prisoners. BryanaEURO (TM)s analysis of the working culture of this occupational group is excellent. While he found some evidence that governors share an occupational culture, he notes that it is not particularly strong. This is partly the result of changes in the way that governors as a group interact. Although governors still aEURO~ learn their trade aEURO (TM) by watching and listening to other governors (in much the same way as prison officers learn from more experienced colleagues), today, there are fewer opportunities for governors to come together as a group than in the past, and thus fewer opportunities to develop cohesion and establish and maintain a shared culture. A strong collective identity and culture is also undermined by governors aEURO (TM) being isolated in their own individual prisons and by focusing their energies on their own establishments. Modern management methods, such as league tables and competition, have contributed to this undermining of a collective occupational identity. Chapter 6 explores prison governorship more specifically, in that it examines what it means to govern a prison. Bryans found that there is significant disagreement amongst prison stakeholders over the governors aEURO (TM) current role, what they do and the way they should be doing it, and the challenges and stresses that this places on the governors themselves. Here, Bryans aEURO (TM) methodological decision aEURO~ to identify the patterns and structures of prison governance through Governors aEURO (TM) own discourse aEURO (TM) really pays off. The data he achieves aEURO" quotes from which he draws upon to draft this chapter aEURO" quite beautifully illuminate the challenges of the job, and the ways in which governors cope (or at least try to cope) with a volley of often conflicting and incompatible demands. Conflicts may involve a difference of opinion over the prioritizing of roles aEURO" for example the relative importance of being aEURO~ the persona of the establishment aEURO (TM) aEURO" a governor may well be a key player within a local criminal justice partnership aEURO" as opposed to being simply the figurehead within the prison itself. Those who see the governoraEURO (TM)s position as being the latter expect the proper performance of a range of highly symbolic roles, including attending funerals, commemorative ceremonies and staff presentations. In this chapter, Bryans leaves us in no doubt that the confl ict between organizational demands to operate as the general manager of the prison and the (sometimes emotionally charged) expectations of uniformed staff often creates significant tensions all round. Chapter 7 goes on to identify a typology of governors, namely (i) general managers (those who take an aEURO~ actuarial aEURO (TM) approach to groups of prisoners and for whom the achievement of performance indicators is key); (ii) chief officers (individuals who have come up through the ranks and define their management style as aEURO~ management by walking about aEURO (TM) ); (iii) liberal idealists (who joined the service with a sense of vocation and a desire to rehabilitate prisoners); and, finally, (iv) conforming mavericks aEURO" a distinct group in that they challenge the status quo. According to Bryans, these charismatic individuals aEURO~ conform [only] to the extent that need to, in order to be creative and developmental aEURO (TM) and they are tolerated by the system because they do actually produce high-prof le and pioneering schemes and ways of operating. The prisons of conforming mavericks aEURO~ become the focal point for official visitors because of their innovative working and examples of aEUROoe best-practice aEURO aEURO (TM) . Bryans acknowledges, quite rightly, that no one governor will fit the totality of an ideal type. He also acknowledges, however, a shifting balance between the ideal types. In an increasingly aEURO~ managerialist aEURO (TM) environment, the conforming maverick is disappearing as the governoraEURO (TM)s ability to shape the prison regime is being curtailed by aEURO~ control from above aEURO (TM) in the form of an increasing number of regulations, instructions and rules. One of the key questions that Bryans addresses in this book is whether or not the role of the prison governor is, as is often claimed, suigeneris. He frames his inquiry very simply, asking aEURO~ Is the role really as aEUROoe unique and special aEURO as the Prison Governors Associated have claimed? aEURO (TM) While there is no doubt aEURO" as Bryans notes aEURO" that features of imprisonment make prisons distinct environments in which to manage, many other working environments also require specific knowledge, skills and experience in order to work within them. For Bryans, however, aEURO~ it is in the GovernoraEURO (TM)s role as custodian of values and ethos, regulator and creator of balance, managing in a potentially damaging and hostile environment that the sui generis aspects of the GovernoraEURO (TM)s role remain most clearly manifest aEURO (TM) . In answering these questions, Bryans discovers that the role of the governor continues to be significant in the life of a prison. For example, he notes that aEURO~ the impact on a prison of a change in Governor can be enormous. A prison will need to adjust to the GovernoraEURO (TM)s personal style, understand the new priorities, and cope with the GovernoraEURO (TM)s lack of local knowledge. [ ] While these issues may not be a problem in stable institutions, in more troubled prisons frequent changes in Governor can be extremely damaging. Frequent changes of Governor aEUROoe allow those resistant to change to fight rearguard actions, slow down the pace of change and send establishments into reverse aEURO aEURO (TM) . Bryans makes it abundantly clear that the ability of any governor to make lasting changes and embed those changes in the prison culture take time. For this reason, prison governors tend to share the view that they should be expected to stay in a specific establishment for at least five years in order that aEURO~ longevity [of ideas and working practices] becomes the norm rather than the rare exception aEURO (TM) . In the final chapter of the book, Bryans considers the future of prison governance. He suggests that with structural changes in the management of offenders (e.g. the creation of NOMS) and the steadily increasing size of the prison population, it is highly likely that the relatively autonomous role of the prison governor is destined to change. He also recognizes that the views of his own interviewees may have changed since the late 1990s, when he conducted the research for this book. For this reason, it is evident that further scholarly research on this topic would be very valuable. Until then, Shawn BryanaEURO (TM)s Prison Governors is the last (highly persuasive) word on prison governance.' Elaine Crawley (University of Salford)
You may also be interested in...
×
Download the Waterstones App
Would you like to proceed to the App store to download the Waterstones App?
Reserve online, pay on collection
Alternatively, for multiple items you may find it easier to
add to basket
, then pay online and collect in as little as 2 hours, subject to availability.
Thank you for your reservation
Your order is now being processed and we have sent a confirmation email to you at
When will my order be ready to collect?
Following the initial email, you will be contacted by the shop to confirm that your item is available for collection.
Call us on or send us an email at
Unfortunately there has been a problem with your order
Please try again or alternatively you can contact your chosen shop on or send us an email at