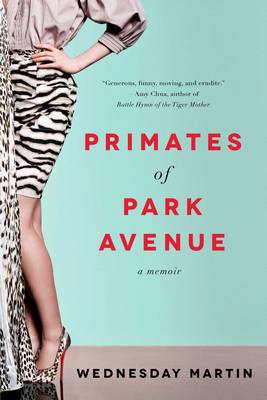 Hardback
256

Pages / Published: 04/06/2015
After marrying a man from the Upper East Side and moving to the neighbourhood, Wednesday Martin struggled to fit in. Drawing on her background in anthropology and primatology, she tried looking at her new world through that lens, and suddenly things fell into place. She understood the other mothers' snobbiness at school drop-off when she compared them to olive baboons. Her obsessional quest for a Hermes Birkin handbag made sense when she realized other females wielded them to establish dominance in their troop. And so she analysed tribal migration patterns; display rituals; physical adornment, mutilation, and mating practices; extra-pair copulation; and more. Her conclusions are smart, thought-provoking, and hilariously unexpected.

Every city has its Upper East Side, and in Wednesday's memoir, readers everywhere will recognize the strange cultural codes of powerful social hierarchies and the compelling desire to climb them. They will also see that Upper East Side mothers want the same things for their children that all mothers want-safety, happiness, and success-and not even sky-high penthouses and chauffeured SUVs can protect this ecologically released tribe from the universal experiences of anxiety and loss. When Wednesday's life turns upside down, she learns how deep the bonds of female friendship really are.

Intelligent, funny, and heartfelt, Primates of Park Avenuelifts a veil on a secret, elite world within a world-the exotic, fascinating, and strangely familiar culture of privileged Manhattan motherhood.
Publisher: Simon & Schuster
ISBN: 9781476762623
Number of pages: 256
Weight: 364 g
Dimensions: 213 x 143 x 25 mm
---
MEDIA REVIEWS
"An eye-popping insider's guide." * People *
"An amusing, perceptive and, at times thrillingly evil takedown of upper-class culture by an outsider with a front-row seat...Martin's writing is confident and evocative...Her reading of the fashion attire of real estate brokers for `triple mint' apartments is brilliant...at a time when a social comedy of the rich a la Tom Wolfe has been lost in national discourse...it's fun to dip into a sophisticated, if silly, look at the Upper East Side's Twilight Zone. Primates of Park Avenue is also a good reminder that as much as we may envy the wealthy, they fight every day for a place in their own social hierarchy, too." * New York Times Book Review *
"Juicy, sexy, bawdy stuff...the perfect summer beach book...the tasty tome we'll all be devouring when the weather warms." * New York Daily News *
"Applying the chimpanzee research of Jane Goodall or the observations of bonobos by Frans de Waal to one's neighbors and co-workers is great fun...Martin rewards those of us in humbler circumstances the undeniably pleasant frisson of superiority that comes with finding fault with those better endowed financially, socially, sartorially." * Chicago Tribune *
"Think privileged NYC wives are another species? Martin goes undercover in this dishy memoir and reminds us that we all have something in common." * Glamour *
"Hysterical and cutting." * Harper's Bazaar *
"Think: Gossip Girl, but with a sociological study of the parents." * InStyle.com *
"Put this book at the top of your summer reading list!...astute and entertaining." * Miami Living *
"Amusing...incisive...a wryly entertaining guide to this rarefied subculture." * The Economist *
"Recalls Betty Friedan's Feminine Mystique...Primates is pacy and skillfully weaves cultural insight with personal anecdote...This is an intriguing insight into a closed world. It is easy to dismiss the subjects as frivolous and mean, which many seem to be. But our envy and schadenfreude makes the rich a compelling curiosity." * Financial Times *
"Fascinating...The author has a Ph.D. and a background in anthropology and primatology, so it's not long before she's analyzing her fellow mommies in terms of what she knows about olive baboons. The book is at its best when Martin analyzes her population this way. Comparing a group of women to primates, their family planning to those of birds, their interactions with men to groups of mice-these make for compelling insights...Engrossing." * The AV Club *
"Picture `Real Housewives,' add in pop-science, and you have Wednesday Martin's new book." * Pittsburgh Post-Gazette *
"A very funny, and slightly scary, look at the denizens of Manhattan's Upper East Side." * Connecticut Post *
"Any population is fair game for anthropological research, so why not the super-rich, super-thin, and oh-so-well-dressed mothers of New York's Upper East Side?... Illuminating and fun." * BookPage *
"Martin puts her academic background (anthropology classes and a doctorate in cultural studies) to witty good use in describing this wealthy tribe's extremes...it became clear to me, reading Martin's book, that our Bay Area tribes aren't so different from those of New York." * San Francisco Chronicle *
A Jane Goodall wielding an American Express Black Card, the author leads readers through the hierarchical benchmarks of Upper East Side mothers. This anthropological journey into the wilds of New York City's most exclusive zip code could have easily devolved into condescension, but instead it proves that mothers everywhere want the same thing: health and happiness for their progeny. * Library Journal, starred review *
"I absolutely loved this memoir and could not put it down! It's incredibly clever; Martin uses anthropology to analyze Upper East mothers, and it's astonishingly illuminating. Somehow, Martin manages to be caustically perceptive but also generous, funny, moving, and erudite all at the same time. This is one of the most fascinating books I've read in a long time." -- Amy Chua, Yale Law Professor and author of Battle Hymn of the Tiger Mother and The Triple Package
If anthropologist Jane Goodall had landed on Park Avenue with a Birkin bag instead of the wilds of Tanzania with a notebook, this is the book she would have written. Primates of Park Avenue is a smart, funny, and original dissection of the tribal rites of rich and striving New Yorkers as they migrate between Manhattan's Upper East Side and the Hamptons. -- Steven Gaines, author of Philistines at the Hedgerow
"I am a huge fan of everything Wednesday Martin writes - her astute observations are filled with wisdom and humor, and more than once have helped me see the world through different eyes." -- Jane Green, New York Times bestselling author of Saving Grace
"People aiming to study primates in the wild are carefully taught to avoid anthropomorphism. Reading human motivation into the behavior of free-living primates is a no-no. But what about using information from primate field studies to interpret human behavior "chimpomorphically"? Confronted with the need to cope with sociopathological conditions on New York's ultra-wealthy Upper East Side, Wednesday Martin delved deeply into her knowledge of primate behavior. The result is this book in which primatology leads to a deeper understanding of the human hearts that beat beneath their designer-clad exteriors. A tour de force" -- Robert Martin, Ph.D., Professor of Biological Anthropology and Curator Emeritus, Field Museum of Chicago and author of How We Do It: the Evolution and Future of Human Reproduction
"When mean girls and wannabes grow up, they become the women so perfectly depicted in Wednesday Martin's funny and intelligent memoir. How wonderful that she survived the jungle of Park Avenue with strong female friendships intact." -- Rosalind Wiseman, author of Queen Bees and Wannabes
"Dr. Wednesday Martin is a genius. This book is a must for anyone fascinated by people, trends, and tribes." -- Lucy Sykes, author of The Knockoff
"Upon relocating to New York City's Upper East Side, a wannabe socialite assimilates by anthropologically decoding the behaviors of mom natives in this memoir about fitting in while standing out." * O Magazine *
You may also be interested in...
Simply reserve online and pay at the counter when you collect. Available in shop from just two hours, subject to availability.
Thank you for your reservation
Your order is now being processed and we have sent a confirmation email to you at
When will my order be ready to collect?
Following the initial email, you will be contacted by the shop to confirm that your item is available for collection.
Call us on or send us an email at
Unfortunately there has been a problem with your order
Please try again or alternatively you can contact your chosen shop on or send us an email at