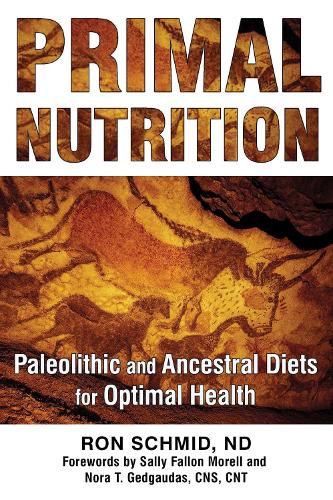 Paperback
384

Pages / Published: 05/11/2015
The human body's innate mechanisms for healing and immunity extend beyond the mending of cuts and broken bones or recovery from colds and flu. Given the foods we evolved to thrive on, foods our ancestors knew well, the body can naturally prevent and overcome a host of degenerative conditions and chronic illnesses, from allergies, eczema, and arthritis to dental caries, heart attack, and even cancer.

Drawing on the work of Dr. Weston A. Price, Dr. Francis Pottenger, and other nutritional health pioneers, Dr. Ron Schmid demonstrates that the strongest and most disease-resistant indigenous cultures around the world lived on whole, natural foods--seafood, wild game, healthy grass-fed domestic animals, and, in some cases, whole grains and raw dairy. He explores how modern refined diets differ from ancestral ones, the dramatic declines in health seen in indigenous cultures that adopt modern diets, and the steps you can take to build health with traditional foods. He observes that the foods considered essential and "sacred" in native cultures--the foods around which rituals and ceremonies evolved and that were emphasized prior to and during pregnancy--were invariably animal-source foods such as seafood, liver, and raw milk products, thus underscoring the importance of these foods to overall health and immunity, a fact that modern nutritional science has overwhelmingly proved true.

Blending the wisdom of traditional eating patterns with modern scientific knowledge, Dr. Schmid explains how to apply these principles to create your own common sense primal diet, tailored to your specific needs, to rebuild health and improve longevity.
Publisher: Inner Traditions Bear and Company
ISBN: 9781620555194
Number of pages: 384
Weight: 617 g
Dimensions: 229 x 152 x 25 mm
Edition: 3rd Edition, New Edition of <i>Traditional Fo
---
MEDIA REVIEWS
"Confused about the paleo diet fad? Dr. Ron Schmid, now a retired naturopathic physician, has a broader perspective on what has worked well for traditional cultures for millennia. He's informed by the work of Dr. Weston A. Price, a dentist who studied indigenous people's good health and disease resistance with their diets of whole, natural foods including meat from wild game and grass-fed domestic animals, seafood, raw-milk dairy products and, to a lesser extent, whole grains. As Schmid explains, modern diets with processed foods are at odds with ancestral diets. In some traditions, certain nutrient-dense foods such as seafood, liver and raw milk products had a sacred quality with rituals that revolved around them, reinforcing their importance for health and immunity. And yet when indigenous cultures shunned their traditional foods, ill health resulted. Today, the modern diet is so often industrialized and denatured, so Schmid's dietary advice is particularly relevant. We have to be increasingly aware of the source of our foods: for example, seafoods from Pacific Ocean waters affected by Fukushima nuclear radiation are to be avoided. In this substantially updated fifth edition, originally titled Traditional Foods Are Your Best Medicine, Schmid reaffirms the role of ancestral diets in overcoming ill health, chronic disease and degenerative conditions. He has a wealth of advice supported by scientific studies to help us tailor-make our diets to our specific needs to support our health and longevity." * Nexus, December 2015 *
"In this substantially updated fifth edition, Schmid reaffirms the role of ancestral diets in overcoming ill health, chronic disease and degenerative conditions. He has a wealth of advice supported by scientific studies to help up tailor-make our diets to our specific needs to support our health and longevity." * Nexus, Ruth Parnell, January 2016 *
"All in all I don't think I can recommend this book highly enough. Not only is it well-researched and based in cultural history, but Schmid allows for each person having their own unique dietary needs; he does not in any way put forth this book as a one-way-fixes-all manner. He also allows for the differences in what's available to us now versus what was available, food wise, in ancestral times. Not only that but he encourages the reader to slowly make small changes so they are better able to see what works, what doesn't and to adopt the changes slowly so as to make permanent lifestyle changes. While it is always recommended to check with your doctor before starting any major diet change, I do still highly recommend this book to anyone interested in health, nutrition and/or ancestral ways." * Facing North, Jessica Elizabeth, February 2016 *
"Schmid brings together traditional stories with modern scientific research to provide recommendations of food for today's society." * New Dawn, Sandy Brightman, May 2016 *
"Primal Nutrition presents the principles of healthy traditional diets that continue to work today." * From the foreword by Sally Fallon Morell, president of the Weston A. Price Foundation *
"I know of no better introduction to the works of Weston Price, or a better and more thoughtful discourse on traditional diets, than this book." * From the foreword by Nora Gedgaudas, CNS, CNT, author of Primal Body, Primal Mind *
"Primal Nutrition is a well-researched, comprehensive resource for achieving better health with the use of traditional foods and time-honored methods of preparation. Dr. Schmid clearly explains why understanding and implementing the ancestral dietary principles outlined by Dr. Weston A. Price in his worldwide travels is critical if we are to overcome many of the health challenges of our time. This essential book is especially useful for anyone who desires to adopt all or part of a `paleo diet' but is confused by its various interpretations." * Edward Bennett, president of the Price-Pottenger Nutrition Foundation and editor of the Journal of H *
"In Primal Nutrition, Dr. Ron Schmid has done a superb job of integrating the work of Weston Price, D.D.S., and Francis Pottenger, Jr., M.D., with recent research and a variety of popular diets, such as the macrobiotic diet, the Atkins diet, and the Pritikin diet. This book will be of great value for all clinicians interested in healing their patients or clients. In my opinion, it should be required reading for all medical students, dental students, nutritionists, chiropractors, naturopaths, dentists, and others in the healing arts. It will also be valuable to anyone interested in improving his or her health. I recommend it without qualification." * Michael B. Schachter, M.D., CNS, director of the Schachter Center for Complementary Medicine and cer *
"Throughout my years of research and teaching food energetics, I am often asked to recommend books on the subject. Naturally and without hesitation my suggestions include Weston Price's seminal work, along with Sally Fallon's Nourishing Traditions, and a few other authors who extol the many benefits of traditional foods. Ron Schmid's Primal Nutrition is a welcome addition to my list.
With so many diet books available we are often confused with which direction to turn, whether it's for general health maintenance or more personal health issues. Primal Nutrition is a great book for helping you get past the confusion inherent in making these choices. Schmid has a great respect for all traditional primal foods and knows well their historical role in health and their nutritional benefits. He leaves few stones unturned when it comes to supporting you in making wise and sensible decisions with diet and traditional foods." * Steve Gagne, author of Food Energetics: The Spiritual, Emotional, and Nutritional Power of What We E *
"Primal Nutrition brings you back to the basics of a good and healthy diet. It is well grounded and invaluable." * Christopher Vasey, N.D., author of The Acid-Alkaline Diet for Optimum Health and Natural Remed *
You may also be interested in...
Simply reserve online and pay at the counter when you collect. Available in shop from just two hours, subject to availability.
Thank you for your reservation
Your order is now being processed and we have sent a confirmation email to you at
When will my order be ready to collect?
Following the initial email, you will be contacted by the shop to confirm that your item is available for collection.
Call us on or send us an email at
Unfortunately there has been a problem with your order
Please try again or alternatively you can contact your chosen shop on or send us an email at