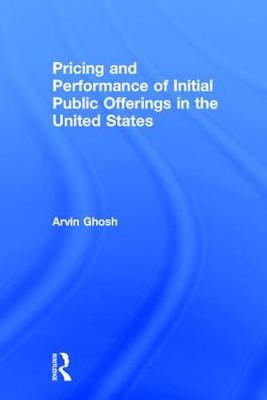 Pricing and Performance of Initial Public Offerings in the United States (Hardback)
Arvin Ghosh
Hardback
Published: 15/07/2006
Can be ordered from our supplier
In this timely volume on newly emerging financial markets and investment strategies, Arvin Ghosh explores the intriguing topic of initial public offerings (IPOs) of securities, among the most significant phenomena in the United State stock markets in recent years. Before the 2000-2001 market turndown, hardly a week went by when more than a few companies did not become public, either in the organized stock exchange or in the Over the Counter (OTC) market. In the often over-burdened, technology-heavy Nasdaq market, the role of IPOs was crucial for the market's new vigor and growth. Internet stocks were able to find a mode to supply key momentum to the market. In the so-called "New Economy" in the 1990s, it was the seductively accessible IPO that ushered in the world's information technology revolution. Ghosh sets out to examine the pricing and financial performance of IPOs in the United States during the period 1990-2001. In the opening chapter, he discusses the rise and fall of IPOs in the preceding decade. Chapter 2 further delineates the IPO process from the start of the prospectus to the end of the "quiet period" and aftermarket stabilization. In chapter 3, Ghosh analyzes the mispricing and deliberately deceptive underpricing, or "flipping," of Internet IPOs. Chapter 4 delves deeper into the pricing and operating efficiency of Nasdaq IPOs. Chapter 5 analyzes the pricing and long-run performance of IPOs both in the New York Stock Exchange and in the Nasdaq markets. In chapters 6 and 7, the author deals with the pricing and performance of the venture-blocked and nonventure-backed IPOs in general and Internet IPOs in particular. In Chapter 8, he analyzes the role of underwriters as market makers. In Chapter 9, Ghosh discusses the accuracy of analysts' earnings forecasts. In the concluding chapter, he summarizes the principal findings of the study and the recent revival of the IPO market and its place in capital formation, as well as the latest developments in the realm of United States IPOs. This work it brings forth the true nature and consequences of recent IPO phenomenon. This book is a fascinating financial read and must-have for any future financier.
Publisher: Transaction Publishers
ISBN: 9780765803269
You may also be interested in...
We would love to hear what you think of Waterstones. Why not review Waterstones on Trustpilot?