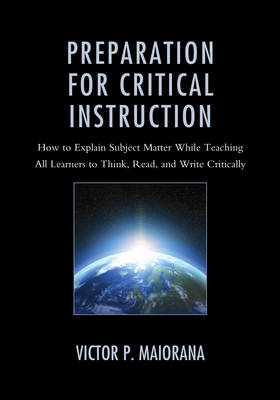 Preparation for Critical Instruction: How to Explain Subject Matter While Teaching All Learners to Think, Read, and Write Critically (Hardback)
Victor P. Maiorana
(author)
Hardback
178

Pages / Published: 24/06/2016
Preparation for Critical Instruction! is written for teacher-educators, teacher-candidates, school and college faculty, professional developers, principals, superintendents, and education deans. It provides an operational core body of knowledge for critical instruction. As with doctors, engineers, and lawyers, ownership of the language, standards, preparation, and practice is now a reality for the teaching profession. This book takes the mind's innate and informal ability to think critically and transforms and develops it for use in an explicit, formal, and critical manner for engaging subject matter. For use in teacher preparation and professional development programs, you will learn to *Use critical reasoning strategies to think, read, write, understand, comprehend, and explain new and revisited subject matter critically. *Design mind grammar-based classroom assignments that explain subject matter critically while concurrently developing critical thinking, reading, and writing abilities in all students. This book provides the instructional basis to improve significantly the achievement of all students at all levels. Better placed to meet the school, college, workplace, and citizen needs of life in the digital 21st century, professional practice will be substantially more tangible, respected, and universally prized.
Publisher: Rowman & Littlefield
ISBN: 9781475825404
Number of pages: 178
Weight: 581 g
Dimensions: 263 x 185 x 18 mm
---
MEDIA REVIEWS
Preparation for Critical Instruction is thought provoking and particularly useful for instructors at secondary and post-secondary levels who wish to scrutinize and refresh their work. It has become increasingly important to include critical instruction in the classroom and devise ways to assess critical thinking among students, so any assistance from experts is appreciated. Maiorana's perspectives should be considered, and reading his work may well be a step in the right direction. * Global Education Review *
Providing a challenging program with academic rigor to ensure all students are successful continues to be on the forefront for all educators. Making sure teachers have the tools, both analytically and physically, is the ongoing focus of all of the stakeholders. College and Career readiness skills in thinking, reading, listening, writing, and speaking are not only needed but mandated by standards, colleges, and the workforce. These are the skills that teachers are required to focus on critically in the classroom. In many states new teacher evaluations have been improved to address these skills critically. However, agreeing that students need critical skills and knowing how to provide them to the students can be miles apart. This book closes that gap significantly. Preparation or Critical Instruction is a book written for teachers and teacher-educators. It provides guidance and strategies for all teachers to use in the classroom. There continues to be a shift in education towards assessable contextual and critical skills development in all classrooms. This book meets the shift and the challenge of engaging new and revisited subject matter in ways that develop critical skills for all students. Victor Maiorana emphasizes the need to give the teaching community an explicit instructional blueprint from which to work. Referred to as Mind Grammar, the unique instructional strategies presented in this work are based on the innate critical thinking abilities all humans possess. Preparation for Critical Instruction provides the means for teacher preparation, professional development programs, and school and college faculty to ensure that everyone, teachers and students, can succeed. -- Susan Field, high school assistant principal
In my experience, I have learned that when students are asked to paraphrase the sentences of another writer, they do it poorly. In addition, they forget what they have written about and why they were asked to do it in the first place. Students will tell you that they wrote research papers in high school. Unfortunately, they cannot remember what topic they researched. Thus, it is a tedious exercise for them to put words on paper that have not impacted their brain. As a writing teacher, I constantly tell my students to write short/direct sentences. The sentences should be juxtaposed with data to support the stated claim. Today's students are taught to read by paraphrasing the words of another writer. When asked to write about what they have read, their natural grammar of mind becomes disoriented. Their writing is verbose, illogical and a mechanical mess. What has long been lacking in classrooms at all levels is an explicit and formal reasoning strategy that all teachers can use to show students how to comprehend subject matter critically when reading and writing. This book really provides solutions that can be readily taught, learned, and applied to all subject matter, whether new to the student or not. The reasoning strategy is called mind grammar. It is based on the innate but informal critical thinking ability we all - teacher, student, people in general - possess. Once students learn to value and use their natural grammar of mind formally, they will read critically. They will write sentences that are logical and critically conceived. They will also be able to revise their mechanical errors with the grammar of the English language. More importantly, they will actually remember what they have read and written about. Mind grammar addressees these thinking, reading, and writing issues and its use will help students to absorb facts and ideas. They will learn how and why the facts and ideas relate to the topic. Preparation for Critical Instruction actually addresses these issues instructionally and therefore represents an extraordinary contribution to the preparation and practice of all teachers, and to the lasting benefit of their students. -- Dolores Edwards, High School and College English Teacher
Permit an experienced educator a personal analogy concerning the current poor status of education in 21st century America. I stood in my driveway three years ago and watched my home decline into ashes as it burnt to the ground. No one was hurt, but while my home burned, my thoughts concerned my family and the economic impact of the accidental fire. Today, my home is safer and I have a greater understanding of how to avoid a house fire in the future. I believe American education is in an accelerating state of decline. Dedicated pedagogues are crying out for better preparation and practice to help reverse the decline. More testing and data-driven assessment emphasize outcomes, not the process responsible for results. One wonders how we can change away from conventional rote-inducing instruction that inherently defeats the development of critical skills. Preparation for Critical Instruction deals directly with the underlying reason that is causing our schools and colleges to advance too slowly in meeting the educational, economical, and social needs of our students. The book makes it possible for pedagogues and students to no longer accept the the traditional, cognitively sequential, and rote-inducing approach to teaching and learning. Such learning, as we climb the academic ladder, is not education. This is done by drawing on the innate critical thinking ability of all teachers and students as the basis to think, read, and write critically leading to better understanding of the basic content of subject matter. For example, students will see clearly the consequences within the subject matter they study. Knowing consequences leads to thinking at higher levels and thus intellectual advancement. One can expect that this will bring about heightened awareness of the consequences of intentions and behavior and lead to stronger, ethical, educated citizens. Preparation for Critical Instruction actually merges subject matter instruction with the concurrent development of critical skills and therefore represents an exceptional contribution to and an important step for the teaching profession. This book will bring about much desired and needed critical instructional rigor to teacher preparation programs and to elementary through college classroom practice. -- Sandra C. Hassan, retired teacher, principal, program director, and teacher educator
Preparation for Critical Instruction is an excellent book for all education professionals to use on our journey to reform how we actually educate students. With the emphasis on testing and high volumes of curriculum, we cannot fully prepare our students because we lack the time to deepen their knowledge of subject area material by teaching them critically and thereby help them gain a better understanding of why things happen. This book helps to solve this vexing time and volume problem by integrating the teaching of critical thinking, reading, and writing with the subject matter itself. A great change is necessary if we are to educate children to become better thinkers, readers, writers, listeners, and speakers. Students need to learn how to become more engaged in subject matter in order to see and relate facts and ideas critically. They need us to lead by showing them explicitly how to do this. As preparation faculty and those in training and practice, we need a reform text like Preparation for Critical Instruction to show us explicitly how to travel this path of change. As a reader, and as shown throughout this book, you are given the opportunity to learn, practice, and apply language skills critically in the context of engaging subject matter. This book is the ideal pedagogy to lead that change for our children's academic and workplace future. -- Kate Smith, Secondary Special Education Teacher
Nothing less than a total redesign of teacher training is called for in light of the malaise that currently afflicts American Education. Colleges, universities, and concerned organizations need to re-think their teacher education programs. This work provides the basis for a comprehensive curriculum and instruction program built around standardizing the professional use of instructional terms, our innate ability to think critically, and the universal nature of subject matter. Teachers are empowered to engage their students in the interpretive learning that leads to comprehension. Using thinking as the first language art, Victor Maiorana lays out the basics of Mind Grammar, Logical & Critical Thinking, Reading for Critical Comprehension, and Writing for Critical Explanation. Hands-on examples, activities and resources round out practical strategies for the classroom. His guidelines are so conceived and designed that any educator would benefit. Likewise, school districts can build their ongoing teacher advancement workshops around this practical book. I highly recommend that administrators, teacher-educators, and teachers and students pursuing degrees in teacher education, study the teachings presented in Victor Maiorana's Preparation for Critical Instruction. Take them to heart and apply them in the classroom! -- Joseph A. Volker, PhD, Religion & Society; MEd Education & Behavioral Sciences; M. Div. Pastoral Administration
Outstanding! Victor Maiorana has done it again. Maiorana's new book Preparation for Critical Instruction, a sequel to his Fixing Instruction, is a must read for all educators. Applying mind grammar to topics from the arts to science and mathematics, this is a text for use in teacher preparation and professional development programs, and beyond that, it should be used by all educators to instruct students critically. This book will alter and illuminate professional teaching practice. Preparation for Critical Instruction is one of the most dynamic texts I have ever encountered in my 56 years of practice including teaching children and adults at all educational levels and learning environments and in teacher education programs. -- Louis DeLuca, EdD
Preparation for Critical Instruction comes as welcome support for teacher educators who view teaching as a profession to foster deep thinking and understanding in others. Such outcomes require that classroom teachers have insight into the overarching structure of the subject matters they teach as well as reasoning strategies necessary to reveal that structure. Developing these insights and skills requires that teacher candidates receive a different kind of preparation than those programs which prepare candidates for teaching that privilege rote learning and serialism-based instruction. Preparation for Critical Instruction provides the insight and the skills needed to design assignments that make subject matter structure and reasoning strategies clearly accessible to students. This book provides the basis for the genuine advancement of the teaching profession. -- Fiona Hughes-McDonnell, EdD, associate professor, science education
You may also be interested in...
Simply reserve online and pay at the counter when you collect. Available in shop from just two hours, subject to availability.
Thank you for your reservation
Your order is now being processed and we have sent a confirmation email to you at
When will my order be ready to collect?
Following the initial email, you will be contacted by the shop to confirm that your item is available for collection.
Call us on or send us an email at
Unfortunately there has been a problem with your order
Please try again or alternatively you can contact your chosen shop on or send us an email at