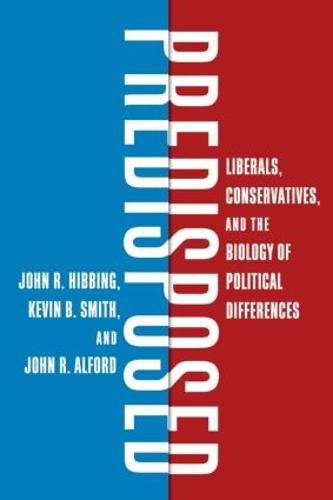 Hardback
292

Pages / Published: 16/09/2013
Buried in many people and operating largely outside the realm of conscious thought are forces inclining us toward liberal or conservative political convictions. Our biology predisposes us to see and understand the world in different ways, not always reason and the careful consideration of facts. These predispositions are in turn responsible for a significant portion of the political and ideological conflict that marks human history.
With verve and wit, renowned social scientists John Hibbing, Kevin Smith, and John Alford-pioneers in the field of biopolitics-present overwhelming evidence that people differ politically not just because they grew up in different cultures or were presented with different information. Despite the oft-heard longing for consensus, unity, and peace, the universal rift between conservatives and liberals endures because people have diverse psychological, physiological, and genetic traits. These biological differences influence much of what makes people who they are, including their orientations to politics.
Political disputes typically spring from the assumption that those who do not agree with us are shallow, misguided, uninformed, and ignorant. Predisposed suggests instead that political opponents simply experience, process, and respond to the world differently. It follows, then, that the key to getting along politically is not the ability of one side to persuade the other side to see the error of its ways but rather the ability of each side to see that the other is different, not just politically, but physically. Predisposed will change the way you think about politics and partisan conflict.
As a bonus, the book includes a "Left/Right 20 Questions" game to test whether your predispositions lean liberal or conservative.
Publisher: Taylor & Francis Ltd
ISBN: 9780415535878
Number of pages: 292
Weight: 546 g
Dimensions: 229 x 152 x 20 mm
---
MEDIA REVIEWS
"The reviews are clearly presented, making the nature of studies and results accessible to nonexperts. The book includes the "Left/Right 20 Questions Game" for readers to test their own predispositions." Summing Up: Recommended. Undergraduate collections. - J. M Stonecash, emeritus, Syracuse University, in CHOICE
"Just fascinating."
-Taegan Goddard, Political Wire
"From beer-swilling fruit flies to defense-obsessed Republicans, Predisposed reveals why we differ politically and how we can bridge this chasm in an entertaining read by the leading bio-political scientists."
-Paul J. Zak, PhD, author of The Moral Molecule: The Source of Love and Prosperity

"This is a must read book for anyone - general reader or scholar - interested in politics and concerned about contemporary political polarization. This work is non-partisan, deeply researched, well-written, and highly informative. It is a book to send to others you know who, like these authors, want democracy to actually work better, since that is not likely to happen until we truly appreciate the nature of our varying political views. Over time, issues will change but our biological predispositions will not, nor will our political differences. When you have completed this book you will appreciate why this is true, and that since this is the way it always has been, and will be, we should deal with it."
-John W. Dean, former Nixon White House counsel and author

"I don't know if John Hibbing, Kevin Smith, and John Alford are correct that understanding the psychological and physiological differences between liberals and conservatives will help to ameliorate ideological conflict, but I hope so. They have, in any case, written the most reasonable, accessible, fun, constructive, and down-to-earth account of scientific research on political orientation to date. Forget the sensationalistic blogs and read this book instead!"
-John T. Jost, Professor of Psychology and Politics, New York University

"We should all be predisposed to like this book. These authors have offered a thoughtful, interesting, and intriguing argument about our political predispositions. My fondest hope is that this accessible book will spark a much needed debate about how to think about the origins and causes of political behavior. That debate would help us break out of the existing approaches that have shaped our thinking for far too long. Not everyone will appreciate what is said in these pages. But whether or not you like these ideas, the book is both enjoyable and thought-provoking."
-John Geer, Professor of Political Science and Public Policy, Vanderbilt University, and author of In Defense of Negativity

"Hibbing, Smith, and Alford have written a landmark book on our newfound understanding of the role biology plays in politics. It is both important and fun to read, with lovely stories and juicy tidbits from the latest research. I couldn't tear myself away! This is the kind of book that will change the way everyone thinks about both politics and what it means to be human."
-James H. Fowler, author of Connected: How Your Friends' Friends' Friends Affect Everything You Feel, Think, and Do

"How do small biological differences map onto political postures? This stunning book takes into account the complexity of the world while teasing out the subtle patterns that make our truths so varied. An extraordinary work: balanced, nuanced, illuminating."
-David Eagleman, Professor of Neuroscience and Psychiatry, Baylor College of Medicine, bestselling author of Incognito and Sum

"A wonderful example of theoretically informed experiments demonstrating the genetic, physiologic, and cognitive underpinnings of political predispositions. Biopolitics has come of age."
-Milton Lodge, Distinguished University Professor of Political Science, SUNY at Stony Brook

"Destined to cause a stir, this book is by far the best source for what has emerged as an important new wave in the study of mass politics. In exploring how differences in people's biology, physiology, and cognitive makeup map onto politics, it provides a bracing sense of just how deeply our political differences run. Accessibly written and rigorously argued, it will provide a fascinating read for anyone interested in politics."
-Marc J. Hetherington, Professor of Political Science, Vanderbilt University

"We have known that we are political animals for a couple thousand years, but Predisposed provides critical clarity about how our biology influences human politics. At the same time, the authors dispel unfounded misconceptions that biology is destiny. The mix of cutting-edge science with humorous writing makes this book a fantastic read!"
-Darren Schreiber, Professor of Politics, University of Exeter

"This book will not make politics easier but it will make it easier to understand. The authors' analysis will be especially valuable for those men and women who want to use our freedoms to make our union more perfect."
-U.S. Senator Bob Kerrey
You may also be interested in...
Simply reserve online and pay at the counter when you collect. Available in shop from just two hours, subject to availability.
Thank you for your reservation
Your order is now being processed and we have sent a confirmation email to you at
When will my order be ready to collect?
Following the initial email, you will be contacted by the shop to confirm that your item is available for collection.
Call us on or send us an email at
Unfortunately there has been a problem with your order
Please try again or alternatively you can contact your chosen shop on or send us an email at