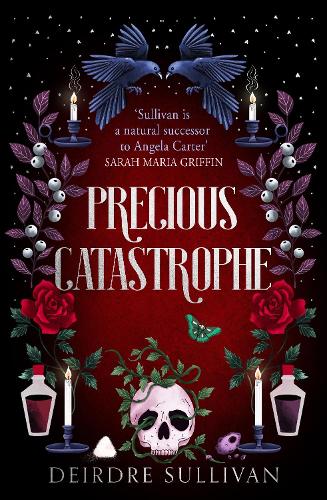 Precious Catastrophe (Perfectly Preventable Deaths 2) - Perfectly Preventable Deaths (Paperback)
Deirdre Sullivan
(author)
Paperback
432

Pages / Published: 30/09/2021
The utterly compelling and darkly magical sequel to award-winning author Deirdre Sullivan's PERFECTLY PREVENTABLE DEATHS Look. Madeline. You've lost your soul. You've lost your freedom. You've lost a bit of your sister. What else could go wrong? Catlin and Madeline are extraordinary sisters, living extraordinary lives - in a place that seems entirely ordinary, but which in fact seethes with secrets, both sacred and sinister. Ballyfran is a village where, for centuries, people who are not quite human have gathered. Catlin has already fallen foul of one such creature - a dark, vicious predator who almost killed her - and only Madeline giving up a part of her own soul was able to bring Catlin back from the brink of death. Now, the girls are making their strange new lives: Catlin, haunted by what happened to her, is isolated and bereft; Madeline is learning ancient magics under the tutelage of local wise woman Mamo. Learning that magic isn't mindfulness and hats. It's work - hard work. And Madeline knows she has to keep watch. On her sister. On the things that happen. Notice things before they start to happen. And before long, they do ...
Publisher: Hot Key Books
ISBN: 9781471410680
Number of pages: 432
Weight: 315 g
Dimensions: 198 x 129 x 24 mm
---
MEDIA REVIEWS
Deirdre Sullivan handles darkness in a way that instills addictive dread, but also, somehow, hope. She is a natural successor to Angela Carter - and Perfectly Preventable Deaths, a tale of rural horror, family and peril, is the Irish Gothic we deserve. -- Sarah Maria Griffin, author of SPARE AND FOUND PARTS
This is the novel the recent Sabrina reboot wishes it could be - a thrilling, eerie exploration of sisterhood, first love and dark powers hiding out of sight. Perfectly Preventable Deaths lures you in with wit and compassion before hitting you with horror and twists worthy of Stephen King or Shirley Jackson. Nobody writes teenagers or witches like Deirdre Sullivan, and Perfectly Preventable Deaths is her best novel yet. * Dave Rudden, author of KNIGHTS OF THE BORROWED DARK *
I am completely smitten with Madeline's voice and this witty, wise and weird depiction of a quiet, strange village where neither girls nor small creatures are safe from predators. Deirdre Sullivan has crafted a tale that is both achingly tender and unsettlingly creepy, a world where magic and love have tremendous power and devastating consequences. * Claire Hennessy, author of NOTHING TASTES AS GOOD *
Sullivan has an eye for the uncanny, a taste for the macabre, and a gift for beautiful prose. Perfectly Preventable Deaths is her best book yet. * Louise O'Neill *
This intoxicating, skilfully crafted novel laced with sisterhood, first love and witchcraft is sure to entice fans of Angela Carter or Melissa Albert's The Hazel Wood. * The Bookseller, Editor's Choice *
This book, this book. Deirdre's writing is a drug, her characters crackle and the magic is so tactile you can feel rough bark and leaves under your fingers. I swallowed this whole. * Moira Fowley-Doyle, author of SPELLBOOK OF THE LOST AND FOUND *
A dark, surreal and chilling slow-burner that'll crawl under your skin and make you wish for more * Culture Fly, Best Summer Reads *
Sullivan's prose bewitches in a tale featuring dark magic, supernatural predators and a plot worthy of Angela Carter * Observer *
I've wanted to read Perfectly Preventable Deaths by Deirdre Sullivan ever since I first heard about it, in a tweet about three witchy, Irish books coming out this year (including Other Words for Smoke by Sarah Maria Griffin and All the Bad Apples by Moira Fowley Doyle). And it was so, so good! Madeleine and her twin sister, Catlin, are moving with their mum to their new step-dad Brian's hometown of Ballyfrann. A town that is known for missing girls, and found body part in the mountains. To the castle - an actual castle - Brian's father built, and where Brian's aunt Mamo also lives - a surly woman who constantly glares at them and doesn't seem to want them around. It's a small town where everyone seems to know everyone, but no-one really seems all that interested in getting to know them. Except for Lon, an older boy of 19 or 20, who has taken a keen interest in Catlin - who's interest is very much returned. It doesn't take long for Catlin to become infatuated with him, but Maddie has felt uneasy about him since they met. Maddie herself is feeling quite strange; there's some instinct in her that tells her things aren't right. She has a compulsion to gather things she believes will protect her family; salt, sage, berries. But she's also discovering her own sexuality when she meets fellow new-comer to Ballyfrann, Oona. As Catlin gets more and more entangled with the controlling Lon, Maddie's unease grows. But when the two stumble across the dead body of a fox in the woods that has clearly been sacrificed, and get Mamo for help, they realise there is definitely something strange about this town. Maddie discovers magic lives in the world, that Mamo is a witch and she might be, too. Mamo offers Maddie the opportunity to be her apprentice, but it would mean giving up on all her plans for the future, and embrace a part of herself that she's been made to feel ashamed of. But when Catlin's life is in danger, Maddie will do anything to try to save her. At it's heart, Perfectly Preventable Deaths is a story about twin sisters and their bond. I absolutely loved Maddie and Catlin, and their relationship. Catlin is confident and sure of herself, without being arrogant, which I don't really think we see much of in YA? She's an extrovert, while Maddie is an introvert, with pretty low self-esteem. They're a bit like chalk and cheese, but they love each other. They bounce off each other so well, and they're just so funny. I loved them! And their bond was just so beautiful. Until Lon gets his claws into Catlin, she becomes infatuated, and practically addicted to him, and everything else seems to fade. Maddie really struggles with the distance growing between them, especially as she doesn't trust or like Lon, and is certain that he's no good. It was heartbreaking, but it was just wonderful seeing how much Maddie cared about her sister, but wasn't quite sure what the right thing to do was. Perfectly Preventable Deaths is a slow burner of a novel. Not a huge deal happens at first, but that's mainly because Ballyfrann is a town full of secrets, and they're kept under lock and key for the most part. There's a pervasive sense of something not being quite right - a strangeness to the town - but for a fair while, you can't put your finger on it. A lot of the story is build-up and introspection, though it's far from boring, because there are hints throughout of something, but you just don't know what. There's the castle with it's strange secret passages, the fear and respect Brian's not-so-nice father inspired. How everyone seems to be wary of Lon, but won't say why, or do anything about it. Something is going on, and there's a definite atmosphere. And finding the sacrificed fox scares the crap out of Maddie and Catlin. Who would do that? Why would they do that? Who or what are they sacrificing it to? And, also, what happened to the missing girls, that only a few body parts were ever found? What is going on here? The more uneasy Maddie feels, the more she gathers and hides things around the house, to keep them safe - a compulsion her mum tries again and again to stamp out of her, because "this isn't normal behaviour." Mamo will only say so much, saying Maddie doesn't need to know more yet, but also refuses to answer some questions unless Maddie becomes her apprentice. But the pace is dialled right up for the last third of the novel, and oh my god, it was just brilliant! It's sinister and malevolent, and frankly, quite messed up. And I can't talk about it without spoiling it! I do wish that Maddie was at a particular place at a certain point in the book, because I would have liked to have seen what happened first hand, but mate, it blew my mind. Not all questions are answered, and you are left with even more - especially with the epilogue! I have thoughts and I have theories, and I need answers! Perfectly Preventable Deaths feels very much like a first book in a series, with all the build up, and all the left over questions, and I honestly can't see how this could be a standalone with that epilogue. I need to know what happens next, I need all my answers, and I need to know if my theories about the epilogue are correct, because if they are... well. I am just not ok, ok? I'm not. This story may have a conclusion, but there is so much more going on, and I think danger is practically next-year-or-so imminent! And I think Ballyfrann and it's history is seriously, possibly, really, really screwy, especially if people are perhaps purposely overlooking things, and... I am just extremely worried for Maddie, Catlin and their mum right now, and I think they need to get out of Ballyfrann pronto! I just need a sequel! But I can't find any info that says it is or not. As you can probably guess, I adored Perfectly Preventable Deaths, and highly recommend it! It's such a mysterious, magical thriller, and I am just hooked. Do not sleep on this one! Thank you to Hot Key Books for the proof. * Onceuponabookcase *
Perfectly Preventable Deaths is wince-inducingly gruesome, with another properly evil villain waiting to do some unspeakable things to the unwary, but it's also frequently laugh-out-loud funny. Magic comes with a price but it's one that's worth paying nonetheless. * SciFi Now *
The sinister, mysterious story continues in this sequel book, it's not as gory as Perfectly Preventable Deaths but it's just as compelling. This author knows how to keep her audience engaged until the very last page... Precious Catastrophe begins a year after the tragic, macabre events of Perfectly Preventable Deaths and the twins Maddy and Caitlin are still coming to terms with the consequences of those events. Maddy knows that she has to keep a look out for her sister, look for signs that she didn't completely come back from the dead but Caitlin will not confide in her. She prefers to pray to the wooden statue of Mary in the local church, but are her prayers as innocent as Caitlin believes? Their stepfather Brian keeps going away on unexplained trips, what is he up to? Their mother is quiet and not her usual self, is she coping? The secrets and lies that surround this town are on the verge of destroying the relationship between these girls; can they find their way back? This sequel is suitable for the 13+ confident reader. It does have its sinister moments of abuse, possession, witchcraft and animal abuse but not in the same depth as the first book. It also has some very dark humour moments, that at times weaken the plot. This sequel book could be read as a stand alone as the author provides a back story along the way to fill in any gaps. A great book for book clubs as there are many avenues for discussion. Another good read that completes the story for the dark Halloween season. 432 pages / Ages 13+ / Reviewed by Linda Brown, school librarian Suggested Reading Age 14+ -- Linda * Reading Zone *
Precious Catastrophe is an amazingly spellbinding book containing many dark secrets and happenings. Following on from Perfectly Preventable Deaths (the first novel in the series), we see events pick up a year on from the last time we saw Maddy and Catlin. Told from the dual perspectives of the twin sisters, we see how the toll of events from a year ago affect their lives in the present. Maddy is becoming more proficient in her witchcraft under the tutelage of Mamo, although this is at the cost of seeing her friends and family. Meanwhile, Catlin turns to religion and prayer in order to find some comfort and solace following major trauma. When Catlin's prayers and trust are misplaced and she becomes consumed by an evil spirit, as well as their step-father Brian not being what he seems, the girls must work together to fight for their lives. They discover even more secrets and ghostly goings-on along the way. This is a fantastically compelling book, which although second in a series could easily be read as a stand-alone. I would recommend the book for older readers only due to the many dark and traumatic themes. 432 pages / Reviewed by Katrina Waldron, school librarian Suggested Reading Age 14+ -- Katrina * Reading Zone *
Deirdre Sullivan's Perfectly Preventable Deaths was a delightfully macabre gothic fantasy tale of witchcraft, love, sisterhood and sacrifice. The sequel, Precious Catastrophe, takes readers back to the isolated village of Ballyfran, which acts as a magnet for people who are not quite human. Sisters Catlin and Madeline are trying to move on with their lives after the events of the first book, which saw Maddy give up a part of her soul to save her sister. But with Catlin still haunted by what happened to her and Maddy trying to master the ancient magics, it's not long before they come up against another evil that's haunting their hometown. This book - with its witchy vibes and supernatural sister protagonists - was made to be read during spooky season when the dark makes anything and everything seem possible. (30 September, Hot Key Books) * Culture Fly *
'Older teens and young adults with a taste for the macabre will love Deirdre Sullivan's new novel, Precious Catastrophe (Hot Key Books), the sequel to Perfectly Preventable Deaths. Sisters Catlin and Madeline are back (one of them back from the dead) but once again all is not well in the strange village of Ballyfran. Deliciously dark and sinister, perfect for the witching season. Age 15+' -- Sarah Webb * Irish Independent *
5 Reasons Precious Catastrophe Is The Creepy Read You Need In Your Life * United by Pop *
Best books for Christmas 2021: Fiction, biography, sport and children's books Precious Catastrophe by Deirdre Sullivan (Hot Key Books, GBP7.99). The second in the Perfectly Preventable Deaths series, this supernatural mystery revisits twins Caitlin and Madeline, whose lives have been changed forever by the horrors they've encountered. * Irish Times *
Dark magic, on the other hand, swirls around Deirdre Sullivan's Precious Catastrophe (Hot Key Books, GBP7.99) as we return to the Irish hellmouth of Ballyfrann, moving between twins Maddy (apprenticed to an old witch) and Catlin (causing havoc, as usual, and also possibly being possessed) as they uncover more of the town's unsettling secrets. Sullivan's ear for Hiberno-English and attentiveness to teenage worries makes this gorgeous horror tale all the more believable, and the plot skilfully builds on what's gone before without ever repeating or recanting it. This is a perfect Halloween read. -- Claire Hennessey * Irish Times *
In the second book in the young adult series from Deirdre Sullivan, Precious Catastrophe, the girls have uncovered the secrets of the town and are making strange new lives. While Maddie practises ancient magic she keeps watch on her sister, who is haunted by the events of the first book. * Big Issue North *
You may also be interested in...
×
Download the Waterstones App
Would you like to proceed to the App store to download the Waterstones App?
Reserve online, pay on collection
Alternatively, for multiple items you may find it easier to
add to basket
, then pay online and collect in as little as 2 hours, subject to availability.
Thank you for your reservation
Your order is now being processed and we have sent a confirmation email to you at
When will my order be ready to collect?
Following the initial email, you will be contacted by the shop to confirm that your item is available for collection.
Call us on or send us an email at
Unfortunately there has been a problem with your order
Please try again or alternatively you can contact your chosen shop on or send us an email at