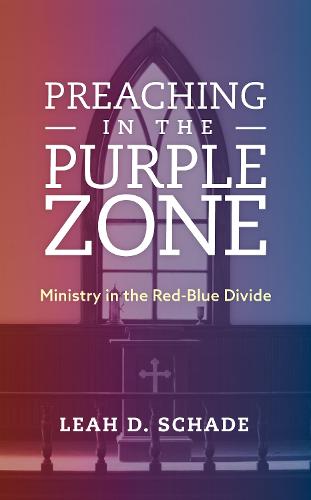 Preaching in the Purple Zone: Ministry in the Red-Blue Divide (Hardback)
Leah D. Schade
(author)
Hardback
264

Pages / Published: 26/03/2019
Preaching in the Purple Zone is a resource for helping the church understand the challenges facing parish pastors, while encouraging and equipping preachers to address the vital justice issues of our time.This book provides practical instruction for navigating the hazards of prophetic preaching with tested strategies and prudent tactics grounded in biblical and theological foundations. Key to this endeavor is using a method of civil discourse called "deliberative dialogue" for finding common values among politically diverse parishioners. Unique to this book is instruction on using the sermon-dialogue-sermon process developed by the author that expands the pastor's level of engagement on justice issues with parishioners beyond the single sermon. Preaching in the Purple Zone equips clergy to help their congregations respectfully engage in deliberation about "hot topics," find the values that bind them together, and respond faithfully to God's Word.
Publisher: Rowman & Littlefield
ISBN: 9781538119877
Number of pages: 264
Weight: 576 g
Dimensions: 228 x 161 x 26 mm
---
MEDIA REVIEWS
This book is one of the most helpful resources to teach and learn how preachers give prophetic voices to controversial justice issues in the midst of socially and politically divided times. Based on her rich experience of preaching ministry, rigorous scholarly and scientific research, and pastoral sensibility, Dr. Schade provides the reader with practical wisdom for prophetic preaching. -- Eunjoo Kim, Iliff School of Theology
In these turbulent political times, Dr. Leah Schade offers a hopeful and realistic roadmap for preaching to listeners with diverse opinions. Concrete examples for a process beyond the Sunday sermon provide opportunities for growth and healing. This is a much-needed book at a critical juncture in the Church-not just for leaders but for the laity as well. -- Rev. Angela Zimmann, vice president of institutional advancement and adjunct professor of homiletics, United Lutheran Seminary
The past generation of scholarship in homiletics has been leading to Preaching in the Purple Zone. Field tested and theologically grounded, Schade provides a truly conversational blueprint for preachers who want to preach about difficult social justice issues with their congregations rather than simply to their congregations. In our contentious cultural moment, this book is a gift to preachers, congregations, and the world. -- Richard Voelz, assistant professor of preaching and worship, Union Presbyterian Seminary
How can preachers engage diverse congregations in difficult moral conversations that often have political implications? And how can preachers preach sermons that capture the complexities of those conversations while nudging participants forward toward new and better moral understandings and social commitments? These are the core questions answered in this well-researched, clearly written, and wise book. Strongly recommended. -- John S. McClure, Charles G. Finney Professor of Preaching and Worship, Vanderbilt Divinity School
There's nothing sophomoric about Leah Schade's sophomore contribution in homiletics. Drawing its wisdom from her preaching, classroom, and community activism expertise, Preaching in the Purple Zone refreshingly offers controversy-averse pastors a quantitatively researched, timely guide for decentering the progressive versus conservative (idolatry of perspective) battle in theologically constructive ways. Schade's skill building `five paths' preaching methodology invites preachers into prophetically conscious sermon preparation and urges them to reconceive preaching as a biblical, theological, co-creative task-one that shifts preaching's objective from, as she rightly puts it, `simply opening minds and hearts, to moving hands and feet in tangible ways.' -- Kenyatta R. Gilbert, professor of homiletics, Howard University School of Divinity
Leah D. Schade has dedicated herself as a pastor and theologian to bringing the social gospel of Christianity into congregational dialogue, and she is realistic about doing so in our polarizing and messy culture. With her commanding knowledge of homiletic literature and years of experience as a Lutheran pastor, and having surveyed over twelve hundred preachers and done training with the National Issues Forum, Schade presents a comprehensive sermon-dialogue-sermon process that can bring a congregation into respectful learning and a more consequential practice of relevant discipleship. I plan to use this book as a peer-learning resource for Roman Catholic preachers who value Catholic social teaching but seriously wonder how to preach on potentially threatening issues such as racism or health care at the end of life. -- Gregory Heille, professor of preaching and evangelization, Aquinas Institute of Theology, St. Louis
Leah Shade's Preaching in the Purple Zone should be required reading for pastors who preach to congregations that include both conservative and liberal listeners, seeking a way to address difficult, controversial issues. This book is a clear, profound, and practical homiletical resource for our current culture of animosity and incivility. Shade identifies fears that `muzzle' prophetic preaching, chief among them the objection that our preaching is `too political.' She offers a biblical, theological, homiletical rationale for prophetic preaching that shifts the focus from the lone voice of the preacher to a shared conversation in the congregation. She outlines a process of deliberative dialogue by which both preacher and congregation can grow together in engaging tough topics. The book includes sample sermons and detailed guidelines for addressing current issues. My advice: buy, read, and use this book! -- Alyce McKenzie, director of the Center for Preaching Excellence, Perkins School of Theology
Here are three reasons why preachers need to read Dr. Leah Schade's Preaching in the Purple Zone: (1) Know you're not alone. Based on her extensive surveys and interviews, Dr. Schade proves you're not alone in your concerns about prophetic preaching or weathering their potential consequences. (2) Craft prophetic sermons wisely and pastorally. Apply these sage, practical suggestions and real-life examples to develop your purple-zone sermons in concert with those who will hear them. (3) Know what to do afterward. After the sermon you'll have the steps you need to continue to develop relationships with your listeners-whether they agree with the sermon or not-to proclaim the Gospel together. Thanks to this book you'll be able to preach your purple zone sermons with deeper theological and biblical craftsmanship, purpose, and care. -- Lisa Cressman, author of Backstory Preaching: Integrating Life, Spirituality and Craft
If you are looking for a recitation of preaching techniques, this is not the book! If you crave insight and guidance for leading a faith community in this fractured and fractious time, you'll find it in these pages. Leah Schade offers guidance that will lead you deep into the issues that divide our civic and faith communities to discover common values, commitments, and shared work centered in Christ crucified and risen for the life of the world. By weaving preaching carefully into the fabric of the community's life together, Leah provides theologically rooted, eminently practical, and effective guidance that brings together prophetic and pastoral roles into one public ministry. Those who follow her guidance will find both roles deepened in their own ministries and will see their faith community knit together in new and life-giving ways that empower preacher and community together to share the new, abundant, and lasting life of Christ with the world with vigor and grace. -- Bishop William O. Gafkjen, Indiana-Kentucky Synod, Evangelical Lutheran Church in America
What an invaluable and timely book! Preaching in the Purple Zone addresses head-on the many significant divides we face in church and world, and posits a way forward for preaching that is marked by genuine dialog, deep engagement with the scriptures and one another, and a pastoral commitment to tackling divisive issues with openness and humility. Leah Schade helpfully models what she proposes by her ongoing use of actual sermons and conversations around controversial issues she and her students have engaged. Ultimately this book is about more than preaching; it is about how the church can prophetically model an alternative way to live together in the midst of a seriously polarized nation and world. -- Leonora Tubbs Tisdale, Clement Muehl professor of homiletics emerita, Yale Divinity School
Preaching in the Purple Zone is the preaching book for the times in which we live. Almost every preacher has red and blue voters in their pews-sometimes on the same row. Learning ways to preach in these conflicting times is a skill richly needed, and Leah Schade has the lessons for us in this exciting and intriguing book. It's going to be on my preaching resource shelf from now on. -- Karyn L. Wiseman, United Lutheran Seminary
In this season of our life as a church and a nation, the capacity to reach a broad spectrum of political and theological views is being put to the test. In Preaching in the Purple Zone, Dr. Schade helps us address the emergent, often `messy,' matters and wide-ranging opinions within our faith communities with grace and integrity. Preaching in the Purple Zone is an excellent guide that helps clergy courageously and respectfully engage with their congregations to discover and sometimes create an intersection of common values while faithfully preaching the gospel. -- Cynthia Fierro Harvey, Bishop, Louisiana Conference of The United Methodist Church
Feel called to preach on justice themes related to current issues, but worry about backlash from a divided congregation in a divided culture? Schade comes to the rescue. Her sermon/dialogue/sermon approach is a practical, pastoral way to get the prophetic conversation rolling. A must read! -- O. Wesley Allen, Jr., Lois Craddock Perkins professor of homiletics, Perkins School of Theology at Southern Methodist University
Rooted in Jesus' ability to stimulate dialogue, Schade's book provides preachers with a scholarly approach to prophetic proclamation and practical direction to engage worshippers in faithfully deliberating the issues of the day. Preaching in the Purple Zone echoes de Tocqueville's respect for the role of religion in civic life. -- Gregg Kauffman, ELCA pastor, Kettering Foundation Research Associate
When `red' and `blue' convictions meet, is an outcome other than purplish bruises all around even possible? `Yes!' says Leah Schade. The purple zone, where blue meets red in deliberative dialogue, is a place for royal celebrations of life-changing truth proclaimed with never-ending love. Preachers and parishioners alike will find here a marvelous roadmap for honest interaction that produces light and hope for the journey ahead. -- Brad A. Binau, Trinity Lutheran Seminary at Capital University
You may also be interested in...
Simply reserve online and pay at the counter when you collect. Available in shop from just two hours, subject to availability.
Thank you for your reservation
Your order is now being processed and we have sent a confirmation email to you at
When will my order be ready to collect?
Following the initial email, you will be contacted by the shop to confirm that your item is available for collection.
Call us on or send us an email at
Unfortunately there has been a problem with your order
Please try again or alternatively you can contact your chosen shop on or send us an email at