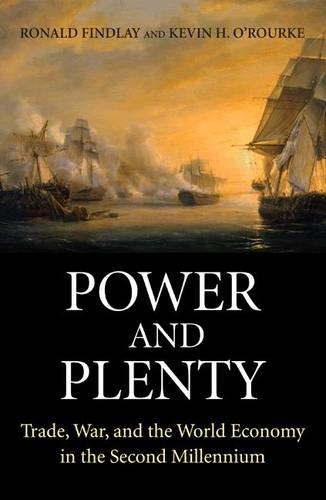 Power and Plenty: Trade, War, and the World Economy in the Second Millennium - The Princeton Economic History of the Western World (Paperback)
Ronald Findlay

(author)

,

Kevin H. O'Rourke

(author)
Paperback
648

Pages
Published: 18/09/2009
International trade has shaped the modern world, yet until now no single book has been available for both economists and general readers that traces the history of the international economy from its earliest beginnings to the present day. Power and Plenty fills this gap, providing the first full account of world trade and development over the course of the last millennium. Ronald Findlay and Kevin O'Rourke examine the successive waves of globalization and "deglobalization" that have occurred during the past thousand years, looking closely at the technological and political causes behind these long-term trends. They show how the expansion and contraction of the world economy has been directly tied to the two-way interplay of trade and geopolitics, and how war and peace have been critical determinants of international trade over the very long run. The story they tell is sweeping in scope, one that links the emergence of the Western economies with economic and political developments throughout Eurasia centuries ago. Drawing extensively upon empirical evidence and informing their systematic analysis with insights from contemporary economic theory, Findlay and O'Rourke demonstrate the close interrelationships of trade and warfare, the mutual interdependence of the world's different regions, and the crucial role these factors have played in explaining modern economic growth. Power and Plenty is a must-read for anyone seeking to understand the origins of today's international economy, the forces that continue to shape it, and the economic and political challenges confronting policymakers in the twenty-first century.
Publisher: Princeton University Press
ISBN: 9780691143279
Number of pages: 648
Weight: 907 g
Dimensions: 235 x 152 x 38 mm
---
MEDIA REVIEWS
"The excellent new book Power and Plenty explains why some countries are rich, and why others are not. [Recent books] all try to explain the biggest question of the modern world: why some [countries] are rich and other poor. Now, we have...Power and Plenty, a tome that combines the interpretive focus of the new school of explainers with the breadth and depth of the old narratives. They also put neoliberal economic theory to the historical test by asking what it would predict, and then contrasting those forecasts with history's actual path. Findlay and O'Rourke tell their tale exceptionally well."--Eric Rauchway, The New Republic "[A] splendidly ambitious new book...an excellent reference book for anyone wanting a better understanding of economic developments in the last millennium."--Economist "Aiming at nothing less than documenting the history of world trade over the last 1,000 years, Power and Plenty...appears to be required reading...for the purposes of better understanding how the world works."--Andrew Leonard, Salon.com "This new history of the last thousand years of world trade is remarkable in both its grand sweep and its scholarly depth. It pieces together the story of global commerce from the medieval spice traders and nomads of Central Asia to the discovery and incorporation of the New World, to the Industrial Revolution and the rise of Europe, and to the globalizing forces of the postwar world economy. One theme is the importance of the 'vast webs of interrelationships' between western Europe and other regions that, beginning in the medieval period, set the stage for modern economic growth. The other theme is the critical role of war in propelling economic change through upheaval and adaptation."--G. John Ikenberry, Foreign Affairs "Power and Plenty is a wide-ranging survey, both of the facts and of the literature, not an essay organized around a single thesis. It takes on, and treats seriously, a ton of material. Bearing that in mind, it is...engaging...well written, spiced with nuggets of fascinating information and dry wit. [Findlay and O'Rourke's] economics is sophisticated and mainstream...but enriched with an unusual attention to noneconomic factors--or, as the authors put it, 'a sustained emphasis on conflict, violence and geopolitics.'"--Clive Crook, Financial Times "[A] solid new book. Power and Plenty is an ambitious endeavor that examines the works in the second millennium in light of globalization, deglobalization, reglobalization, and globalization as we know it today. The book fills a gap by scrutinizing the technological and political causes behind the long-term trends during the past thousand years. [The authors] have drawn exhaustively on the historical, political, and economic literature of the relevant periods for virtually all the major regions in the world."--Wan Lixin, Shanghai Daily "In this magnificently conceived and executed work, Findlay and O'Rourke set out the history of global trade and show how it has been influenced by economic development and politics over the last thousand years. The authors have an important story to tell and they tell it superbly. This is a work brimming with scholarship, deftly combining narrative history with accessible economic analysis. This is a goldmine of a book. Open it where you will, there are nuggets to be extracted. It will remain the standard work on the history of world trade and indeed the development of the world economy for many years to come."--Frank Geary, Irish Times "This magisterial volume presents an analytical history of world trade from 1000 CE to the present, with informed speculation about future trends thrown in for good measure. It is a very considerable achievement, for which Findlay and O'Rourke deserve great praise."--M. Veseth, Choice "[T]he best book of its sort since David Landes' Wealth and Poverty of Nations."--David Warsh, Economic Principals "[T]his is a big, important work... The authors have mastered an incredibly voluminous literature ... and produced the only truly comprehensive history of trade in the second millennium... [T]his is a book that should be widely read."--David S. Jacks, World Trade Review "International trade has shaped the modern world, yet until now no single book has been available for both economists and general readers that traces the history of the international economy from its earliest beginnings to the present day. Power and Plenty fills this gap, providing the first full account of world trade and development over the course of the last millennium."--Wider Angle "This is a well researched volume which is simply delightful to read. In most of the topics about which I have some knowledge, I found the analyses and the judgments offered by the authors both balanced and insightful. I expect this book will remain the standard text for many years to come."--Sevket Pamuk, EH.Net "This is a huge enterprise, an illuminating work, a tour de force that successfully combines political and economic history of a thousand years... A major contribution to the history of and debates about globalization."--Ivan T. Berend, International History Review "Power and Plenty serves as an excellent one-volume survey on the role played by the interaction of economic and political forces in shaping the world economy of the last 1000 years. The book should be read by any serious student of world economic history, international trade, or international relations."--John T. Dalton, Southern Economic Journal "Power and Plenty ... with its depth and extensive coverage, makes an excellent reference work for the study world history and the history of world trade. It is a work of superb scholarship befitting the scholarly reputations of each of the co-authors, Findlay for his work in the theory of international trade and development and O'Rourke for his studies in economic history and globalization. This book will be widely read, cited, and discussed as a landmark volume on its subjects."--Stanley Engerman, New Global Studies "By adopting a broad view across such an expanse of both space and time, Findlay and O'Rourke are able to perceive patterns that few others have identified and bring a compelling new perspective to several historical and theoretical debates that benefit from a larger view."--Robert D. Fannion, Comparative Political Studies "Findlay and O'Rourke provide an impressive survey of 1000 years of trade and its interaction with geopolitics and political economy on a global scale that strives consciously to avoid a Eurocentric stance... [T]his is a compelling and valuable volume."--C. Knick Harley, Economic History Review "Almost anyone researching an aspect of the history of international trade will find this an excellent and stimulating starting point and will be aided by an impressive bibliography that includes many older classics as well as recent additions to the literature."--Simon Ville, International Journal of Maritime History "[T]his book is indispensible for scholars who seek answers to questions such as: How did the world economy evolve into its present form? What events shaped its current characteristics? What roles did trade play in shaping the modern world economy? Power and Plenty, an exemplary feat of scholarship, fully answers all these questions."--Farhad Rassekh, International Review of Economics & Finance "Power and Plenty is a fascinating book of both world history and economic history, full of detail on both accounts... These ancient intrigues in unfamiliar times and places make for fascinating reading and remind us of how little progress people have made in resisting imperialism throughout the ages. On a more serious note, the book also provides an excellent window into the continuing costs of imperialism."--Michael Perelman, Review of Radical Political Economics "[T]his book is a masterful synthesis of economic analysis and historical narrative. It demands quite a lot of its readers, however, as its more than 600 pages are packed with facts, conclusions and implications for economic development, never hesitating to elaborate on the complexities of international trade relations during the last millennium."--Erik Lindberg, Scandinavian Economic History Review
You may also be interested in...
×
Download the Waterstones App
Would you like to proceed to the App store to download the Waterstones App?
Reserve online, pay on collection


Thank you for your reservation
Your order is now being processed and we have sent a confirmation email to you at
When will my order be ready to collect?
Following the initial email, you will be contacted by the shop to confirm that your item is available for collection.
Call us on or send us an email at
Unfortunately there has been a problem with your order
Please try again or alternatively you can contact your chosen shop on or send us an email at