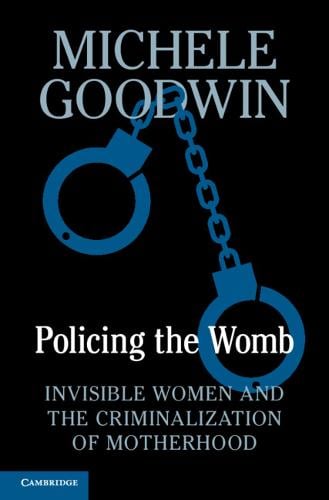 Policing the Womb: Invisible Women and the Criminalization of Motherhood (Hardback)
Michele Goodwin
(author)
Hardback
Published: 12/03/2020
In Policing the Womb, Michele Goodwin explores how states abuse laws and infringe on rights to police women and their pregnancies. This book looks at the impact of these often arbitrary laws which can result in the punishment, incarceration, and humiliation of women, particularly poor women and women of color. Frequently based on unscientific claims of endangering a fetus, these laws allow extraordinary powers to state authorities over reproductive freedom and pregnancies. In this book, Michele Goodwin discusses real examples of women whose pregnancies have been controlled by the law and what has led to the United States being the deadliest country in the developed world for a woman to be pregnant.
Publisher: Cambridge University Press
ISBN: 9781107030176
Weight: 630 g
Dimensions: 235 x 158 x 23 mm
---
MEDIA REVIEWS
'Astounding.' Dahlia Lithwick, Slate 'Policing the Womb tells a frankly disquieting and frightening story about the status of reproductive health and rights in the United States. It captures what has become the modern day horrors of reproductive health across the country, from the escalating attacks on abortion rights, to the civil and criminal penalization of pregnant women for falling down steps, refusing c-sections, and attempting suicide. Michele Goodwin brilliantly captures what is at stake in the war on women's reproductive health and rights. I could not put the book down.' Anthony Romero, Executive Director, American Civil Liberties Union 'Michele Goodwin's Policing the Womb is a prerequisite to understanding the very real dangers posed by punitive state laws enacted under the guise of protecting women's health, but which have instead criminalized women's conduct during pregnancy, harmed women's and girls' health, and allowed unimaginable state interventions into women's reproductive lives. Goodwin brings into sharp focus the compelling stories of the first targets and victims of these laws - primarily poor women and women of color - as she puts into context the risks to all women given the current political climate and Supreme Court's jurisprudence. After you finish reading Policing the Womb and have quelled your anger, you will have no choice but to join one of the many local and national efforts to fight for women's full constitutional and fundamental human rights.' Katherine Spillar, Executive Director, Feminist Majority Foundation 'Professor Goodwin has written the definitive examination of the disturbing and pervasive trend of policing pregnant women's bodies. She skillfully draws on contemporary stories as examples that reflect how the establishment of legal rights for the unborn - so-called 'fetal protection laws' - inevitably define pregnant women's bodies as objects of the state, to be controlled and punished. Informative and eye-opening, Policing the Womb makes a clear case for systemic change towards reproductive justice.' Rebecca Haimowitz, Director and Producer of 62 Days 'Based on extensive research and advocacy, Michele Goodwin vividly shows how the intensifying punishment of pregnant women in the name of fetal protection comes at a devastating cost to human health and freedom. Policing the Womb is an urgent call to end the dehumanizing practice of criminalizing pregnancy.' Dorothy Roberts, author of Killing the Black Body: Race, Reproduction, and the Meaning of Liberty 'Policing the Womb is the roadmap we need right now to understand how to navigate the sandstorm of laws being created to claim ownership of our bodies. It brilliantly lays out all the ways politicians and the medical community are removing pregnant people from the most important decisions we will make about how best to manage our reproductive lives.' Lizz Winstead, Co-Creator of The Daily Show, Founder/Chief Creative Officer, Abortion Access Front 'In this brilliant, shocking book, Michele Goodwin critiques recent laws figuring embryos and fetuses as legally independent 'persons'. Goodwin shows how criminalizing pregnant women who are incest survivors or suicidal or drug dependent or homeless exacerbates the brutal consequences of living with trauma, poverty or toxic environmental hazards. Shackling and imprisoning women - particularly poor, uninsured women of color - for failures to 'control' themselves has ushered in policies that place prosecutors and their surrogates in delivery rooms. Goodwin makes clear the heartbreaking irony of laws that, in the name of protecting life, divide women's bodies against themselves and implement profound violations of medical ethics, privacy, and ruptures in constitutional process and equal protection.' Patricia Williams, University Professor of Law and Humanities and Director of Law, Technology and Ethics, Northeastern University 'No one in America right now is more zealously policing the blurry boundaries between female bodies, the criminal and constitutional law, race, geography, and class than Michele Goodwin. Policing The Womb is a chilling and comprehensive survey of all the ways in which the law can be deployed to ensure that as womens' reproductive life becomes ever more complicated, American legal constraints become increasingly punitive. Goodwin's close reading of the complexity of female reproductive risk and peril, in a nation inching toward a modern-day Gilead, serves as a sobering warning about the current state of bodily freedom, autonomy and dignity, for women who are apt to be treated as vessels under the best of legal circumstances, and criminals under the worst. Anyone seeking to challenge that status quo will want to read this superb book and weep, and then get to work.' Dahlia Lithwick, Senior Editor, Slate 'Michele Goodwin pathbreaking work, highlighting the fraught conditions of reproductive rights in the United States, continues with Policing The Womb. Meticulously detailed and richly told, this book should be required reading for anyone who cares about the future of reproductive health and gender justice.' Louise Melling, Deputy Legal Director and Director, Center for Liberty, American Civil Liberties Union 'For anyone interested in the American reality for many women, Policing the Womb is essential reading.' Katha Pollitt, The Washington Post 'Policing the Womb pleads with readers to put an end to this history of indifference.' Mary Ziegler, American Politics 'Policing the Womb is a must read for students and scholars of reproductive health, law, and criminal justice …' L. J. Martin, Choice 'Policing the Womb exposes a new era of reproductive policing and harm in the United States that has gone largely unnoticed.' Boston Review 'This book should be in all women and gender studies collections from undergraduate through graduate levels, and it will be of special significance in the disciplines of law and criminal justice.' Pamela Salela, A Feminist Review 'Policing the Womb is an impressive, scholarly, yet very readable, study which draws on more than two hundred court cases, statutes, legal briefs, and legislative and government reports as well as an impressive list of scholarly books and articles which span medicine, health policy, law and the social sciences. It also draws on hundreds of newspaper articles, films and other media sources. While I plan to use it for an upper division medical anthropology course that I've been teaching for the last seventeen years, I think it would also be suitable for courses on health policy and law, women and gender studies, and ethics.' Ronald Loewe, Anthropology Book Forum (https://anthrobookforum.americananthro.org)
You may also be interested in...
×
Download the Waterstones App
Would you like to proceed to the App store to download the Waterstones App?
Reserve online, pay on collection


Thank you for your reservation
Your order is now being processed and we have sent a confirmation email to you at
When will my order be ready to collect?
Following the initial email, you will be contacted by the shop to confirm that your item is available for collection.
Call us on or send us an email at
Unfortunately there has been a problem with your order
Please try again or alternatively you can contact your chosen shop on or send us an email at